Shopping Guide
KENSIN Co., Ltd requires every customer who visit this site of ART OF WAR & ART KENSIN to read and confirm all the policy and instructions of this Shopping Guide before purchasing.
Any requests, inquiries or claims which can be considered as customer's unawareness of the policy and instructions stated in this Shopping Guide may not be accepted and replied.
1 HOW TO ORDER


Step 1 Shopping Cart
Please confirm this Shopping Guide and the product information at first before purchasing or sending us any inquiries.

Check the product if it is available, and confirm all the details including:
a. product price
b. shipping and handling cost. (please go to Shopping Guide to check the EMS shipping cost list)
c. estimated delivery date
d. product information and description
e. product sample images
f. options

Click "Add to Cart" to start the order/pre-order process.
Insert the number of quantity needed and click "Check Out".
If other products are needed, please click "Buy More!" to continue shopping.

Step 2 Customer Information

"Sign in" to registered account, or click "Checkout as Guest" to continue.

New Customer is suggested to "Create My Account" in order to gain points from every purchase.
Please provide a correct delivery address and confirm it carefully, otherwise the product will be sent to the wrong place.
*Only 26 English Characters can be recognized by this system.
(Please do not use characters and letters from other languages like French, Spanish, Swedish, and Chinese.)

Confirm the information and click "Next", go to Delivery Details page.
Step 3 Delivery Details
If product needs to be sent to another address, please click "Add/Click" in "Recipient" and add another delivery address, and please remind us about this change in "Remarks".
If the delivery address is same to the registered information, please do not add or change any information in "Recipient"
Attention (in the Feedback column)
In order to have a smooth transaction and decrease cancellation cases, we require customers to confirm this Shopping Guide thoroughly and confirm all the informations of the product again before purchase.

Choose "Yes" in the column means customer is aware of the conditions relating to the order and agree to pay all fees for which customer is liable, including shipping & handling cost, customs and extra storage fees which may happen before the shipment.

Check "Yes" and click "Next", go to Payment Option page.
Step 4 Payment Options
Please read the explanations of the 2 payment methods carefully and choose one as payment method.

Click "Next" and go to the Confirm Page.
Points and Coupon can be used at this page.

Please confirm all the information and click "Purchase" to finish this order.
About Payment Methods
All payments will be transferred by PayPal system.
Customers need to get a PayPal account or, one of the 4 credit cards (Visa, Master Card, American Express, JCB) to settle the payment.

a. If "PayPal" be chose as payment method, please click the orange color button which linked to the PayPal payment page to settle the payment instantly.

b. If "Private Invoice" be chose as payment method, we will send the invoice through PayPal manually in 3 business days.
It will be very helpful if customers can note us the questions and requests in "Remarks" or from "Inquiries".

Our office time: Tuesday-Saturday, 10:00-19:00 JPT
2 CAUTIONS FOR SHOPPING
1. Shipping Cost
If more than 2 items ordered, we will confirm whether they can be combined or not, according to the weight and size of the product.
Please put enough allowance in your budget consideration just in case they are not combinable.
If you are not sure then, please contact us first before ordering so that we can offer the appropriate quotation for the whole shipment.
2. Usage of User ID and Password
Registered users are able to use the ID and Password from next time.
We allow one customer to subscribe one ID, therefore please remember the ID and Password.
If password or ID is lost, please contact us from Inquiries with any personal information to confirm the identity and we will reset the password to "0000".
3. Installment Plan
We offer monthly installment plans only for price over 40,000 JPY products.
In the installment plan, every payment should be over 20,000 JPY, and the total amount includes shipping cost must be settled within 1 month after the pre-order item is ready for shipping.
Also, we will charge 4% of PayPal charge in each installment plan payment or payment for two times. Please kindly choose installment plan after knowing 4% of PayPal charge is included in each installment payment.Moreover, we will stop to accept customer's new order or installment request once the customer has over 2 items unfinished paying.

4. Due Date for Payment
Every payment must be settled in 7 days after order confirmed, or invoice be informed.
Any delay of the payment may cause the cancellation of the order.
If we cancel an order which is partly paid, the paid amount will not be refunded under any circumstances.
5. Cancel Request
We are able to accept cancel request only for unpaid orders.
If customer has paid or partly paid for the item but ask for a cancellation by personal reasons, we will not refund any of the paid amounts.
Also, we will stop offering installment plans or refuse new order/pre-order from customers who have multiple cancellation records in one year, please do consider carefully before order.
6. Black List
We will block the account if we receive invalid orders/pre-orders from the same IP address for over 3 times. Please do not use invalid e-mail address or incorrect personal information to try a order/pre-order from this site.
If there are any questions or concerns, please contact us before purchase.
7. Product Images
All the products images in this site are sample pictures.
Since our products are hand painted figure, the exact product may looks different to the sample images.

3 SHIPPING METHOD
1. Shipping Method
Generally we require customers to choose EMS as shipping method.
If there are any special reasons, or for customers' personal requests, SAL or Surface is also available.
However, if the package be shipped by SAL or Surface, we will not take any responsibility if the item broken or lost during the long period of shipment.

EMS: 3-7 days ; most safe way
SAL: 20-30 days; not very safe way
Surface: 60-70 days; dangerous way


2. Shipping & Handling Cost
Shipping cost will be automatically calculated by this system only for "In stock" items.
For most of the pre-order items, shipping cost will be charged separately after we get the total weight of the package.
We will send another invoice to charge for the shipping & handling cost when the items are finished.
Please kindly note about this cost before purchasing any pre-order items.

3. Shipping Status Tracking
Online tracking is available for EMS.
Japan Post's net service is available for checking the status of the package.
http://www.post.japanpost.jp/int/ems/delivery/index_en.html
*Sometimes there will be a delay on checking the instant status.
We also suggest every customer to check the status on the Official Site of customer's local Post Office.
4. EMS Shipping & Handling Cost Check List

*Handling Fee will be charged for "Every Package".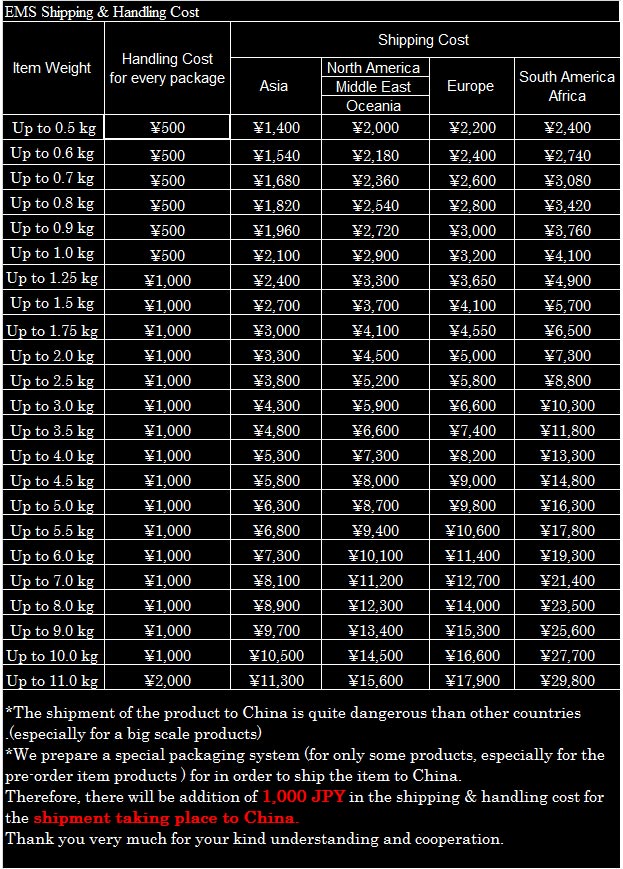 5. Extra Charging Fee
We will charge extra fee for items which cannot be delivered to customers within 1 month after ready for shipping.
The extra fee = 1 month's storage fee + 300 JPY extra handling fee
*The storage fee will be calculated according to the package size
*Extra fee only happens for delivery delay caused by customers' personal reasons.

For example:
1. Cannot finish the final payment after the item is ready for shipping for over 1 month.
2. Go to travel for over 1 month and cannot find anyone to pick the item.
We will cut off the same points from customers' account if the Extra Fee needs to be charged.
If there are not enough points on customers' account, we will charge from customers' next purchase or resend the invoice for last payment.

6. Tax & Customs
All the price and shipping cost on this site is exempted from taxation in Japan.
However, customer may be required to pay customs fees when receiving foreign shipments.
Please keep this in mind when placing orders at our store.
ART OF WAR unfortunately has no control over any fees/taxes levied by your country's government.
We are by law unable to undervalue shipments, also unable to put the invoice documents inside parcels, or ship orders without an invoice.
If the product be returned because customer refuses to pay for the customs, we will not resend the product nor refund for any part of the payment.
4 COUPON & POINT
Coupon System
We will offer coupons to some customers for some specific reason.
For example: customers who feedback to our questionnaire.


How to use the coupon:
1. Go into the order/pre-order process.
2. When you are at "STEP 4 Confirm", there is a blank for customer to input the "Coupon Code".
3. Input the "Coupon Code" we offered, and click "Apply Discount" below.
4. The total amount of the purchase will be changed.
5. If there is any problem, please stop the purchase and contact us first.
Notice: We are not able to use the coupon instead for any customer.
Please use the coupon when ordering the item from our homepage.
Please keep the Coupon Number and use it before expiration.
-------------------------------------------------------


Points System
1. We offer 500 Points for every new register.
2. Every customer should not have over one account.
3. All points will gone if customer do not purchase anything from this site for over 3 years.
4. For every 1000 JPY purchase, there will be 20 points return. (for normal customers)
5. Shipping & Handling cost will not be calculated for returning points.
6. For every purchase, customer can use points from 100 p to 100000 p.
7. Sometimes Extra Points will be added for campaigns or new product release, please take the chances.

5 CUSTOMER RANKING


We started to use this new customers' ranking standard from January, 2015.
Please log in to this website and check presonal rank in "My Page".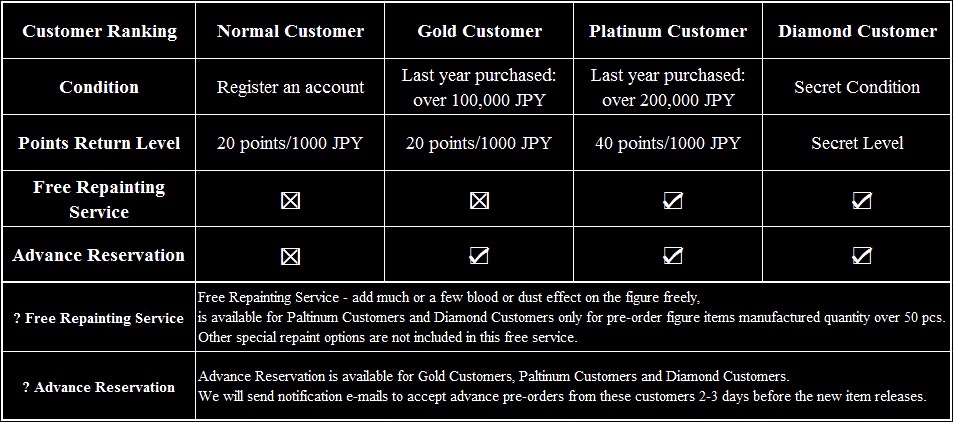 Free Repainting Service can be used on only 1 pcs of the pre-order item every time.
5,000 JPY extra fee will be charged for the 2nd piece if customer pre-order multiple items.

Free Repainting Service is only available for Platinum and Diamond (P & D) Customers.
We do not accept any extra repainting request from Normal Customers or Gold Customers.
Thank you very much for kind understanding.

We only offer 4 kinds of free repainting effects for P & D Customers as below:
1. A few extra blood effect
2. A few extra dust effect
3. A lot of extra blood effect
4. A lot of extra dust effect
Please choose 1-2 effects from the above after pre-order a figure item.
6 PRODUCT PROBLEMS


1. Damage Cases

ART OF WAR has over 10 years experiences on shipping PVC and Polystone figures to overseas countries.
On behalf of our professional packaging staffs, we always exert our best efforts in securing and packing the products.
And every time we will do falling tests for the package to confirm it is strong enough to protect the product.
Please check our packaging method before ordering figure items from this site.
http://www.art-of-war.jp/page/9

However, please kindly note that all our figure products are fragile material made items.
In rare cases, product damages may occur by postmen's violent actions during the delivery.
Please kindly note that item shipping to China, France and Italy will be more dangerous than other countries.

In cases of such unlikely accidents, we are outlining down here the Standard Operating Procedures that must be done by customers when such cases arise, in order to get proper compensation.


Step 1. Get the Damage Report

Ask the postman or contact the local post office to offer a Damage Report at once.
Contact the local post office which delivered the package to you, explain the damage of the product and ask the post officer to file a Damage Report.
Please also ask the full name of the post officer who signed for the Damage Report.
* Damage Report: a confirmation document to certificate that product arrives in a broken condition.
* Customer may need to bring all the packaging materials and the broken item in their original condition to the post office within 3 days after the item reaches.
* Please Do Not Dispose the inner and outside packages, the shipping label and the other packaging materials.
* Please do not let other person to sign for the delivery, or let us ship the item to a place where the delivery may be missed for several days.
* We strongly suggest all customers to check the product when the package arrives, and do not sign for the postman before finish checking the product.

The Necessity of Damage Report
The Damage Report from the customer's local post office is filed to prove that the item is broken before customer opens the package.
Without the Damage Report, neither our company or Japan Post can confirm if the item is really broken during the shipment, or by customer's self-miss.
Japan Post will not be able to start the compensation process if customer cannot offer the Damage Report from the local post office.
This means it will be very difficult to get a compensation as the insurance claimed.
Therefore, please try best to get the Damage Report, otherwise what our company can do is quite limited.

The Instead Document of Damage Report
If customer cannot get a Damage Report from local post office, please write and send us an Damage Claim Report. The Damage Claim Report should contain the following items:
a. the real date the package be delivered to customer;
b. the situation (broken parts) of the product;
c. when customer contacted the local post office;
d. whom (post officer's full name) customer asked for a Damage Report;
e. the local post office's name and address;
f. why the post officer refused to file the Damage Report.



Step 2. Take Photographs
Take photos for the following parts:
a. broken parts of the product
b. the 6 faces of the outside box
c. the EMS invoice
d. other clues which may point out the reason for this damage.


Step 3. Contact us in 7 days


Please prepare:
a. the Damage Report or Damage Claim Report,
b. the photographs

and send the file and pictures to us by e-mail in 7 days after the package be delivered.
Otherwise we will not be able to help customer to solve the damage case.
Therefore please open the package and check the product in 3 days after it arrives.


Step 4. Compensation Process


a. If customer can offer us the Damage Report.

We will contact Japan Post as soon as we get the necessary materials to apply compensation for the damage.
After Japan Post confirms the damage case and promises to offer full compensation,
We will contact customer to send back the broken product to us.
*The cost for sending back the broken product will be returned by points to customer's account.
*We can also pay the cost through PayPal to customer's PayPal account if requested.
*Therefore, please Do Not Dispose the product, the inner and outside packages, the shipping label and the other packaging materials until we inform the final solution for the damage case.

We will prepare to send customer a new item as replacement.
If we are not able to send the replacement (product out stock), we will refund the compensation to customer after we receive the broken product.


b. If customer cannot offer us the Damage Report.

If the Damage Report cannot be offered by customer, we will still contact the Japan Post to forward and initiate a claim.
Japan Post will contact customer's country's international post office thru the Postal Worldwide Network and ask if the local post office can confirm the damage case and offer the Damage Report.
This process will take 5-12 weeks depending on the postal system of customer's country.
We will contact customer once we get any news from Japan Post and update with regards to the status of the claim or if there is an additional thing/step customer has to complete.

If Japan Post admit the damage finally, we will get the compensation at a later designated date.
If it is approved, we will contact customer to send back the broken product to us.
*The cost for sending back the broken product will be returned by points to customer's account.
*We can also pay the cost through PayPal to customer's PayPal account if requested.
*Therefore, please Do Not Dispose the product, the inner and outside packages, the shipping label and the other packaging materials until we inform the final solution for the damage case.

We will prepare to send customer a new item as replacement.
If we are not able to send the replacement (product out stock), we will refund the compensation to customer after we receive the broken product.

If we cannot get any compensation from Japan Post, we will consider to offer compensation solution from our company's side.
The compensation is depending on the situation of the broken item:
A. For 1-5 small parts damage which customer can repair easily, we will not resend the item again, instead we will offer customer some points as discount for next pre-order.
B. For over 5 parts badly damage and the item cannot be repaired anymore, we are able to send customer a new item by charging ~70% of the product price and the shipping cost again.
In this case, customers do not need to send the broken product back to us.

*Damages only on the package are not counted for any compensation.
*We do not offer any compensation, or any help on applying the compensation for broken item which is declared at a lower price different to the actual purchased price under customers' request.
2. Inferior Product Cases
Please contact us in 7 days after the product arrives if customer receive an inferior product.
Please also prepare clear pictures of the doubted parts when sending us the claim of the inferior product.
We will check the pictures and judge if it is an inferior product and contact customer in 3 business days.
Inferior Product Examples:
a. some parts lost in the package which can be confirmed is a packaging mistake;
b. over 5mm long dirty color or color fade on the surface of the product;
c. wrong product be sent to customer;
d. any clear differences to the sample pictures (will be judged by our company)

If we confirm the product is an inferior product,
1st, we will contact customer to send back the inferior product to us.
*The cost for sending back the broken product will be returned by points to customer's account.
*We can also pay the cost through PayPal to customer's PayPal account if requested.
*Therefore, please Do Not Dispose the product, the inner and outside packages, the shipping label and the other packaging materials until we inform the final solution for the damage case.

2nd, we will send a new product to customer as replacement, or refund the full payment if the item is sold out.
3rd, we will offer some extra points discount as apology.


If you have any concerns or questions, please feel free to contact us from "Inquiries" at any time.

(Latest Update: 2015, February.)