COUPON & POINT
Coupon System
We will offer coupons to some customers for some specific reason.
For example: customers who feedback to our questionnaire.


How to use the coupon:

Go into the order/pre-order process.

When you are at "STEP 4 Confirm", there is a blank for customer to input the "Coupon Code".

Input the "Coupon Code" we offered, and click "Apply Discount" below.

The total amount of the purchase will be changed.

If there is any problem, please stop the purchase and contact us first.
Notice: We are not able to use the coupon instead for any customer.
Please use the coupon when ordering the item from our homepage.
Please keep the Coupon Number and use it before expiration.
-------------------------------------------------------


Points System
We offer 500 Points for every new register.

Every customer should not have over one account.

All points will gone if customer do not purchase anything from this site for over 3 years.

For every 1000 JPY purchase, there will be 20 points return. (for normal customers)

Shipping & Handling cost will not be calculated for returning points.

For every purchase, customer can use points from 100 p to 100000 p.

Sometimes Extra Points will be added for campaigns or new product release, please take the chances.
CUSTOMER RANKING


We started to use this new customers' ranking standard from January, 2015.
Please log in to this website and check presonal rank in "My Page".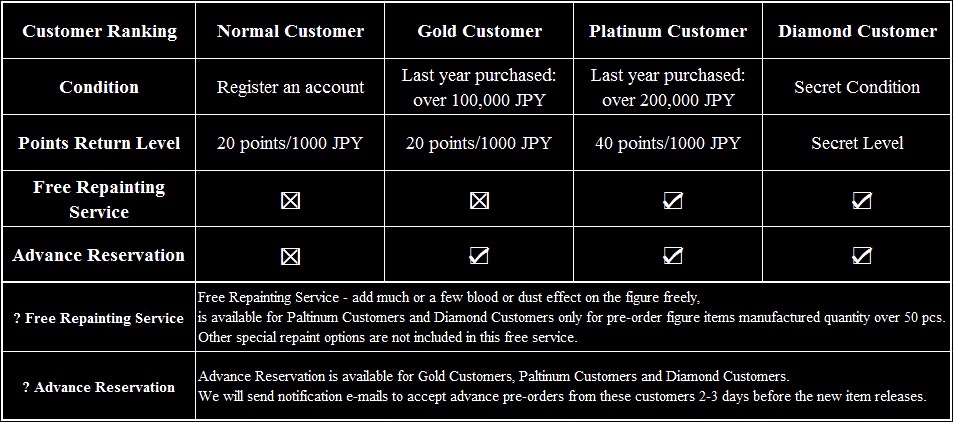 Free Repainting Service can be used on only 1 pcs of the pre-order item every time.
5,000 JPY extra fee will be charged for the 2nd piece if customer pre-order multiple items.

Free Repainting Service is only available for Platinum and Diamond (P & D) Customers.
We do not accept any extra repainting request from Normal Customers or Gold Customers.
Thank you very much for kind understanding.


We only offer 4 kinds of free repainting effects for P & D Customers as below:

.A few extra blood effect

A few extra dust effect

A lot of extra blood effect

A lot of extra dust effect
Please choose 1-2 effects from the above after pre-order a figure item.
If you have any concerns or questions, please feel free to contact us from "Inquiries" at any time.