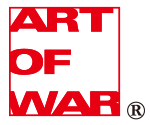 We develop products under our trademarked brand, ART OF WAR™.
ART OF WAR™, takes its inspiration from the title of the classic Chinese treatise, "Art of War" by Sun Tzu.
The brand concept is based on the idea that universal beauty exists in the struggle between life and death.
We are committed to creating works-of-art that will be appreciated around the world one hundred years from now. We avoid easy routes-to-market by ignoring short-term trends and focus instead on developing products that are sustainable over the long-term.
Aim to spread Japanese beauty
Our company aims to preserve the outstanding traditional skills of Japanese armor productions for future generations.
Since its establishment, Kensin Co., LTD has continually led the way in researching and recreating samurai warriors from the Sengoku Period.
Our skillful artisans and the artists are group of professionals engaged in developing high accolades for its authentic reproduction of Sengoku period statues based on historical documents from the time.
Each expertly work on different product manufacturing tasks such as molding, assembly, finishing, and painting.
The final result is a product made of the highest quality.
Research, Restoration and Provision of Sengoku Period Armors
We expertly work on original armor, helmets of Sengoku Period & Azuchi Momoyama Period,
and Sengoku Period statues reflect the best of Japanese art and are well-received all over the world.
We ship all of our products to overseas.
Aim to preserve Japanese beauty for future generations
By using the original natural materials to make the item, we guarantee that we develop the products which will be appreciated 100 years later,but of course, with great pagination due to the passage of time.