Mark of Sacrifice Wooden Gold Leaf maki-e Cup
Mark of Sacrifice Wooden Gold Leaf maki-e Cup
Limited products for the Great Berserk Exhibition
Note: If you order pre-orders or in-stock items other than accessories, please note that they will be shipped together to coincide with the shipping date of the product that will be released the latest.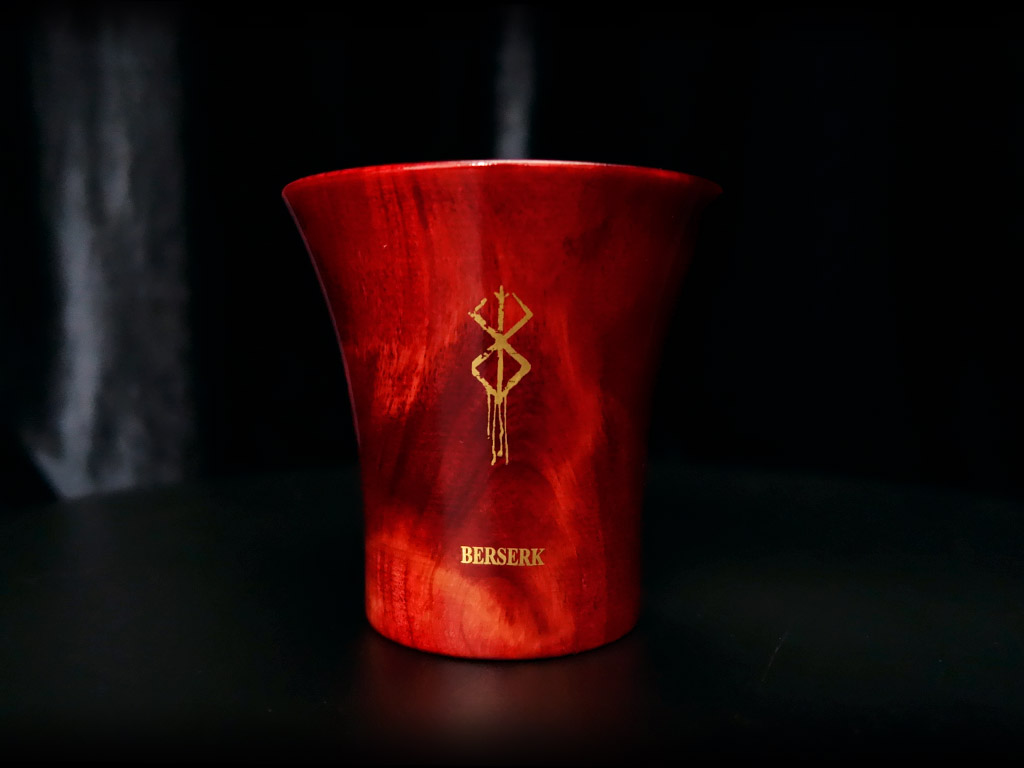 Berserk Mark of Sacrifice Wooden Gold Leaf maki-e Cup (the product is made using the Yamanaka lacquer ware technique, a traditional craft from Ishikawa Prefecture, Japan dating back 450 years.)
This is a limited item made in conjunction with the Great Berserk Exhibition.
Orders are limited during the Great Berserk Exhibition.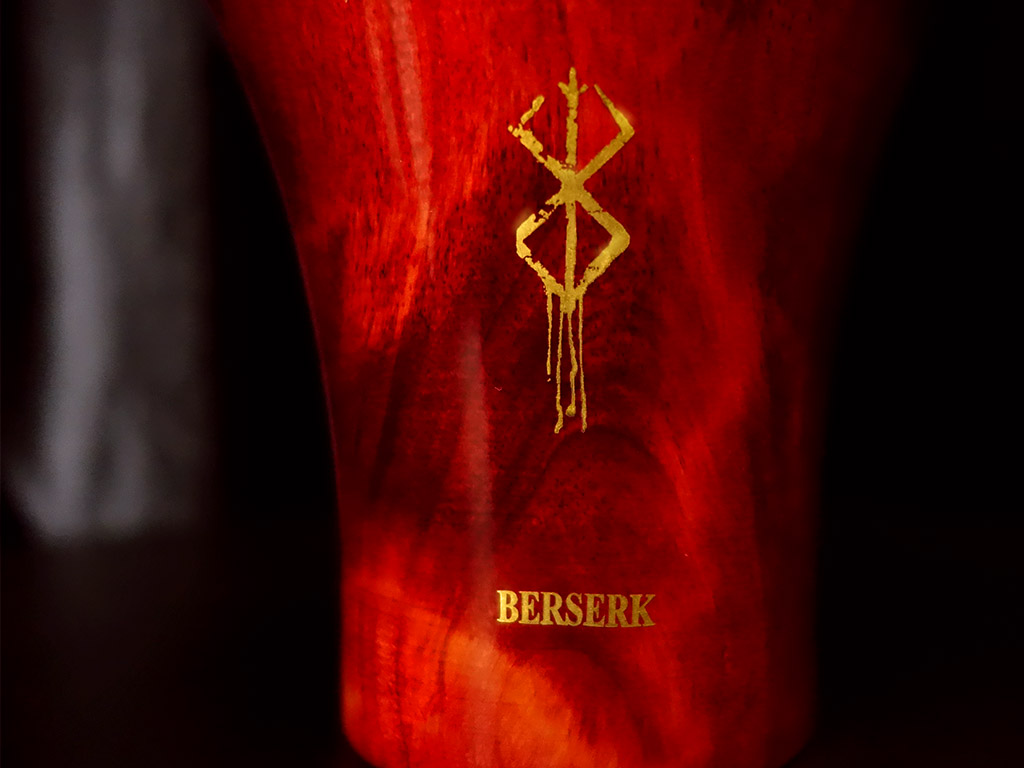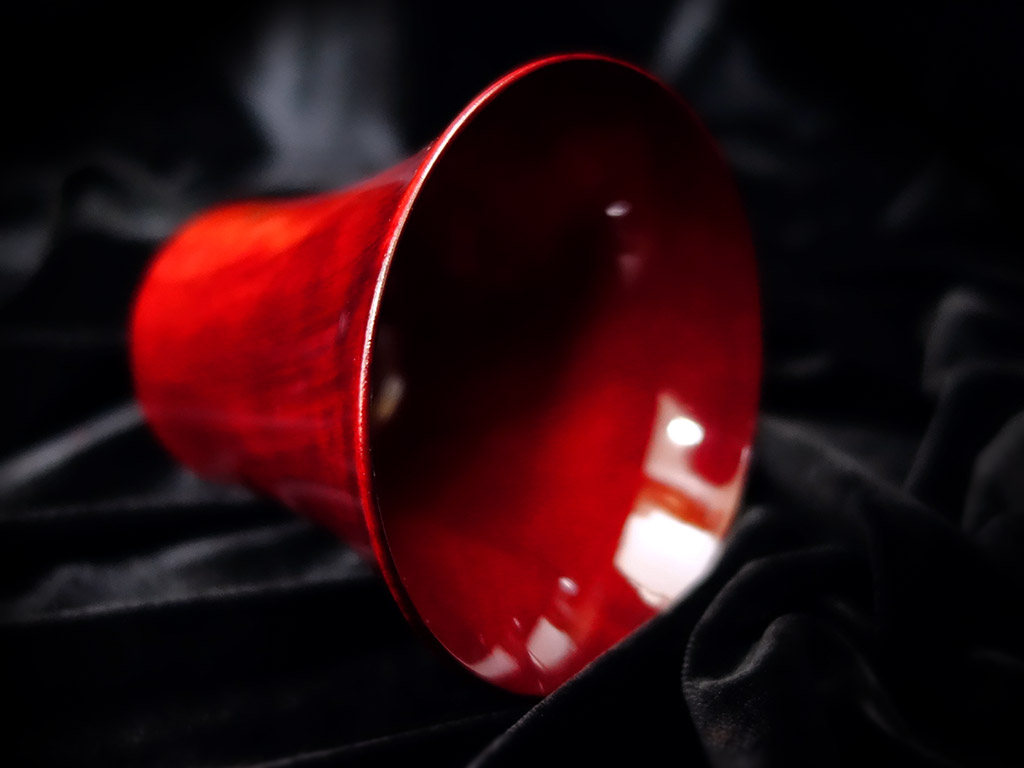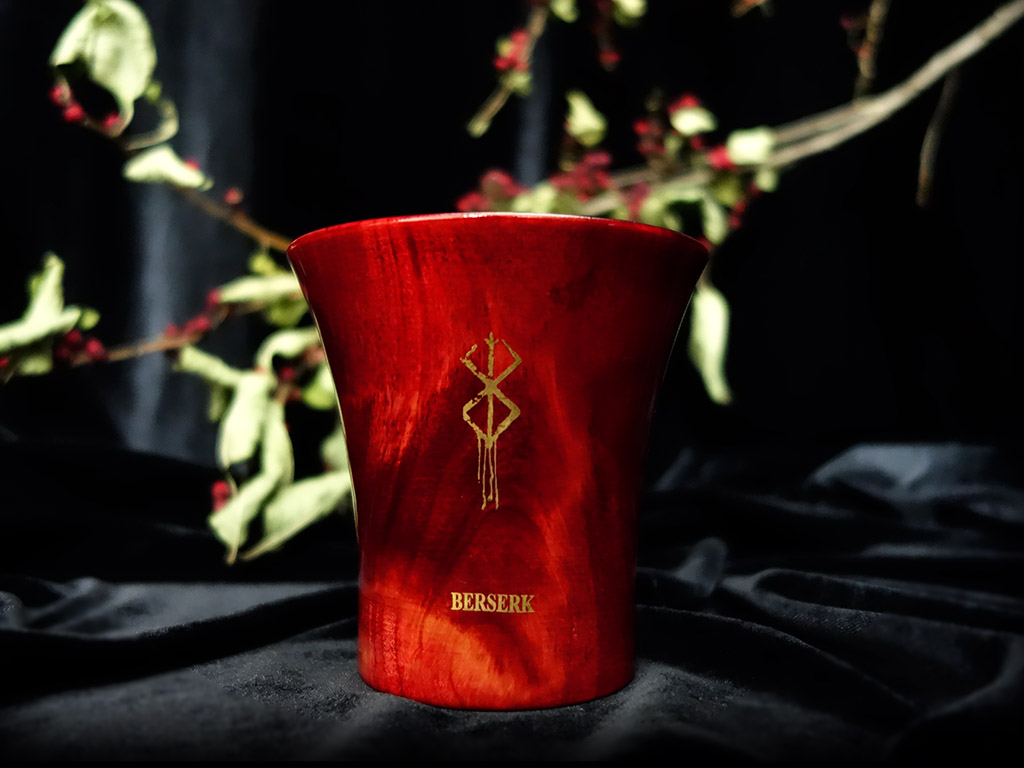 Product Description and Characteristics:

This is a high-quality traditional craft product that utilizes the techniques of Yamanaka-nuri,
a traditional craft of Yamanaka, Ishikawa Prefecture, created with the outstanding skills of world-class wood craftsmen. It is the product that is completely different from any other types of character products we have produced to date.
Unlike porcelain, ceramics, and metal, wood has low thermal conductivity, so it retains the temperature of both hot and cold objects while not transmitting heat or cold to the hand that holds it.
The Berserk Mark of Sacrifice Wooden Gold Leaf maki-e Cup is a wonderful work of art that expresses the advanced technique of maki-e lacquer artisans who apply real gold leaf to the product.
Combined with the delicate grain of the wood and the vermilion lacquer coloring, this is a product that could only be developed by our company, and it beautifully expresses the world of Berserk.
1. Made of Tochi Japanese Natural Wood
This product is made of Tochi, Japanese horse chestnut. Tochi is a durable hardwood with a very beautiful grain and is robust, long-lasting and light. These characteristics make it ideal for everyday tableware. The natural wood has a warmth that cannot be reproduced by resin, glass, or ceramics.
This product is made of environmentally friendly materials that utilize natural wood.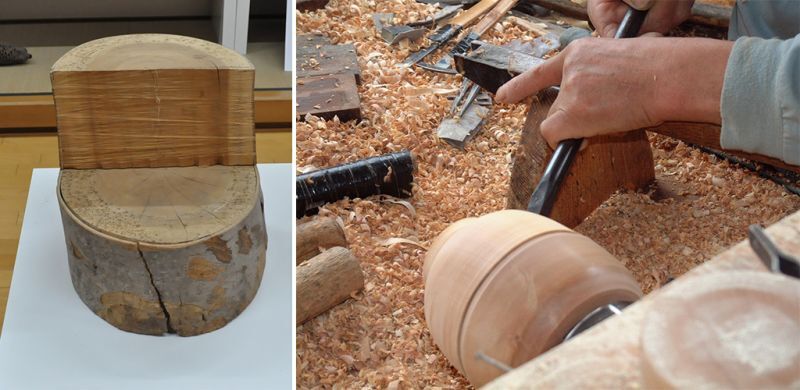 2. Unique Japanese Design
No two wood grains have the same pattern. In other words, there is only one of its kind in the world. It is a uniquely Japanese design and concept that values the beauty of wood and nature. In order to bring this wood grain to life, craftsmen carefully process it with advanced techniques.
One can enjoy the beauty of nature's formative beauty with the grain of every product being different. The beauty of the grain of each piece of wood is unique to each and every product in the world.

The handiwork of master craftsmen creates vessels from a single piece of wood through many processes.
3. A Finish That Appeals To The Palate
Because of the robust nature of horse chestnut, it takes skillful technique to carve it. For this product, our craftsmen are well-versed in the ergonomically easy-to-handle thickness and based on this, the product is finished to an exquisite thinness. Since the slightest difference in thickness affects the finished product, it can only be made by the highly skilled hand of a craftsman. This thinness allows for a smooth and pleasant feeling on the palate when drinking a beverage.
4. High Thermal Insulation Properties
Wood is a very user-friendly material and has superior heat retention and insulation properties compared to glass and silver products. This product will stay warm longer if you put a hot drink in it, and the cup itself is not hot due to its heat-insulating properties, making it easy to hold in the hand and drink. This product truly makes the best use of the superior properties of wood.
5. Use of Real Gold Leaf
The Berserk Mark of Sacrifice is gilded using real gold leaf. This is the highest level of gold leaf technique which has a history of hundreds of years as a traditional Japanese craft.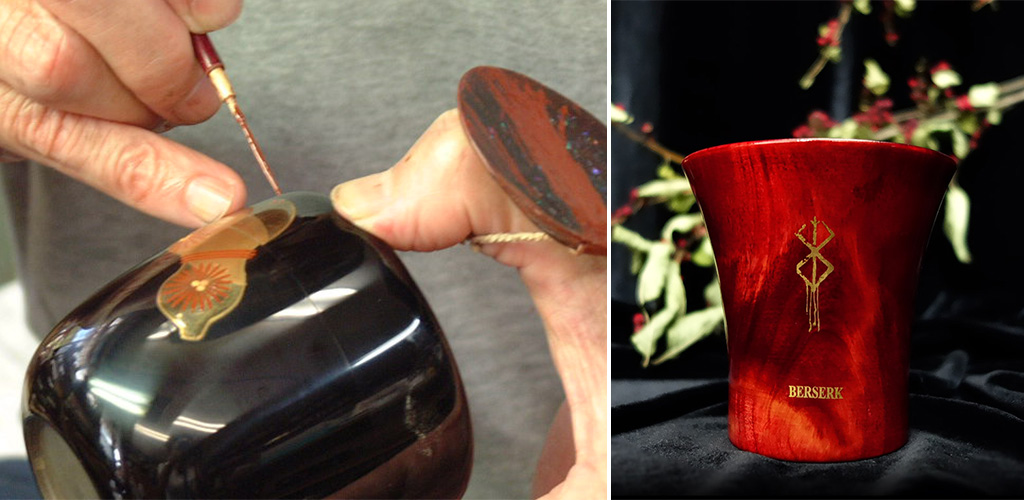 6. Tableware Urethane Coating
The surface has a durable and safe urethane tableware coating to protect the surface and allow for easy use and cleaning in daily life. Please feel free to use it without any concerns.
NB: The product is not dishwasher safe. Please refer to the enclosed instruction manual for details.
Every products is carefully handcrafted and engraved by our skilled artisans in Japan.
This is a great opportunity to add one more fantastic item to your Berserk collection.
***
Please note:
- This item is a made to order item. We do not accept cancellations. Once cancellation occurred, we would not accept the order from the same ID again and the payment will not be refund in any case.So please do consider carefully before the purchasing.
- Since every item is handmade, there might be subtle differences in the colors.
[For safe use and to prolong the life of the product...]
- Do not use in a microwave oven, dishwasher, or dryer.
- Do not use in an oven. Do not use the product directly over a flame or near a flame.
- Do not use detergents other than dishwashing detergent. Use a detergent within the specified concentration.
- Do not use bleach.
- Do not drop the product on the floor or subject it to strong impact.
- Do not scrub with hard objects such as scrubbing brushes or polishing powder.
By polishing the ring, you can enjoy delicate effects of silver. Thank you so much for your kind understanding.
***
*Estimate deliver date: Expected to ship about 1-3.5 month after the Berserk exhibition ends.
*Image only.
*The coloring may differ from the image due to the handiwork of the artist.
*Colors may appear different depending on your display device.
*The size is a prototype measurement and may differ slightly from the product.
| | |
| --- | --- |
| Unit Price | 15,000JPY |
| Product Size | diameter:9.8 × H:10Hcm |
| Materials | Made of Tochi Japanese natural Natural Wood |
| Estimated Delivery Date | Expected to ship about 1-3.5 month after the Berserk exhibition ends. |
| Originated & Manufactured | ART OF WAR / Made in Japan |
| Copy Right | ©Kentarou Miura (studio GAGA)/ Hakusensha |