Mount Fuji -The Spiritual Peak of Japan - 360°Relief Map Golden Version
Mount Fuji -The Spiritual Peak of Japan - 360°Relief Map Golden Version
*This purchase do not have free wrapping service.
Thank you very much for your kind understanding and cooperation.
Product Description
This 360°Relief Map is accurately base on the map data of Mount Fuji, under the supervision of the Geographical Information Authority of Japan.
The model is output by 3D printer.
All the details of the mountain have been carved with precision.
It is a faithful reproduction of the Mount Fuji by the newest replication technology.
Mount Fuji is the spiritual peak of Japan. It is a unique, perfectly rising cone-shaped volcano with beautiful snow covered on the vertices.
It has been worshiped as a divine mountain and experienced big popularity among Japanese and the worldwide tourists throughout the centuries.
Special Packaging
The package of this mini statue is painted with the 4 trails to the top of Mt. Fuji.
Moreover, on the bottom, there is a space for you to write your name and the date which you climbed to the top of Mt. Fuji.
Attention
1. This item is for appreciation, not suitable to be used as a real map.
2. The 4 trails are image only. (not 100% match the real roads.)
3. With the approval of the Geographical Survey director, we used the original map information of the ministry issued. (approval in Heisei 26, No.194 & Heisei 26, No.259 )
©KENSIN
©Tokyo Cartographic Co.,Ltd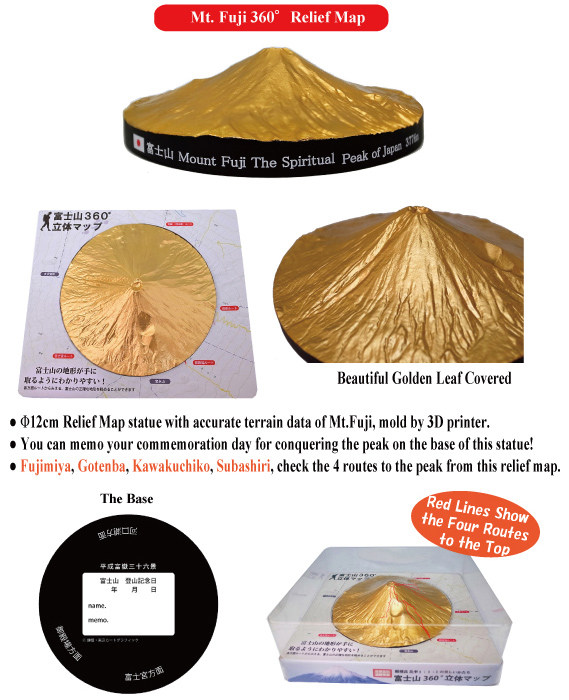 | | |
| --- | --- |
| Unit Price | 1,500JPY (the height of Mt. Fuji)*60% OFF |
| Product Size | 12cm x 12 cm x 3 cm |
| Attachments | 4 Trails attached Package |
| Materials | PVC |
| Estimated Delivery Date | 3-7 days. |
| Originated & Manufactured | KENSIN Co., LTD & ©Tokyo Cartographic Co.,Ltd |