Oda Nobunaga Riding on Horse
Oda Nobunaga Riding on Horse
ODA NOBUNAGA
Oda Nobunaga, the most well-known general of the Warring State Period, swept the whole country of Japan with his brand new thinking and bold tactics.
Nobunaga was a man of plasticity who adopted the Western culture before anyone else. The best example is that Nobunaga was one of the earliest people in the world who possessed a large number of guns for having realized their power. Being filled with ambition to integrate dominions of Japan into a whole country with the help of gun's power, Nobunaga has been described as a talent meanwhile a maniac as well.
This statue of Nobunaga is dressed in his favorite Nanban Kabuto. To represent the unique sense of beauty of the Warring State Period, colors of black, red and golden have been partially added to the works. On the horse back, you can find a matchlock, which was the latest weapon at the Warring State Period. Most efforts have been made to recreate the cold expression of the man who called himself God, paying no attention to even the Imperial Court. Besides, special efforts also have been made to represent minute parts such as Kusazuri (thigh protector) and Douate in details. Coming up with the matchlock, even the mechanism inside has been represented same as that of a real gun.
Explanation of changes!
In 2007, the statue of "Oda Nobunaga" was sold out due to more popularity among people. This item is the second series of "Oda Nobunaga". In second series, the material of the product is changed from pewter to polystone. The shape of the product is same; however, the image is decorated making it lighter in weight. Also, the Nobunaga's armor has a new color painting.
ART KENSIN: Classic Historical Statues has three characteristics:
●According to the Japanese armor's expert supervision, there is a detail accurate representation of the image.
●It is made suitable for interior and the sense of unity scale size (Total height 10〜15cm)
●High grade sensation color painting is done. (Our skillful artisans paint every item with hand brushes carefully.
Our products were the first Historical statue which was faithfully reproduced to show the appearance of the famous Samurai warriors of Sengoku Period.
*The image is phototype only.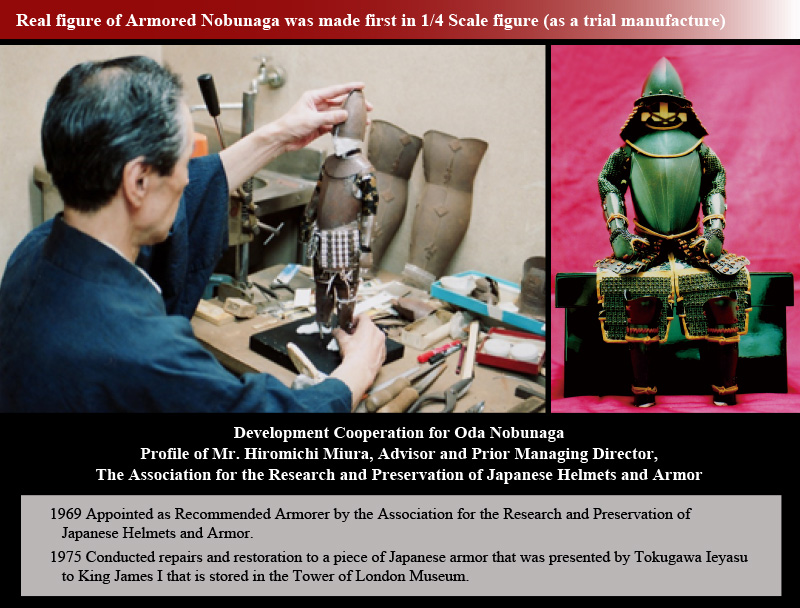 | | |
| --- | --- |
| Product Size | W105×D80×H145(mm) |
| Materials | Polystone, PU |
| Originated & Manufactured | KENSIN Co, Ltd/ Made in Japan |
| Released Date | May, 2015 |
| Copy Right | Copyright(C) KENSIN |
| Retail Information | Available |