Please read all the details below before you send inquiries for this item.
We strongly require every customer to confirm the Shopping Guide before order/pre-order from this site.
No. 395 Berserk 2015-Limited version II(without apostle)*Repaint Version*Sold out!!
No. 395 Berserk 2015-Limited version II(without apostle)*Repaint Version*Sold out!!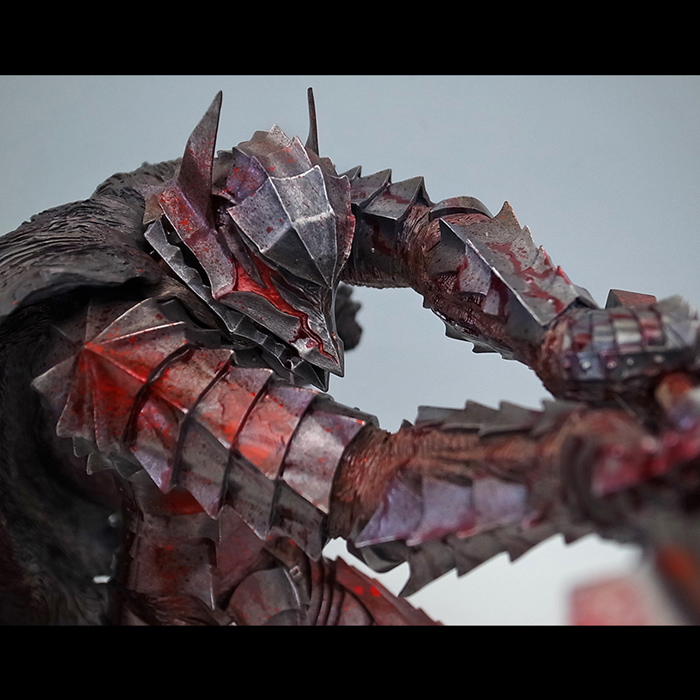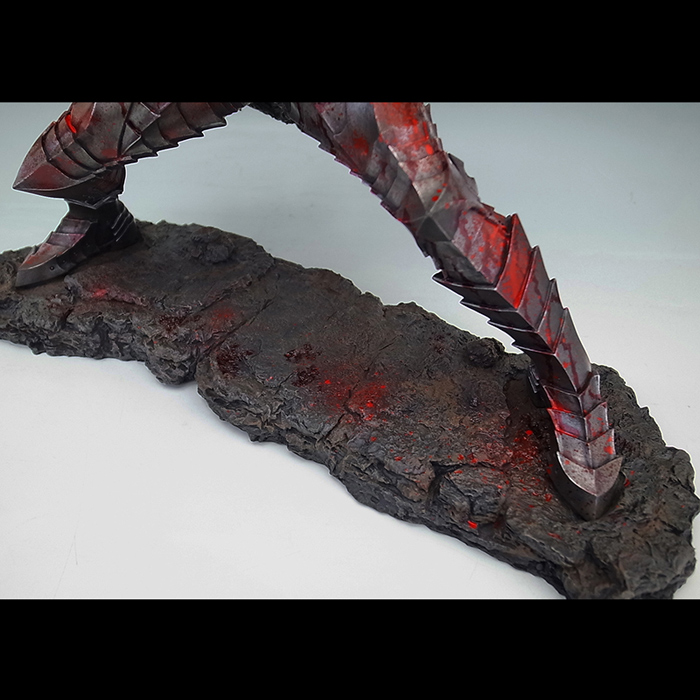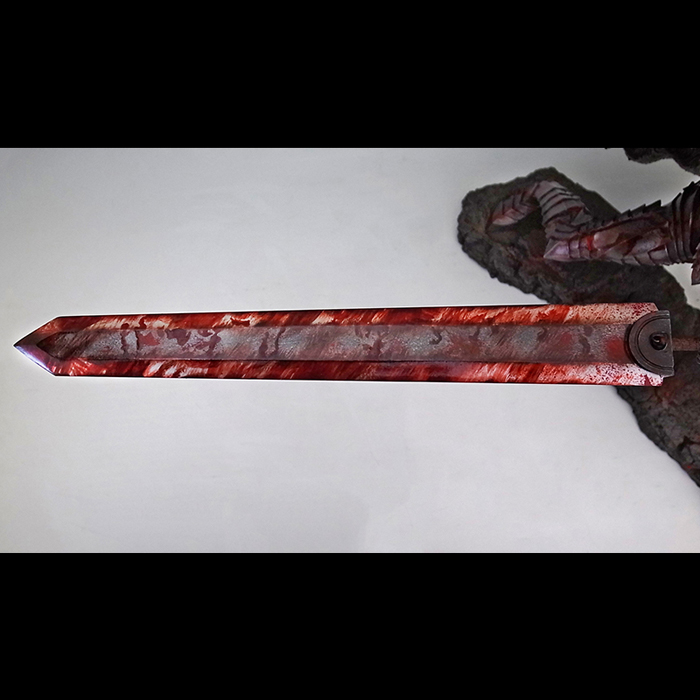 New Year Repaint Release

Last 2 pcs from warehouse as a repaint edition.

Our artisans have carefully repainted the item upgrading the quality of the product. There is more addition of painting to the item. There is a feeling of fresh blood flowing to the item.

Take tha last chance for this marvellous statue.

Estimated Delivery Date: around end of February, 2016

Berserk 2015 *Repaint Edition *Last 2 pcs from warehouse!
New Modeling of Berserk 2015-
We tried to capture a powerful movement of brandishing Dragon slayer which is 41cm in full lengths. Although it is very hard to represent feeling of "speed and energy" with armored body, we pursued not only expression of the movement but also details of armor's edges which usually being incompatible with kinetic representations. It took us one year to finish this statue with Berserk's own dignified feeling as well. As the results, This Guts became a large-scale statue suitable for commemorating the 20th anniversary of Berserk.
Originated from Berserk vol.31, episode 271 (Oriental Magic).
It is our first figure of Berserker Armor which can be seen when Guts controlled the Armor completely. When Schierke made him disillusioned, the cracks of helmet's eye seem to be bigger than before. This statue represents the original scene as well, eyehole became widen so Guts's eye could be visible.
Interchangeable head without helmet will be attached on the item. The head also finished with detailed representations such as black wavelike patterns from his jaw from neck, meaning the berserk armor unified with Guts. We managed to express Guts's forceful face swinging huge sword.
Product Description
New Version of Berserk 2015
The new version of the product's modeling is done in a wide scale reform. BERSERK 20th Anniversary Statue was one of ART OF WAR's popular items. It was sold out immediately after releasing on 2009, and there were many requests for reproduction of this attractive item, so ART OF WAR decided to choose BERSERK 20th Anniversary Statue 2015 in where there is a new modeling. In this model, the Guts is totally changed to Wolf.
*Color of the armor
We tried to represent sharp, dignified, and metallic feeling of the armor. And we added these new colors so that the statue has been completed with its own brand-new force.
Repaint Release*Last 2 pcs
Our artisans spent a lot of time in painting the item one by one by brush. This repainting version has addition of blood to the whole armor making it more bloody. There is a fresh blood flowing all over his body. You are able to check it from the pictures of the item.
[Changes made in Modeling]
Until the last production of Berserk, the Gut's ego was able to control because it was in the human state.This time we decided to change the whole modeling by changing Gut's head to wolf head due to many requests from our supportive customers.The helmet of the Guts is changed totally to wolf's head and human head of the Guts cannot be seen.The upper part of the Guts body is totally changed into new modeling than previous version.The thickness of the armor chest has changed and it looks like Guts is more powerful than the previous version.The armor of product is significantly changed than the previous version. The push out of the chest of Guts is seen, which is the significant change in this modeling.In the previous version, the sharp ridges from shoulder to arm were not in equal balance in both the arms. However, this time, the ridges from shoulder to arm is made balanced equally in both arms be it sharper. Also, due to the change of the upper body, the product looks more powerful.
[Guts Human Head Description]
This time, the Guts human head modeling is significantly changed.
It is made in accordance to the armor where the powerfulness can be felt. It is representation of massive bone.
Until the previous version, this product was made only of Wolf's helmet. But, this time you can feel the charm for the grade up of the product with Guts human head.
Originated from Berserk vol.31, episode 271 (Oriental Magic).
It is our first figure of Berserker Armor which can be seen when Guts controlled the armor completely.
You can fully enjoy the product by putting the base wherever you wish.
Product Information:
Guts Size: Non-Scale 42cm (W) x 34cm (H) x 60cm (D) (base and sword included)
Material : Polystone
Attachment: Guts Human Head, , Nameplate
Limited Manufacture to 25 pcs (*last 2 pcs offer as a repaint edition.
Originated & manufactured by ART OF WAR
Estimated Delivery Date: End of February, 2016
Installment Plans
Plan A
First Payment: 67,500 JPY + 2,700 JPY (4% of 67,500 JPY as a PayPal charge) in 7 days after pre-order confirmed
Second Payment: 67,500 JPY + 2,700 JPY (4% of 67,500 JPY as a PayPal charge) in 30 days after pre-order confirmed
Third Payment: Shipping & Handling cost before February
*Please choose "Private Invoice" as payment method if you need an installment plan. Also, please kindly inform us in "remarks" during your purchase writing "Installment Plan", otherwise we are unable to offer the correct invoice.
Other Notifications
1. You may be required to pay customs fees when receiving foreign shipments.
ART OF WAR unfortunately has no control over any fees/taxes levied by your country's government. Please kindly be aware about the tax/customs you may have to pay when you receive this item.
2. We do not accept cancel/refund requests (or request transferred by PayPal) after payments. The paid amount will not be refunded under any circumstances.
3. Every piece of our item is hand painted. The exact product may have differences to the sample pictures.
4. Please confirm all the informations and consider carefully before your pre-order. If you have any concerns or questions, please contact us from "Inquiries".
Thank you so much for your great support.If you would like to be added to our waiting list, please feel free to contact us at assist@art-of-war.co.jp
*Image only.
Product Information
| | |
| --- | --- |
| Unit Price | 135,000 JPY* Sold Out!! |
| Product Size | Guts Size: Non-Scale 42cm (W) x 34cm (H) x 60cm (D) (base and sword included) |
| Attachments | Guts human head, Nameplate |
| Maximum Manufacture | Limited to 25 pcs (last 2 pcs offer as a repaint edition) |
| Serial Number | NA |
| Materials | Polystone |
| Estimated Delivery Date | end of February, 2016 |
| Originated & Manufactured | ART OF WAR |
| Released Date | January 16th, 2016 |
| Copy Right | ©Kentarou Miura (studio GAGA)/ Hakusensha |
| Cautions | We do not accept cancellations in any case once the payment has been made, so please consider carefully before purchasing this item. |