Please read all the details below before you send inquiries for this item.
We strongly require every customer to confirm the Shopping Guide before order/pre-order from this site.
No. 415 Armored Berserk: Skull Helmet Version *Sold out*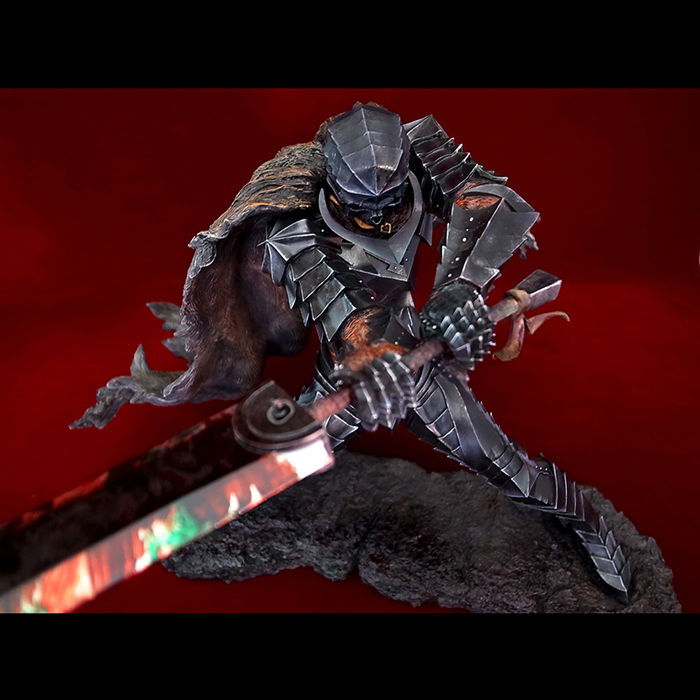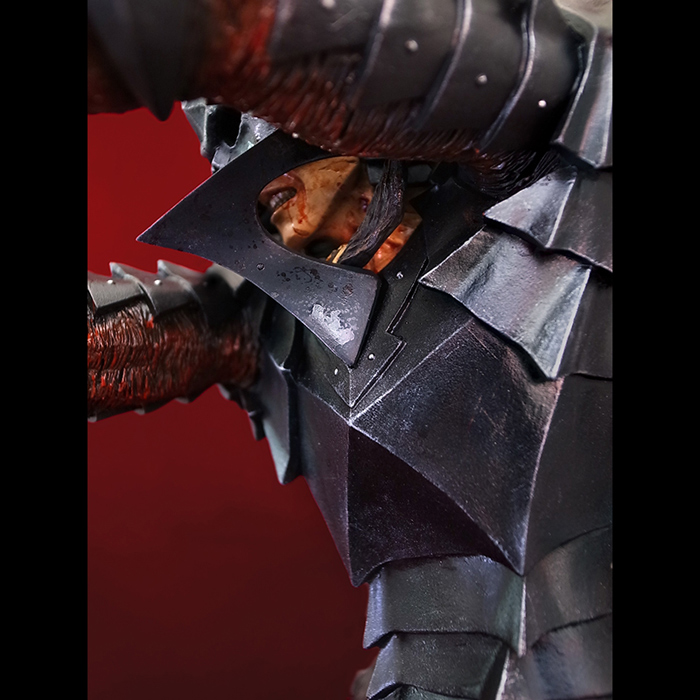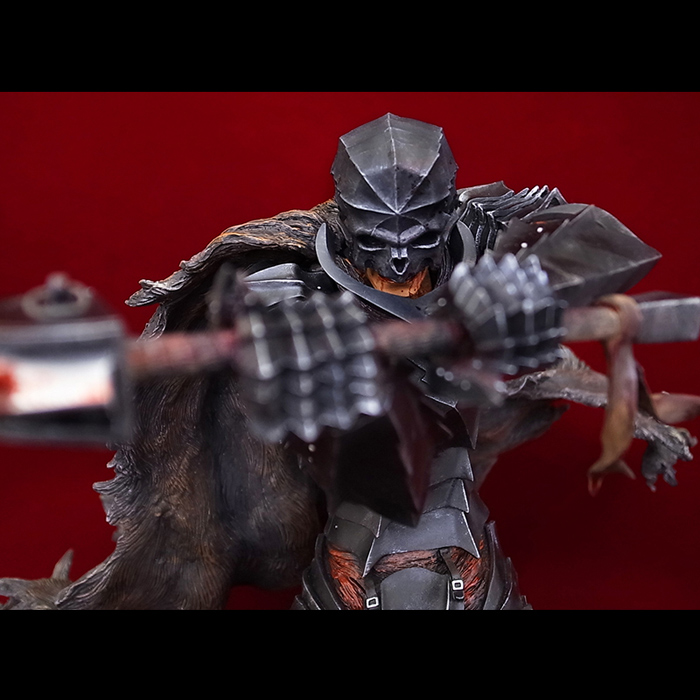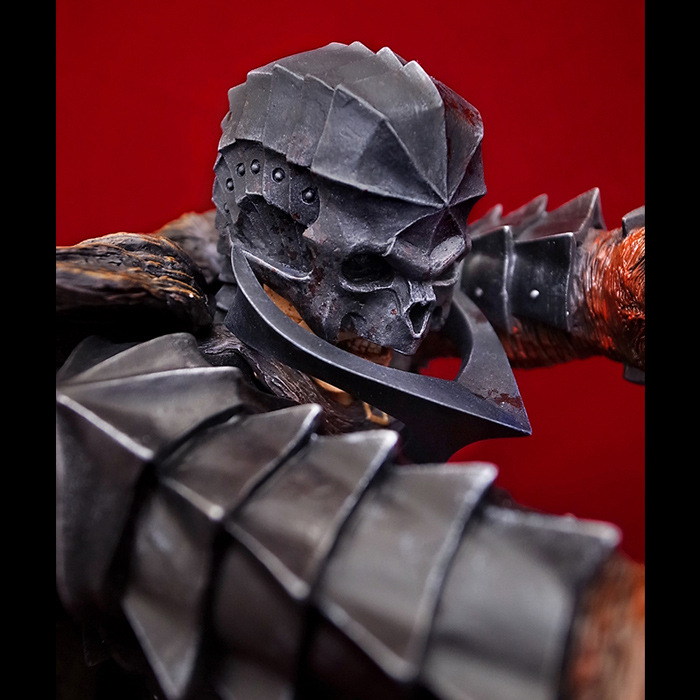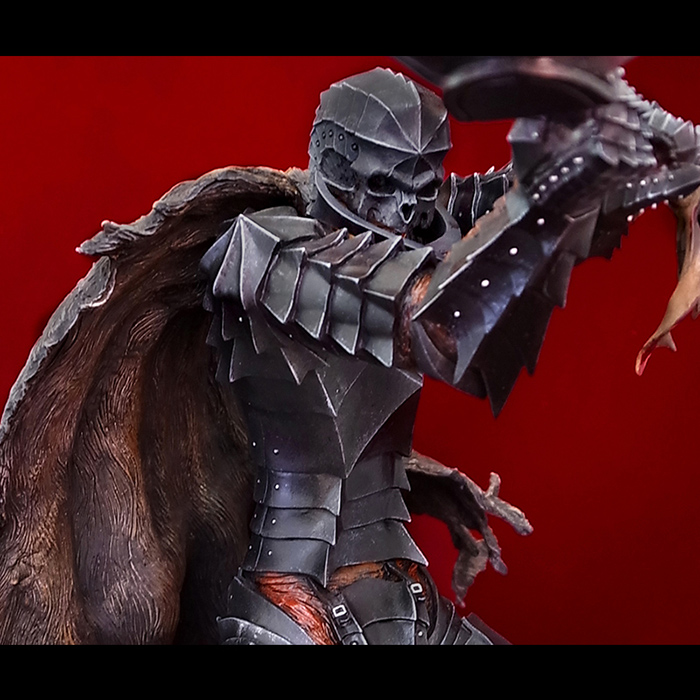 Limited to 50 pcs only
Armored Berserk: Skull Helmet Version*Currently Accepting Cancellation Lists
Please kindly understand this item will not have bloody effect. If you wish to add the additional blood effect, please kindly purchase No.416 together with this item.
Youtube:
360 degree rotation:
Detail:
Birth of Berserker (Originated from Volume 26- "Armored Berserk")
Inheritance of Skull Helmet from Skull Knight will be the birth of Berserker.
Product Description
With the master of Schierke, an old friend of Skull Knight, due to enormous power the fetish of the Skull head is changed to a strong Skull helmet armor. This helmet is passed on to Guts who has been injured and is at the end stage of life. This scene is when the skull helmet armor is pass on to Guts which is the important armor that connects Geiseric and the Skull Knight. Guts wearing the skull knight armor are a protector, with the insertion of the armor in his body; his part of the body is changed and brings a major turning point in his life. After this, Guts is changed into "Berserker" which has gently increased his combat capability.
We were planning in the production of the Berserk 20th Anniversary with Skull Knight face model since the beginning, however, we were unable to bring the balance in the armor for this modeling. With a long planning and the time, we finally are able to reproduce this master piece.
Modeling
The modeling of the item is the turning points of Guts as a Berserker, where the body part of armor is taken from "Berserk 2015". The skull helmet is a complete new modeling with a greatly improved mantle which shows strongest part of the turning point. In order to match the skull helmet with the body part, we have been repeatedly working with the modeling of this item for more than one and half year. Finally, we are able to present a complete modeling which looks exactly same and quite real. In the original appearance of scene, Skull head face is almost not seen. Therefore, it was difficult for in the modeling of the three dimensional models of Skull head image. This was done by modeling Guts wolf face several times. Finally, with many failure attempts in modeling the head part, we were able to reach to bring the exact original scene of manga in product.
In addition, the features of mantle are modeling it in a larger image than that release in the past by emphasizing the feeling of "wave motion" and "life form" modeling. The cloak of the Berserker not only brings the feeling of cloth, however, there is an interpretation of the living life such as "biological motion" and "uneven organic spread" by putting more thickness to the mantle. Also, this time, in comparison to the work of 2015, it clearly expressed the size and movement of the product.
You are able to fully enjoy the difference by putting the wolf helmet and skull helmet in hand.
The whole items express comparative images of Armored Berserk, which persists top quality as that of statue of ART OF WAR.
Installment Plans
Plan A
First Payment: 62,500 JPY + 2,500 JPY (4% of 62,500 JPY as a PayPal charge) in 7 days after pre-order confirmed.
Second Payment: 62,500 JPY + 2,500 JPY (4% of 62,500 JPY as a PayPal charge) + Shipping & Handling Cost in 30 days after pre-order confirmed.
Plan B
First Payment: 41,000 JPY + 1,640 JPY (4% of 41,000 JPY as a PayPal charge) in 7 days after pre-order confirmed.
Second Payment: 42,000 JPY + 1,680 JPY (4% of 42,000 JPY as a Paypal charge) in 30 days after pre-order confirmed.
Third Payment: 42,000 JPY + 1,680 JPY (4% of 42,000 JPY as a PayPal charge) +Shipping & Handling Cost in 60 days after pre-order confirmed.
*Please choose "Private Invoice" as payment method if you need an installment plan. Please kindly inform us through "remarks" during your purchase .Thank you for your kind understanding and cooperation.
Product Information
Armored Berserk-Skull Helmet Version
Material: Polystone
Total Size: Non-Scale; 33cm (H)x 44.5 cm (W)x 64 cm (D) (base & sword included)
Mantle Size-Previous Version (2015): W27 cm & L 28.5 cm→New Release(2016): W42 cm & 35 cm
Serial Number: No.1-No.50
Limited manufacture to 50 pcs only (including domestic & international)
Originated & Manufactured by ART OF WAR
Other Notifications
1. You may be required to pay customs fees when receiving foreign shipments.
ART OF WAR unfortunately has no control over any fees/taxes levied by your country's government. Please kindly be aware about the tax/customs you may have to pay when you receive this item.
2. We do not accept cancel/refund requests (or request transferred by PayPal) after payments. The paid amount will not be refunded under any circumstances.
3. Every piece of our item is hand painted. The exact product may have differences to the sample pictures.
4. Please confirm all the informations and consider carefully before your pre-order.
If you have any concerns or questions, please contact us from "Inquiries".
* The image is phototype only.
Product Information
| | |
| --- | --- |
| Unit Price | 125,000 JPY*Sold Out |
| Product Size | Non-Scale; 33cm (H)x 44.5 cm (W)x 64cm (D) (base & sword included)Mantle Size-Previous Version: W27 cm & L 28.5 cm→New Release: W42 cm & 35 cm |
| Attachments | Serial Number Nameplate |
| Maximum Manufacture | Limited to 50 pcs only |
| Serial Number | No. 1- No.50 |
| Materials | Polystone |
| Estimated Delivery Date | around June-July, 2016 |
| Originated & Manufactured | ART OF WAR |
| Released Date | February 19th, 2016 |
| Copy Right | © Kentarou Miura (studio GAGA)/ Hakusensha |
| Cautions | No repair, no refund, no cancellation |