Please read all the details below before you send inquiries for this item.
We strongly require every customer to confirm the Shopping Guide before order/pre-order from this site.
No. 429 Trophy* Bloody Version (with attach of bloody bone)*Christmas Special Present Offer*Sold Out!!!
No. 429 Trophy* Bloody Version (with attach of bloody bone)*Christmas Special Present Offer*Sold Out!!!

Special Christmas Present Offer (nameplate + card + special gift) to the customers pre-ordering and settling the payment from November 11th until November 30th, 2016!!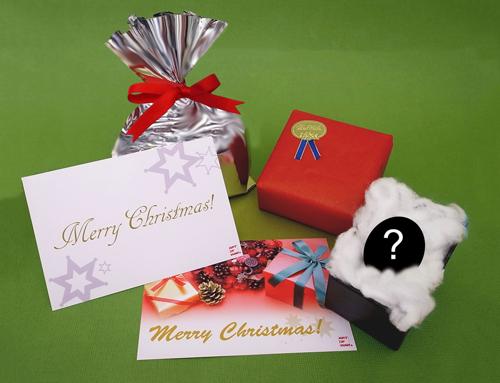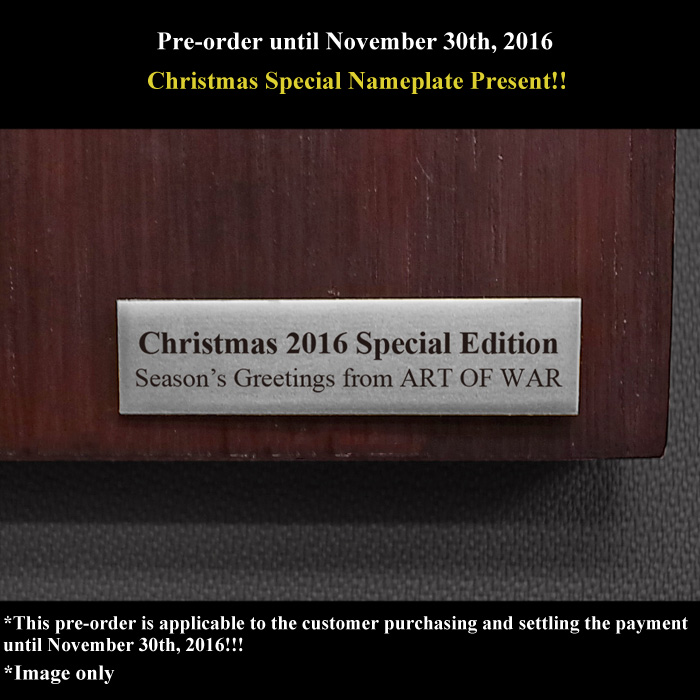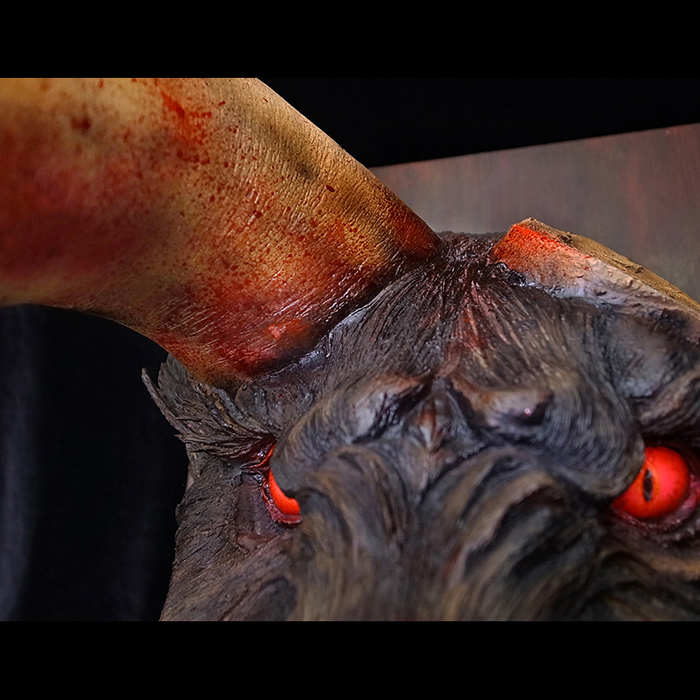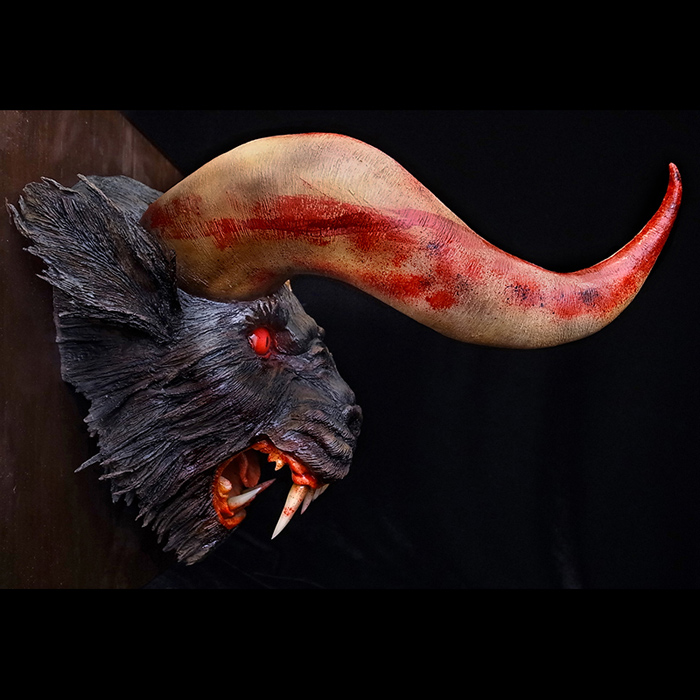 Trophy (Bloody Version) + 1 pcs of bloody bones
Estimated Delivery Date: around beginning of December (before Christmas time)
Product Description
This is the first time ART OF WAR has released "Trophy" of ZODD.
Zodd - A more formidable re-creation!
ZODD head is the trophy victory commemorate product to Guts and Skull Knight. "Bone" means, in the battlefield, ZODD has killed many enemies in which only remains the bone, which means the bone is the "Trophy victory commemorate product".
"Huge Scale Product with large parts "
We have been releasing the "ZODD" figure for a several times. However, for the first time, we try to present a conventional art features with lots of presentation of hair. This expression is the beast version of ZODD in three dimensional images. During the production time, we tried to bring the features of trophy of real animals; however, as the product is ZODD, therefore, we were unable to put animal's hair in it as the image. Therefore, in order to bring the real form of ZODD, our artisans have spent a lot time in bringing the real image of ZODD.
The ZODD itself is a huge product; therefore, it is quite difficult to produce a large scale product. Our company decided to make a trophy of "ZODD" by putting much effort in the detail expression of ZODD. This time, we have invested much in the detail expression of ZODD. In the modeling of the product, in order to bring the representation of the realness in the ZODD, our artisans try to put one by one hair image attachment in the face of the ZODD. We present our customers with a huge and better appreciation of art of berserk in this product.
--------------------------------------------------------
Product Information
You are able to check the painting of the product, as our artisans try to paint the item carefully bringing the realness of ZODD. Our artisans have spent more time in painting the mouth of the ZODD as you are able to see the details and realness can be seen from the painting of the product.Please kindly do not put any objects on top of the product, also please kindly put the item from children.
Trophy (with attach of one pcs of bloody bone)
Unit Price: 122,000 JPY
*Limited to only 30 pieces only (including all the variations option)
Youtube Details:
Other Notifications
1. You may be required to pay customs fees when receiving foreign shipments.
ART OF WAR unfortunately has no control over any fees/taxes levied by your country's government. Please kindly be aware about the tax/customs you may have to pay when you receive this item.
2. We do not accept cancel/refund requests (or request transferred by PayPal) after payments. The paid amount will not be refunded under any circumstances.
3. Every piece of our item is hand painted. The exact product may have differences to the sample pictures.
4. Please confirm all the informations and consider carefully before your pre-order.
If you have any concerns or questions, please contact us from "Inquiries".
*Image only.
Image shown may differ from actual product appearance. Thank you for understanding.
* Please note *
Please write the correct delivery address with your country name in English when you register an ID.
©Kentarou Miura (studio GAGA)/ Hakusensha
Product Information
| | |
| --- | --- |
| Unit Price | 122,000 JPY *Christmas Special Gift*Sold Out!!! |
| Product Size | ZODD Size: (L) 28.5 X (B) 27.5 X (D) 39 cm (without base); Base Size: (L)38 X (B) 30.3 X (W) 17 cm (wooden base) |
| Attachments | one pcs of bone parts, serial number nameplate, christmas special nameplate, special christmas gift |
| Maximum Manufacture | Limited Manufacture to 30 pcs (including all versions) |
| Serial Number | No. 1- No.30 |
| Materials | Polystone, wooden base, etc. |
| Estimated Delivery Date | around mid of November, 2016!!! |
| Originated & Manufactured | ART OF WAR |
| Released Date | July 20th,2016!! |
| Copy Right | @ Kentarou Miura (studio GAGA)/ Hakusensha |
| Cautions | Please kindly understand that we do not accept return, refund or cancellations. Please kindly carefully purchase the item. |