Please read all the details below before you send inquiries for this item.
We strongly require every customer to confirm the Shopping Guide before order/pre-order from this site.
No. 456 Berserk: Slash 1/6 scale*Bloodshed Repainting Version (without Darka)*Sold Out!!!
No. 456 Berserk: Slash 1/6 scale*Bloodshed Repainting Version (without Darka)*Sold Out!!!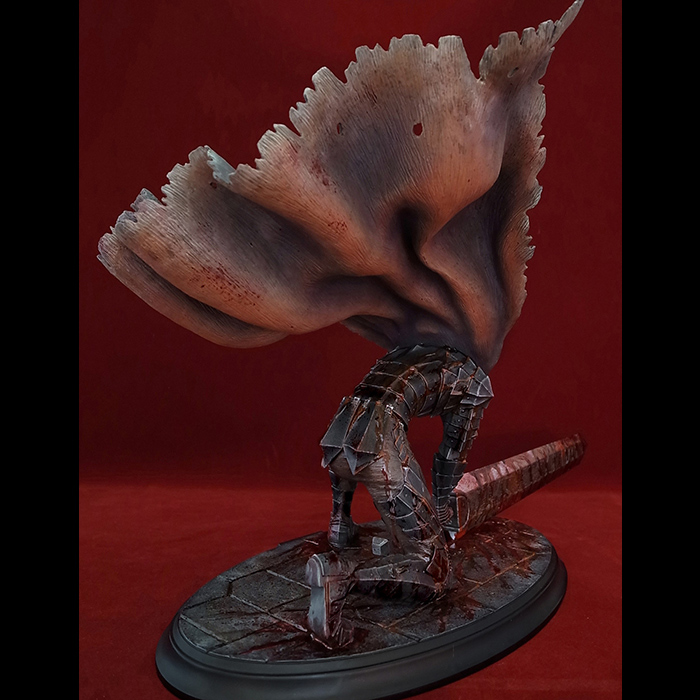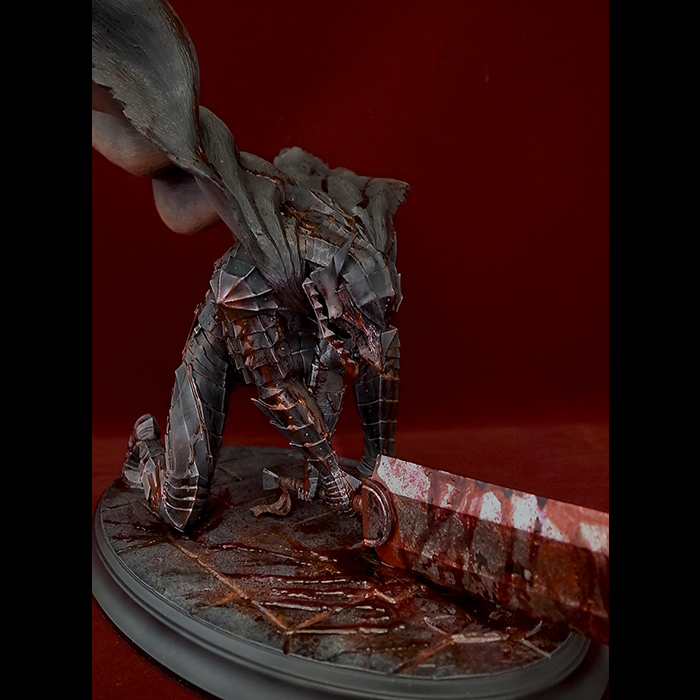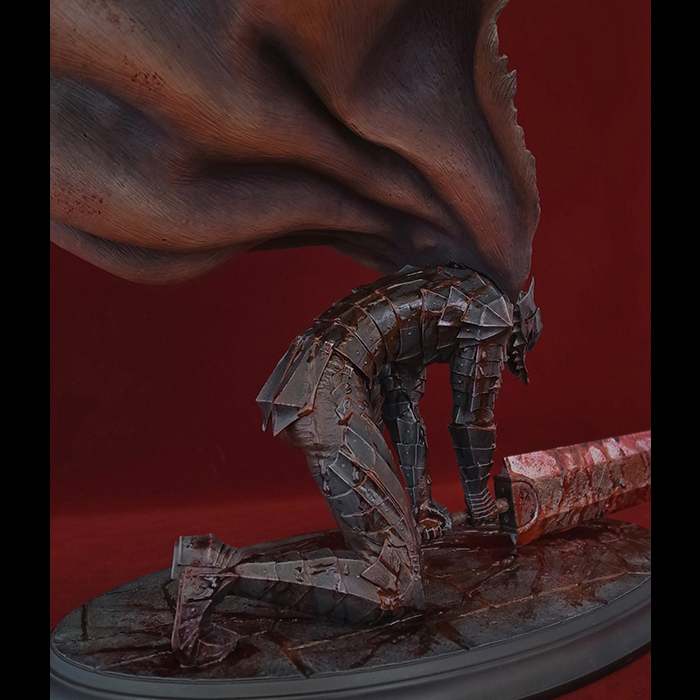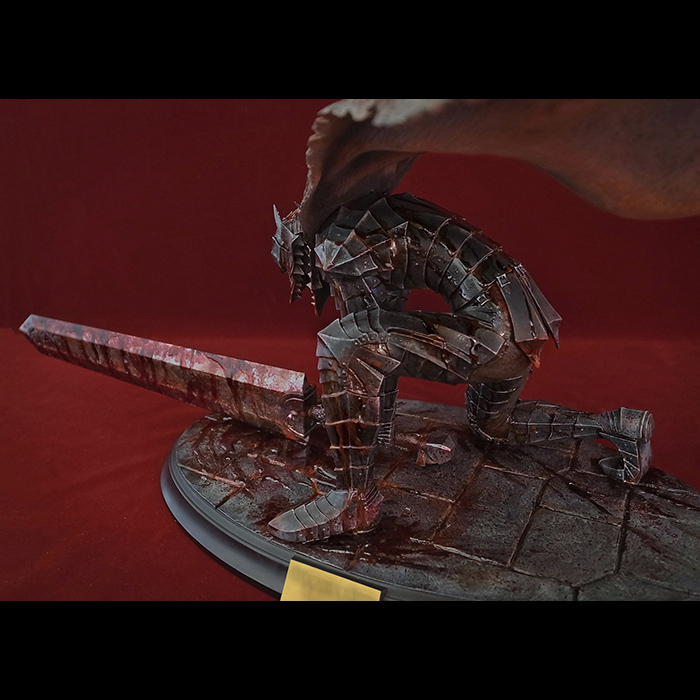 Last Chance to get this product!

*Sold Out!!

Estimated Delivery Date: around 3-7 days after the confirmation of payment! Last 1 pcs

*Please kindly understand that there is no interchangable Gut's human head in this product.
Product Description: "Berserk Slash 1/6 scale- Bloodshed Repainting Version
This item is made from the original model of "Guts- 1/6 scale slash". .We have received a lot of inquiries for this product, therefore, we decided to release this product with the flowing bloodshed repainting for the first time.
"Berserk 1/6 scale slash" is a large-sized statue, which the total length is 54 cm and Guts' mantle is around 34 cm wide. You can feel a great strength from Berserk' fighting pose. When Berserk went down on his knees and swung the Dragon Slayer, Berserks' mantle was flying in the wind and featured a dramatic shape. This 1/6 scale Berserk armor has a powerful image which you are not able to find from a 1/10 scale statue.
This time, our artisans carefully added the bloodshed flowing all over the armor. The addition of bloodshed takes a lot of time in order to paint one piece. However, this kind of painting is possible only in ART OF WAR's factory. You will be amazed to see the product in real with bloodshed flowing in the armor.
Painting:
This time, we repaint the inside part of the mantle in a dark iron color this time. The whole armor is colored in a black dark color. Also, for the first, we, ART OF WAR worked on fresh
Bloodshed Repainting
flowing down from the armor, and the bloodshed stains smeared on the Dragon Slayer and the base. Our skillful artisans paint every item with hand brushes carefully. We are proud to offer this high quality statues to Berserk fans.
This product looks completely bloody with the bloodshed repainting all over the armor and base.
*Youtube Details:
Installment Plans:
Plan A (without attachment of Darka):
First Payment: 40,000 JPY + 1,600 JPY (4% of 40,000 JPY as a PayPal charge) in 7 days after pre-order confirmed
Second Payment: 40,000 JPY + 1,600 JPY (4% of 40,000 JPY as a PayPal charge) + Shipping & Handling Cost in 30 days after pre-order confirmed.
*Please choose "Private Invoice" as payment method if you need an installment plan.
*Also, please write Plan A in "remarks" depending on your pre-order item.
Otherwise we are not able to send you the right invoice.
Other Notifications:
1. You may be required to pay customs fees when receiving foreign shipments.
ART OF WAR unfortunately has no control over any fees/taxes levied by your country's government. Please kindly be aware about the tax/customs you may have to pay when you receive this item.
2. We do not accept cancel/refund requests (or request transferred by PayPal) after payments. The paid amount will not be refunded under any circumstances.
3. Every piece of our item is hand painted. The exact product may have differences to the sample pictures.
4. Please confirm all the informations and consider carefully before your pre-order.
If you have any concerns or questions, please contact us from "Inquiries".
*Image only
Product Information
| | |
| --- | --- |
| Unit Price | 80,000 (without attachment of Darka)*Sold Out!!! |
| Product Size | approx. (W) 34 cm x (H) 31.5 cm x (L) 54 cm |
| Attachments | Serial Number Nameplate (No. 31〜45) |
| Maximum Manufacture | Additional Manufacture - 15 pcs (Total Manufacture- 45 pcs) |
| Serial Number | The serial number will be from No. 31〜45 respectively. |
| Materials | Polystone, PU & special poly in some parts to enhance elasticity. |
| Estimated Delivery Date | around 3-7 days after the confirmation of payment. |
| Shipping Method | EMS (Shipping Cost will be automatically calculated during purchase) |
| Originated & Manufactured | ART OF WAR |
| Copy Right | © Kentarou Miura (studio GAGA)/ Hakusensha |
| Cautions | No cancellation, no refund, no return or repair service. |