Classic Historical Statue - Uesugi Kensin in Kawanakajima Battle*Vermilion Battle Surcoat!!
Classic Historical Statue - Uesugi Kensin in Kawanakajima Battle*Vermilion Battle Surcoat!!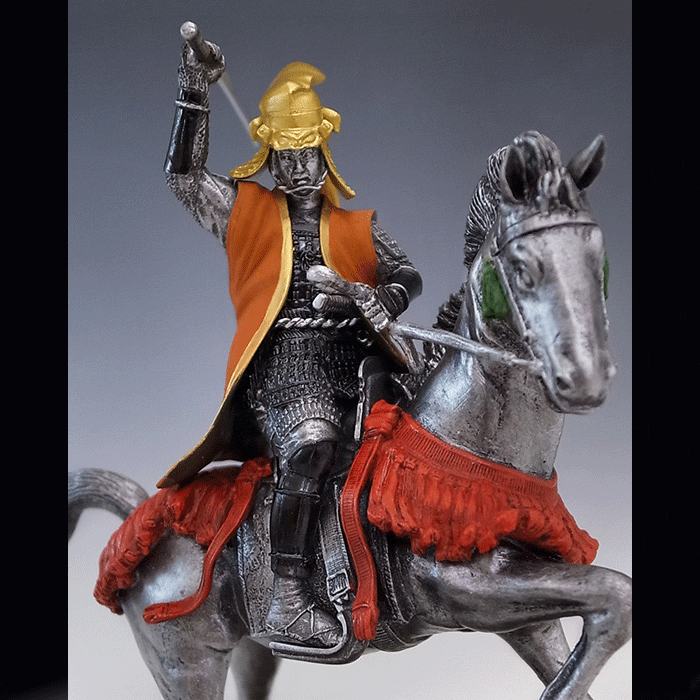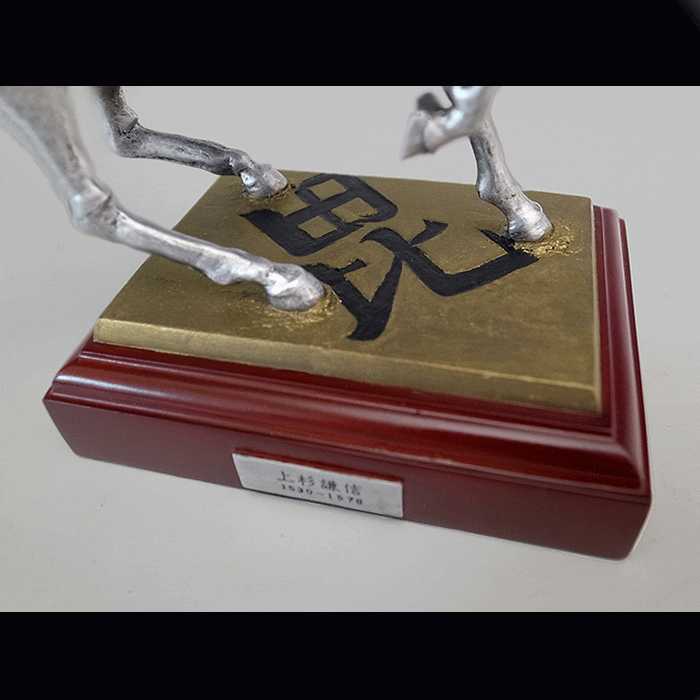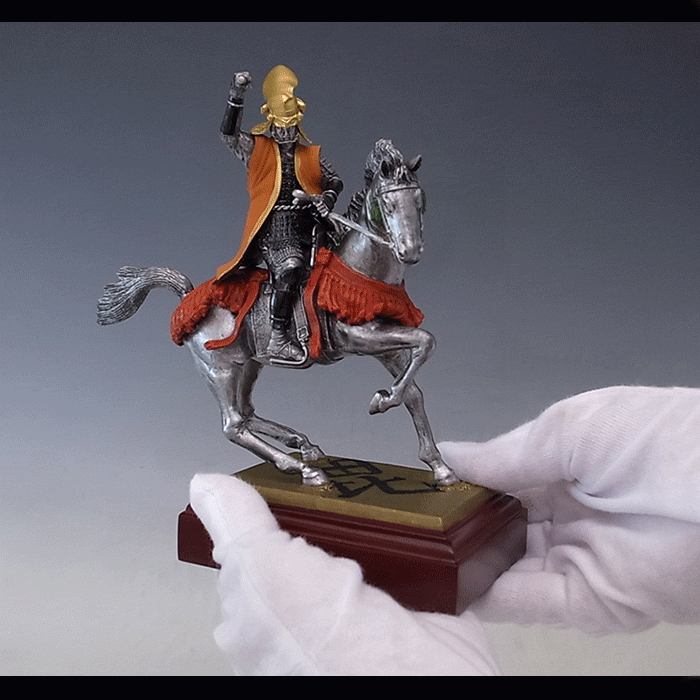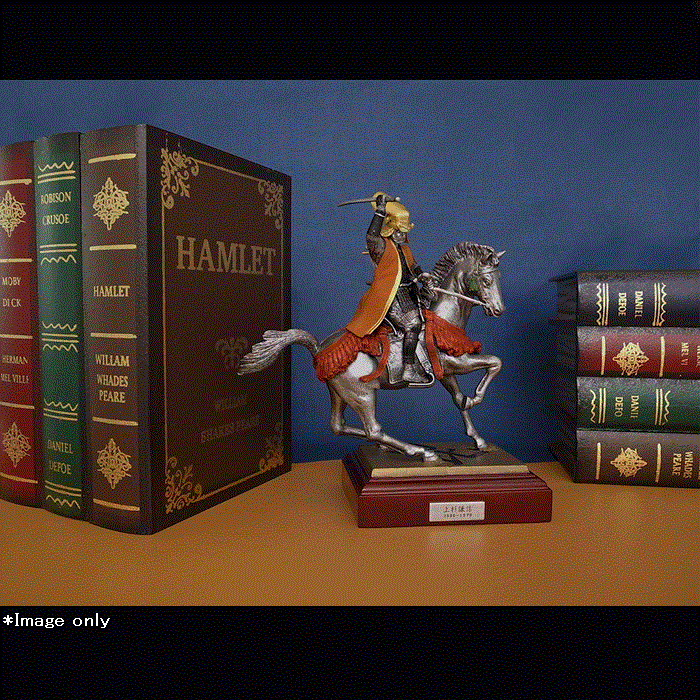 Uesugi Kensin in Kawanakajima Battle*Vermillion Battle Surcoat
Estimated Delivery Date:around December, 2017!!!
This works represents the most famous scene at the Battle of "Kawanakajima", which is famous for its fierceness. Fighting in the vanguard, Kensin unbelievably dashed into Singen's main camp with only a few troops. Most of our efforts have been made to recreate the vivid feeling of the twinkle when Kensin waved around his sword at his rival, Singen, on the moving horse.
Kensin believed deeply in Buddhism and even thought himself the incarnation of Buddha. In order to represent Kensin's magnetism, we have added golden color to Kensin's armor and clothes, meanwhile have recreated the special sword which has no shell. Only people who do not fear being hurt will use a sword without shell, which is the part of a sword protecting one's hand from rival's sword in battles. On the base of the works, you can see the Japanese word, which was Kensin's symbol painted on the troops' flag.
Of course you can fully amuse yourself with simply the statue of Kensin, while together with Singen's statue, the fighting scene can be represented completely and it will give you the feeling of being at a live performance.
Product Description
The helmet is made with the reference of the actual armor of "Uesugi Kensin" which is placed in the Uesugi Shrine (Yonezawa shi, Yamagata Prefecture of Japan). We have created the helmet part (miniature form) based on the historcial documents of the real helmet. The creation of helmet is exactly same as that of the real helmet.
ART KENSIN Classic Historical Figures has three characteristics:
●According to the Japanese armor's expert supervision, there is a detail accurate representation of the image.
●It is made suitable for interior and the sense of unity scale size (Total height 10〜15cm)
●High grade sensation color painting is done. (Our skillful artisans paint every item with hand brushes carefully.
Our products were the first historical figure which was faithfully reproduced to show the appearance of the famous Samurai warriors of Sengoku Period.  
Shipping and Handling Cost:
(via EMS only)
Area 1 (Asia) - 4,500 JPY
Area 2 (North America, Mideast, Oceania) - 5,200 JPY
Area 3 (EU Countries) - 5,900 JPY
Area 4 (South America, Africa) - 9,500 JPY
The image is phototype only.
| | |
| --- | --- |
| Unit Price | 19,500 JPY |
| Product Size | W155×D60×H155(mm) |
| Materials | Polystone, PU |
| Originated & Manufactured | KENSIN Co, Ltd/ Made in Japan |
| Released Date | October 18th, 2017!!! |
| Copy Right | Copyright(C) KENSIN |
| Retail Information | Available |