Please read all the details below before you send inquiries for this item.
We strongly require every customer to confirm the Shopping Guide before order/pre-order from this site.
[PRE-ORDER STARTED]No.517 Beherit 2020 New Versions in New Colors!!
[PRE-ORDER STARTED]No.517 Beherit 2020 New Versions in New Colors!!
Unit Price: 5,000JPY - 15,000JPY
Prices vary according to options.
PRESS RELEASE: For immediate release April 10th , 2020
Estimated delivery date: September 2020(planned)
---------------------
BEHERIT2020
The Eclipse | The Egg of King | The Egg of King Open Eyes
Start taking order now!!!!
For the first time ever, we have created a vivid facial expression for our Beherit models focusing on a surface texture that results in a dirt-look finish of an unprecedented scale.
Our skilled artisans meticulously paint every fully hand-crafted Beherit, turning out a color finish only made possible by KENSIN's Art of War craftspeople. The three-dimensional facial features make these Beherit models seem alive in every detail.
Our product launches this time are the previously offered The Eclipse and The Egg of King and, new-to-market, the popular Beherit version, The Egg of King Open Eyes.
Despite it only being four centimetres in height, we have succeeded in applying our finest art techniques to add a mystic sparkle into the Beherit's blue eyes. We have created a product that you will never tire of!
Each product come in two colour versions – a limited version with a gold leaf bail, and a standard version with an antique gold color painted bail.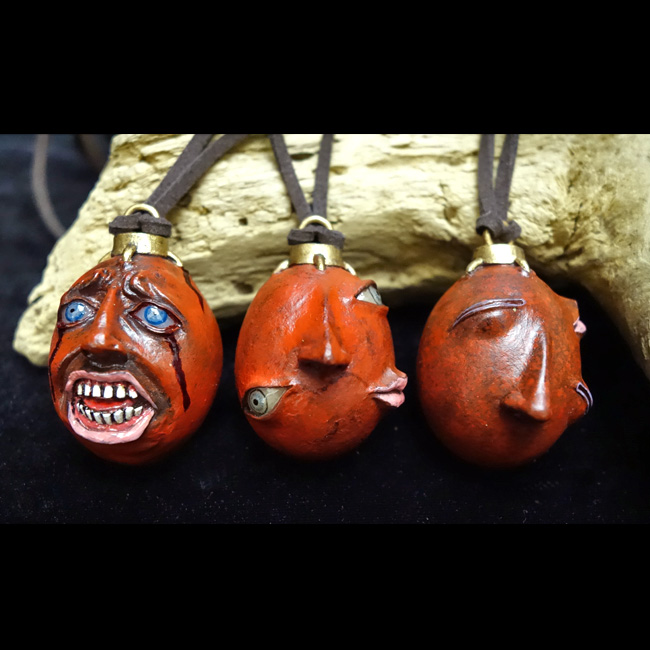 ---------------------
Product Name: The Beherit 2020
Price:
Standard version: JPY5000(limited to 300pcs)
Standard version set (special price): JPY12500(limited to 150set)
Limited version: JPY6000(limited to 200pcs)
Limited version (special price): JPY15000(limited to 100set)
Material: Polystone, gold(gold leaf version only), metal, leather, other.
Weight: 30g
*Polystone is a compound made up largely of polyurethane resin mixed with powdered stone additives that give it added weight and the porcelain or "stone-like" feel that results in the materials' name itself. Compared with polyvinyl chloride (PVC) or acrylonitrile butadiene styrene (ABS), polystone is durable and highly effective at maintaining a sharp paint finish.
*Image only
©Kentarou Miura (studio GAGA)/ Hakusensha
Product Information
| | |
| --- | --- |
| Net Weight | around 30g |
| Product Size | approx. 40mm; approx. strap length: 80cm |
| Serial Number | None |
| Materials | Polystone, gold(gold leaf version only), metal, leather, other. |
| Estimated Delivery Date | Estimated delivery date: September 2020(planned) |
| Shipping Method | EMS |
| Originated & Manufactured | ART OF WAR |
| Released Date | April 10th, 2020 |
| Copy Right | ©Kentarou Miura (studio GAGA)/ Hakusensha |
| Retail Information | Available |
| Cautions | This is a figure, not a real pendant and not suitable for wearing. |