Unit Price: 210,000JPY
Prices vary according to options.
*We recommend that you place your order as soon as possible as we expect to sell out early.
Commemorating Kentaro Miura with our new sculpture entitled "Requiem"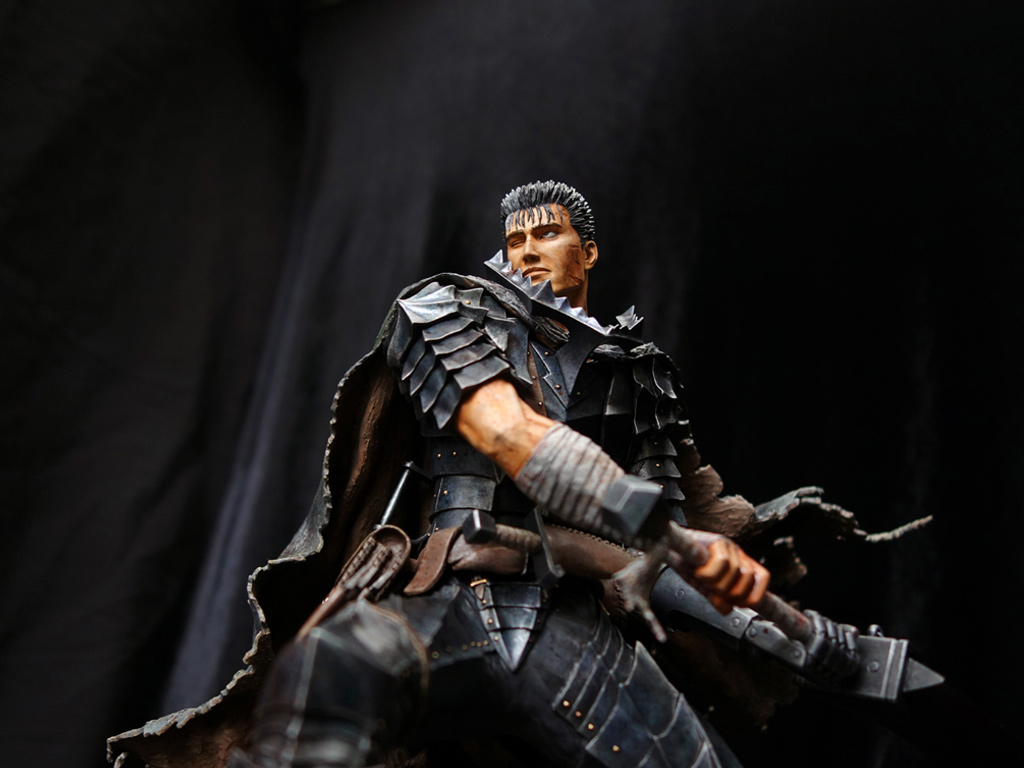 It has been one year since legendary manga artist, Kentaro Miura passed away.
However, the spirit of his great works that have touched so many fans around the world lives on.
Through our close relationship with Mr. Miura for more than 24 years, we have constantly been developing a large number of products, ranging from statues to wristwatches. We will continue to create new products that honor his legacy.
This time, we created "Requiem" as a statue inspired by the image of Mr. Miura, and we think Guts is the character that is the most reminiscent of him. The way Guts constantly fights on is very evocative of the author himself. Kentaro Miura was a genius who, despite his gentle and vivacious side, continued to shape his own world with strong conviction and deep thought. This statue expresses the strength of Mr Miura and his kindness and strength as he quietly watches over us from somewhere beyond.
Conveying "Silence" and "Motion" - this is our first time to model Guts' head without a helmet to express these qualities.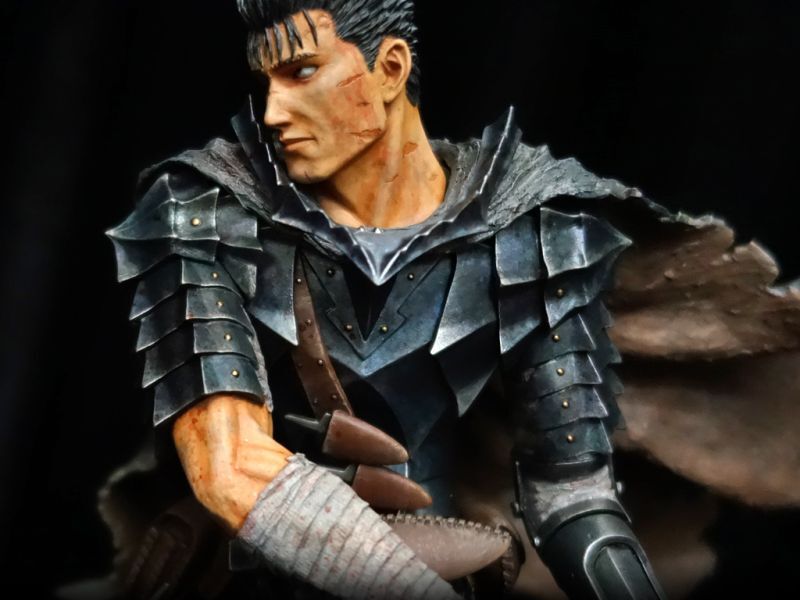 It is the first time we have made two heads without helmets.
First, we created the statue to express Kentaro Miura's strong will, but at the same time, also to let the work show a unique silence and calm. As the statue name "Requiem" infers, these qualities - which are unprecedented - project the very image of silence as if one is quietly standing still.
Second, we created a facial expression to convey motion - another quality without parallel - to reproduce the appearance of Guts in his invincible state as an original fierce Berserk warrior.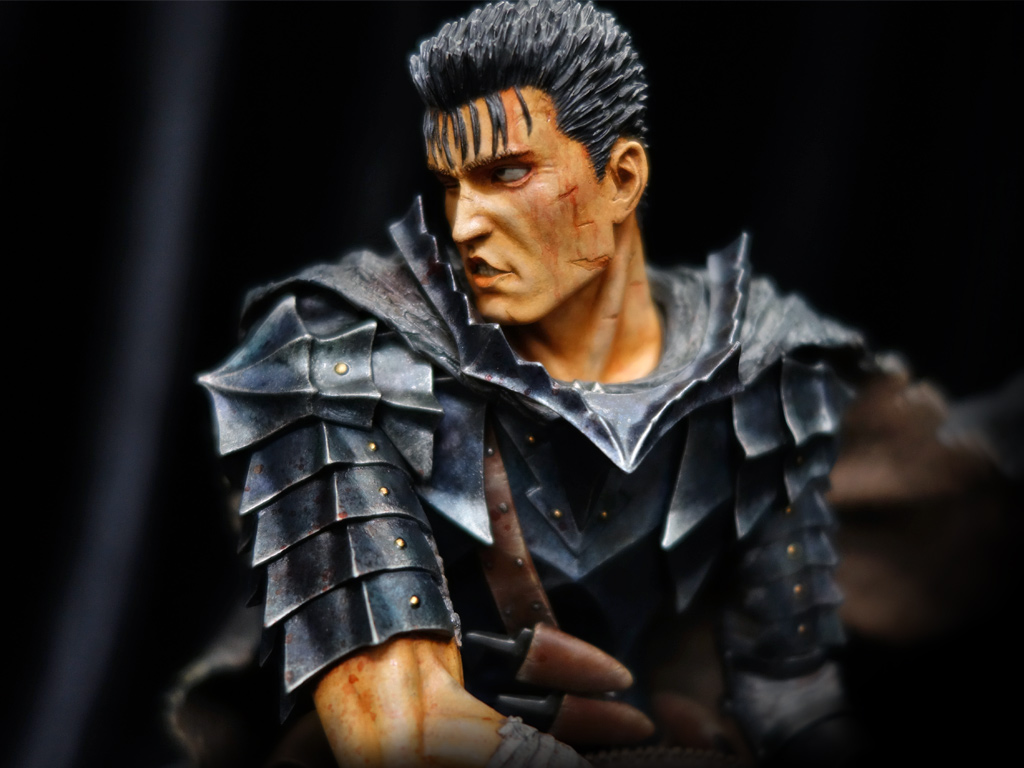 Both the expressions of silence and motion have a unique form familiar to Guts. These are physical aspects that can only be created by our company, based on our long years and experience in crafting numerous Guts statues.
Requiem – expressing quiet strength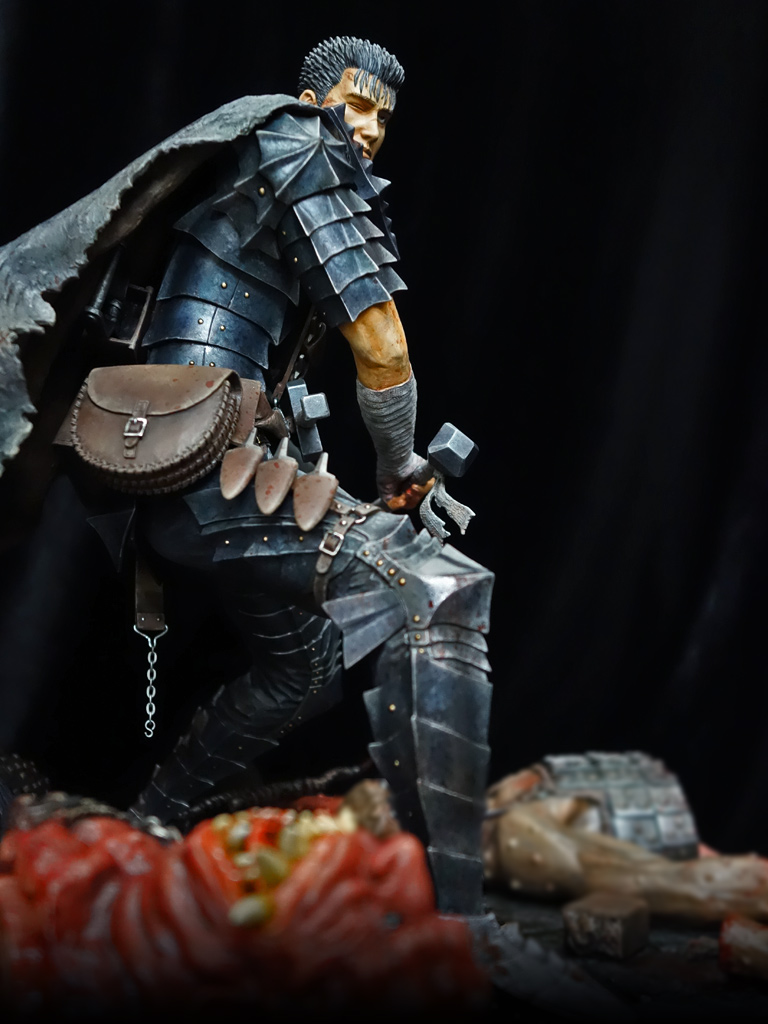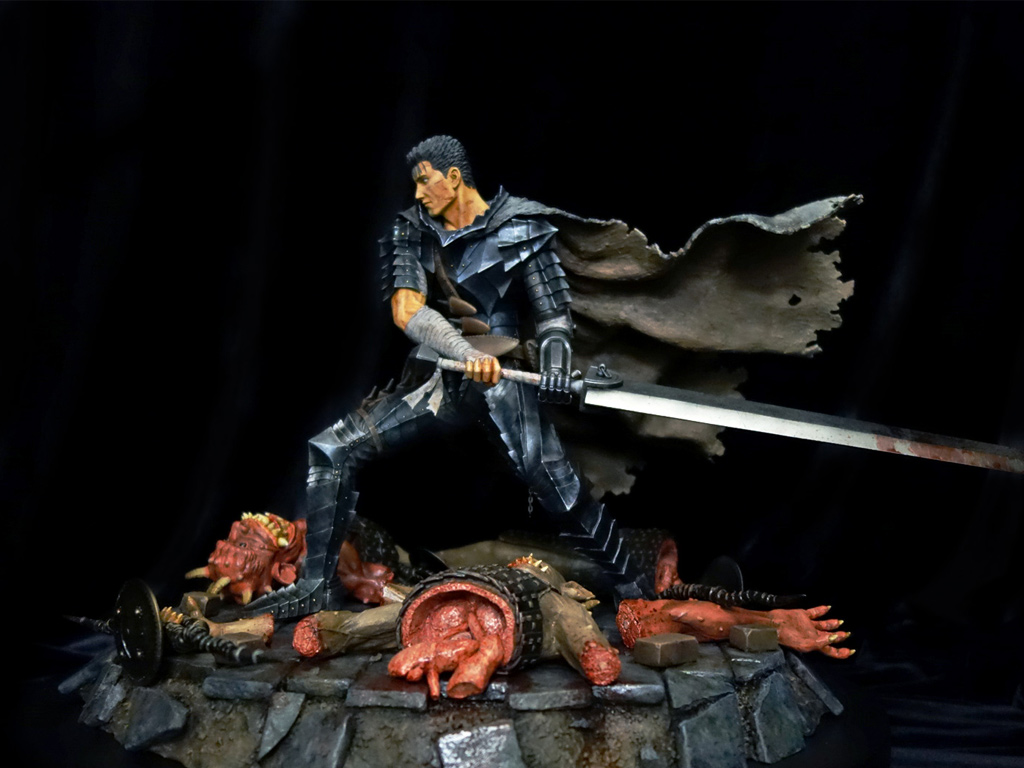 The statue as a whole challenged us to create an unprecedentedly quiet and powerful form. The modeling is not an expression of releasing power but is a state in which power is being stored up for the next full-bodied blow. The aim was to reproduce it realistically and achieve a very high degree of perfection as a sculpture.
A realistic looking Daka reproduced on the pedestal
The Daka lying on the pedestal has also been crafted with an extraordinary realistic and precise expression. The time we spent on the Daka alone is the same, if not more, than we would on the production of a normal statue.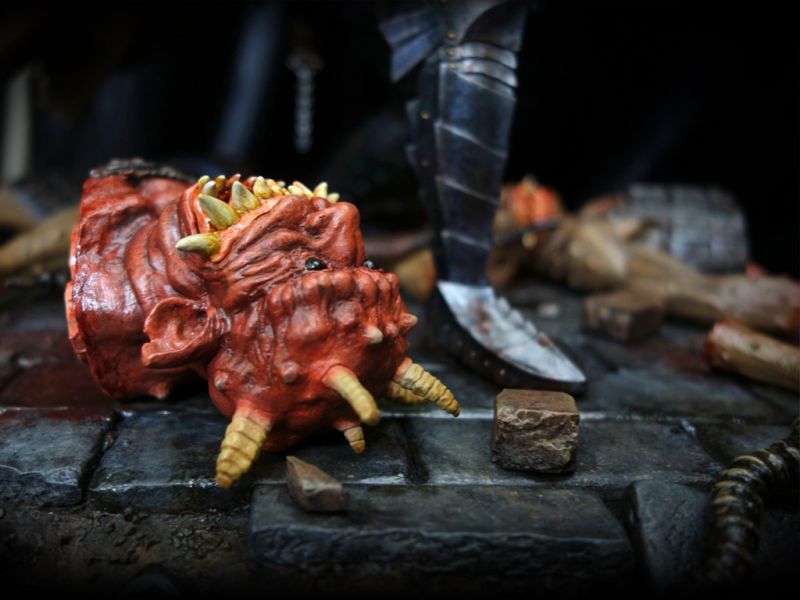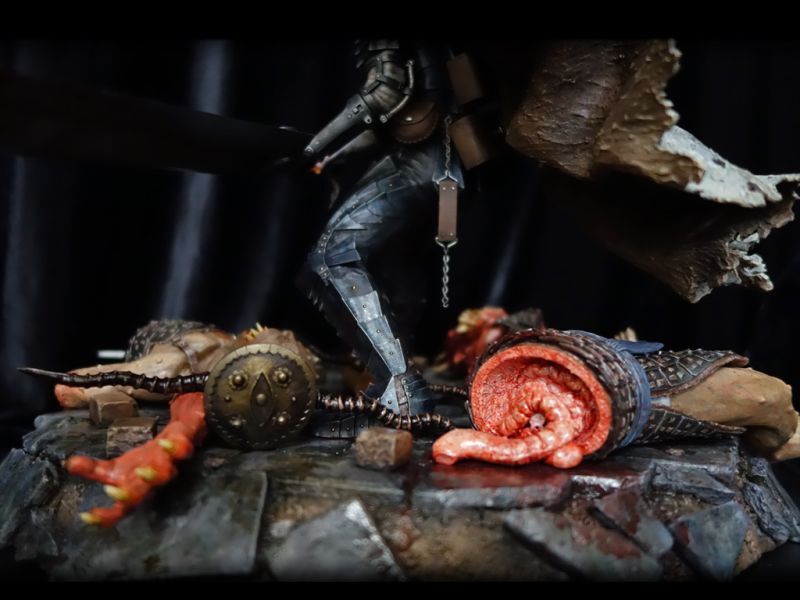 Together with the Guts sculpture, please take the time to look at the detailed expressions of the Daka that have been created with even more thorough attention to detail than in previous works.
Color reproduction
The coloring of Guts was also reproduced in a way that has never been attempted before. The result surpasses all our previous representations of armor.
Particularly complex metal representations are highly colored to a level that cannot be seen in the images. Other leather materials, such as belts and bags, are also represented more realistically than before, with a texture and feel that reproduces the feeling of use.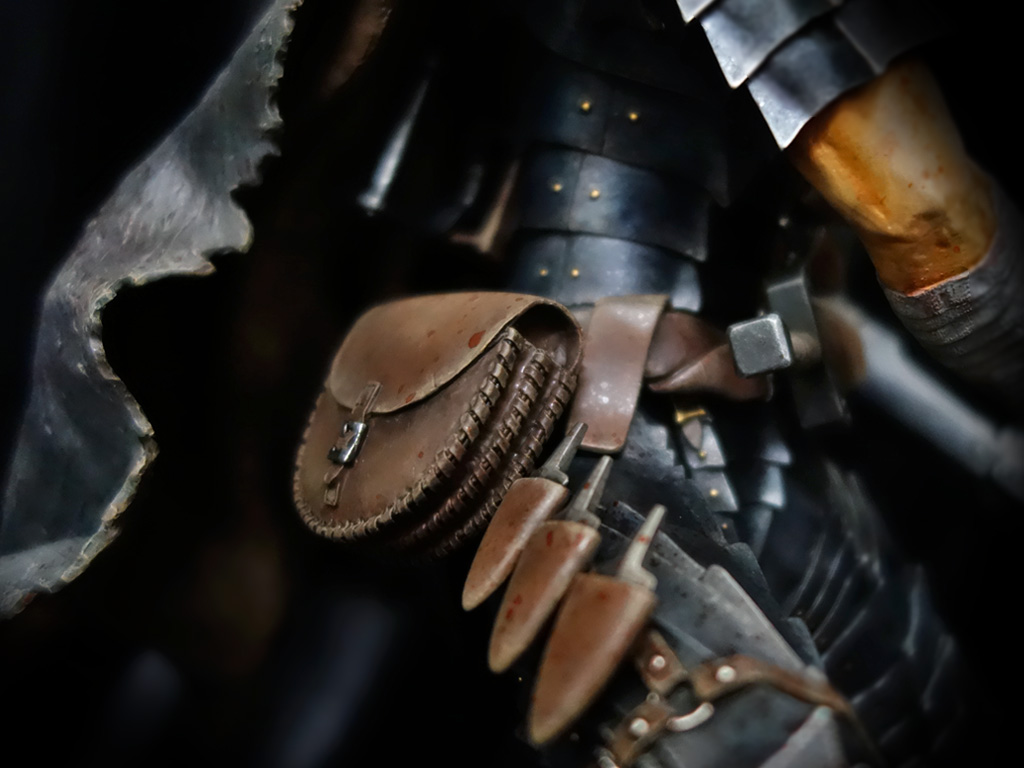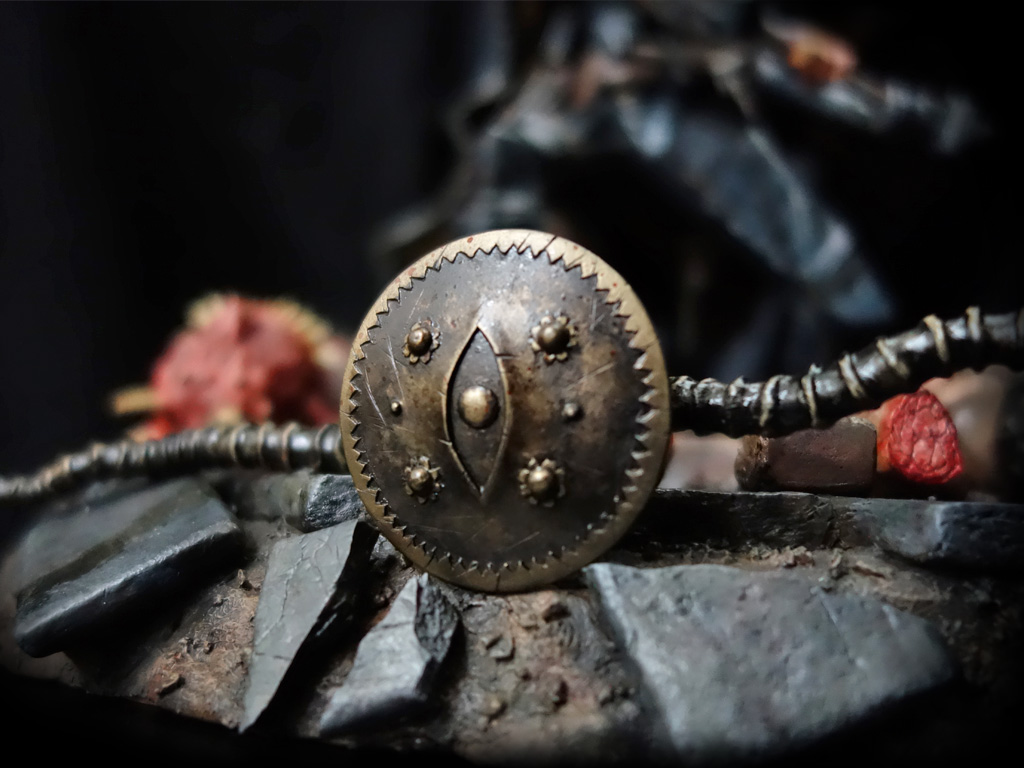 As for the Daka, significant improvements have also been made to the representation of the armour with layers of small armor pieces, and to the texture and colour of the spear, which also serves as a shield. All these details strengthen the overall realism of the sculpture. We have devised an unprecedentedly sophisticated expression of the internal organs, skeleton, and skin colour, using anatomical information and many actual materials, to enhance the overall world view.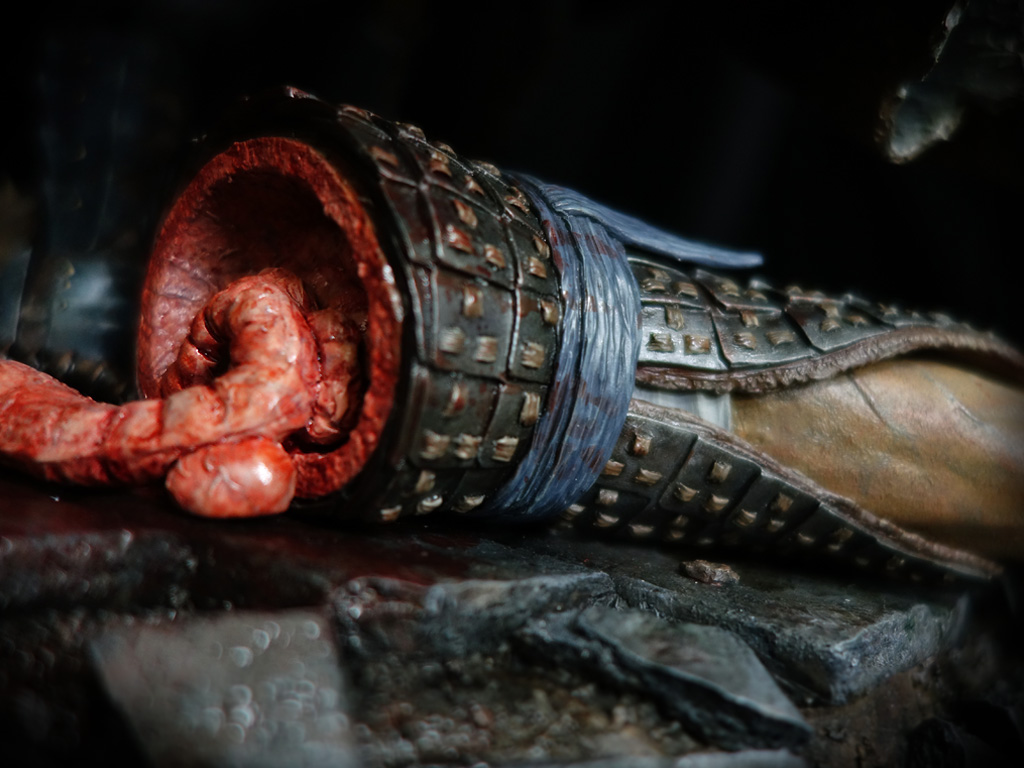 Our best ever Guts modeling and coloring
This is our best ever Guts sculpture from among the many Guts statues we have created. Besides remembering Kentaro Miura and Berserk, we hope our creation will also long remain in the hearts of fans.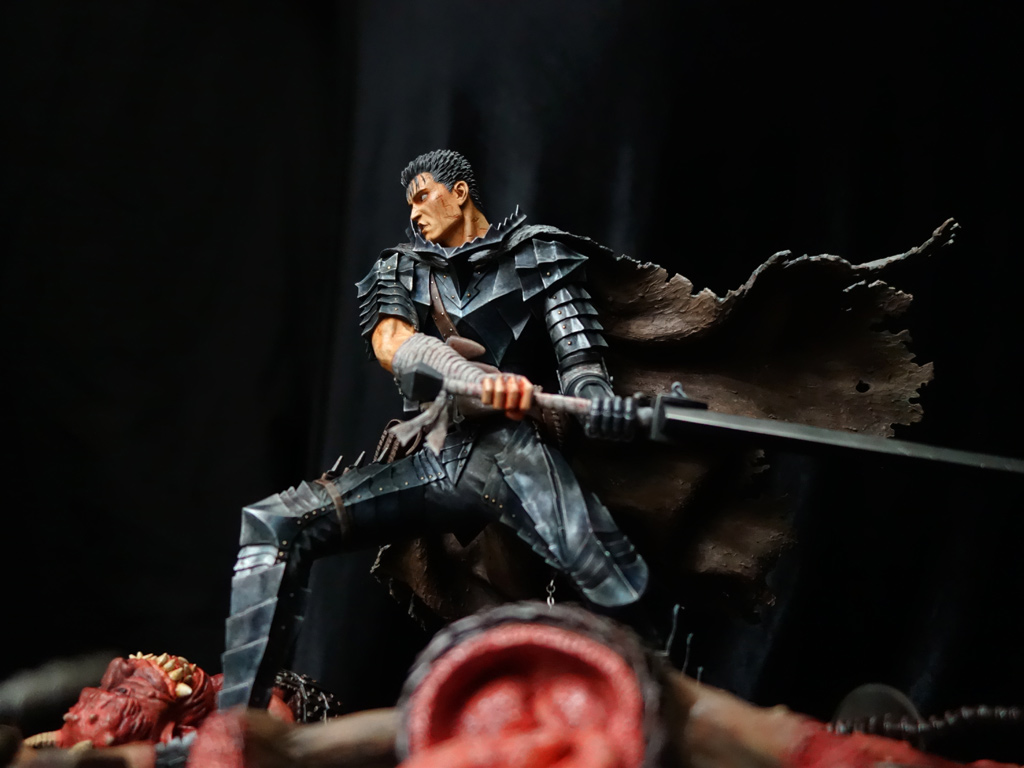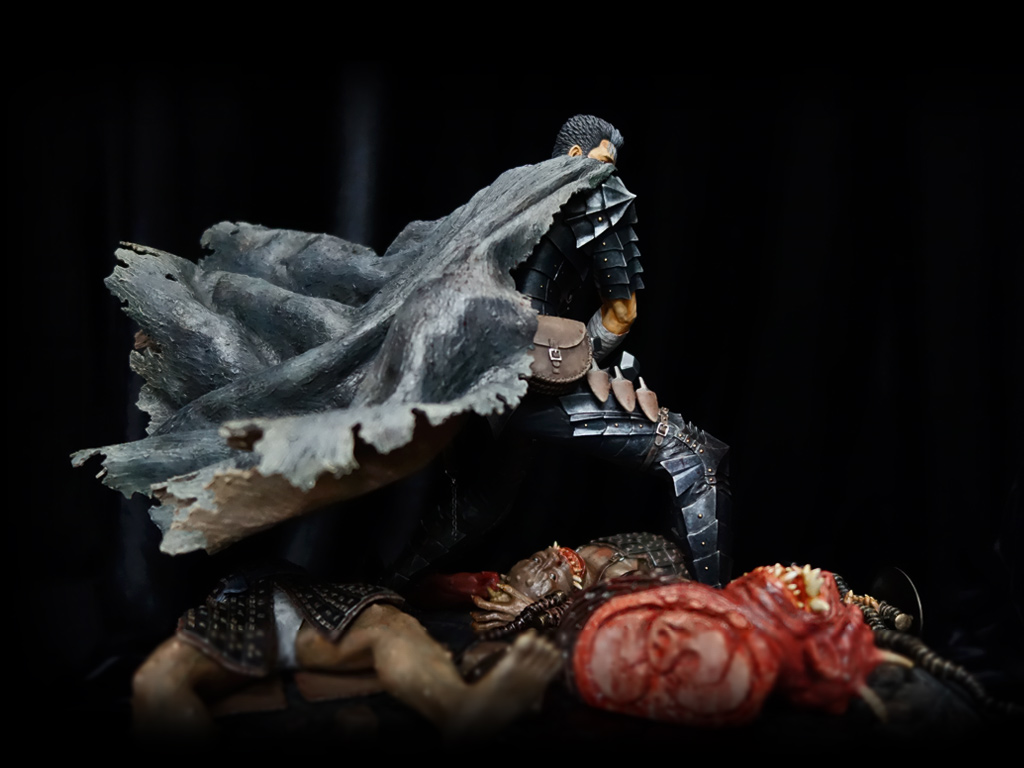 *We also offer special bloody painting option. Please find details through the link below.
*Extra blood painting for Guts 鎮魂(Requiem)
Product Infomation
Limited version I with DAKA, Limited to 65 pcs, 210,000JPY.
Limited version II without DAKA, Limited to 35 pcs, 170,000JPY.
*All versions have attachments for 2 different head parts.
*Orders will be closed when the planned number is reached.
・Product Size(about): W500(includes swords)×H330×D360mm/W360(not included Swords)mm
・Weight: Undecided
・Material: Polystone
・Made-to-order products
・Delivery date: February 2023(expected)
Please read carefully:
1.) Delivery charge will be informed to you when delivery is ready.
2.) No cancellations or refunds will be accepted after payment.
3.) Also, you may need to pay VAT and customs in your country.
*Please let us know if you need an install plan.
We have received many requests for installment payments from our customers.
We have prepared two payment patterns: 3 installments and 6 installments.
For 6 installments, 5% will be charged as an installment fee.
Please bear the transfer fee.
We do not accept cancellations or refunds after payment has been completed.
*Cancellation and refund in the middle of the program is not possible.
A.) In the case of 3 installments
Initial payment : 70,000JPY as an advance payment by June 30.
*For orders placed on or after July 1, the advance payment of 70,000JPY must be made within one week after the order is placed.
Equal monthly installments for the remaining balance
2nd : Payment received by July 29
3rd : payment on or before August 31

B.) In case of 6 installments (5% will be charged as installment fee)
First installment : 70,000JPY as advance payment by June 30.
*For orders placed on or after July 1, the advance payment of 70,000JPY must be paid within one week after the order is placed.
Equal monthly installments for the remaining balance
2nd : Payment received by July 29
3rd : Payment received by August 31
4th : Payment received by September 30
5th : Payment received by October 31
6th : Payment received by November 31

Please contact us if you wish to do so.
*If you have any questions about the installment plan, please contact us.
©Kentarou Miura (studio GAGA)/ Hakusensha
| | |
| --- | --- |
| Unit Price | Limited version I: 210,000JPY.  Limited version II:170,000JPY. |
| Net Weight | Undecided |
| Product Size | W500(includes swords)×H330×D360mm/W360(not included Swords)mm |
| Attachments | All versions have attachments for 2 different head parts. |
| Other Option | Bloody painting option |
| Serial Number | LimitedI:no.01〜65  LimitedII:no.01〜no.35 |
| Materials | Polystone |
| Estimated Delivery Date | February 2023(expected) |
| Shipping Method | EMS (basic). However, other methods may be used depending on delivery conditions. |
| Originated & Manufactured | ART OF WAR |
| Copy Right | ©Kentarou Miura (studio GAGA)/ Hakusensha |
| Cautions | 1.) Delivery charge will be informed to you when delivery is ready. 2.) No cancellations or refunds will be accepted after payment. 3.) Also, you may need to pay VAT and customs in your country. |