Please read all the details below before you send inquiries for this item.
We strongly require every customer to confirm the Shopping Guide before order/pre-order from this site.
No. 427 Skull Knight 2011 Ver.- White Crystal Eye*(attachment of demon soldier)*Sold Out!!
No. 427 Skull Knight 2011 Ver.- White Crystal Eye*(attachment of demon soldier)*Sold Out!!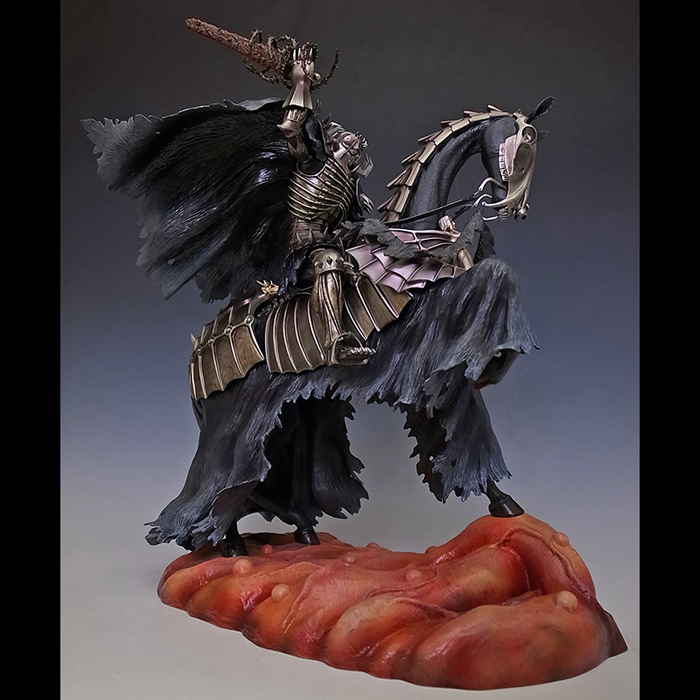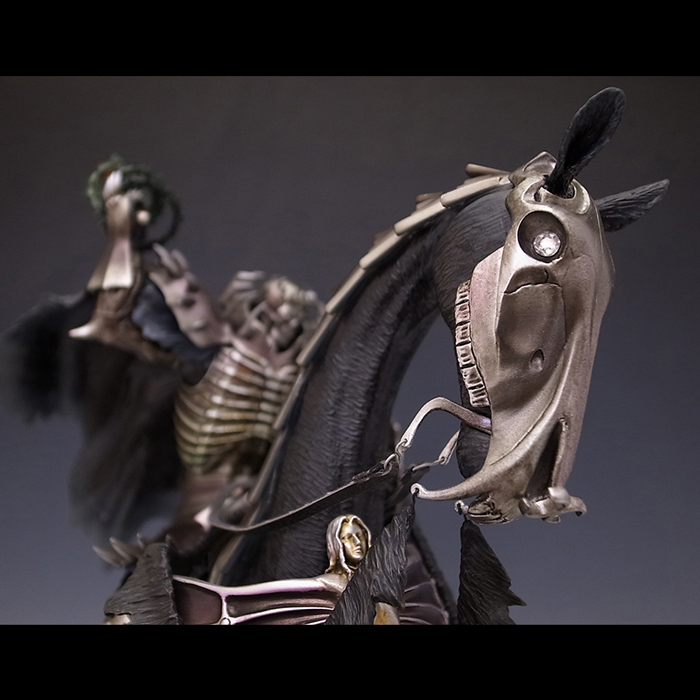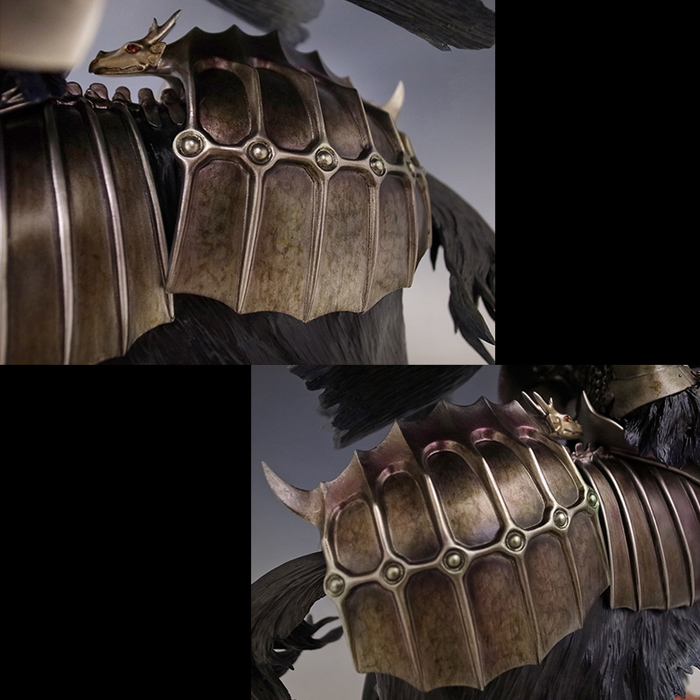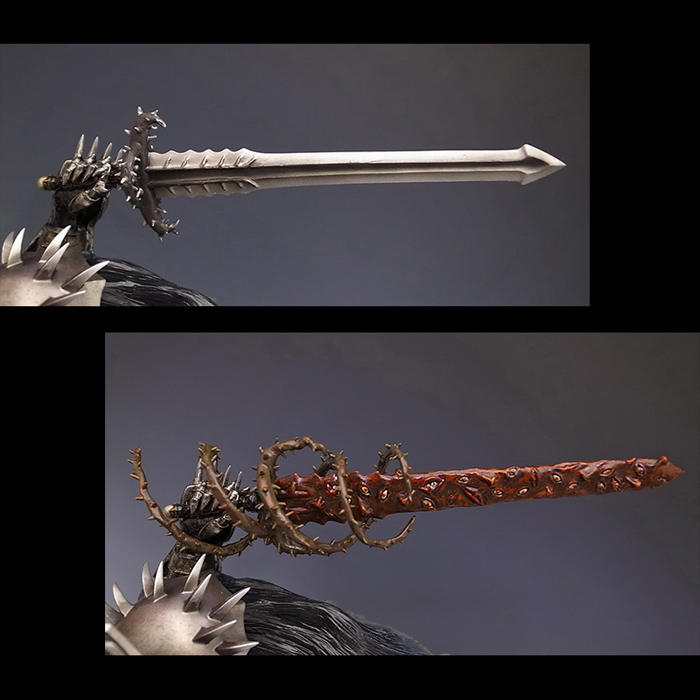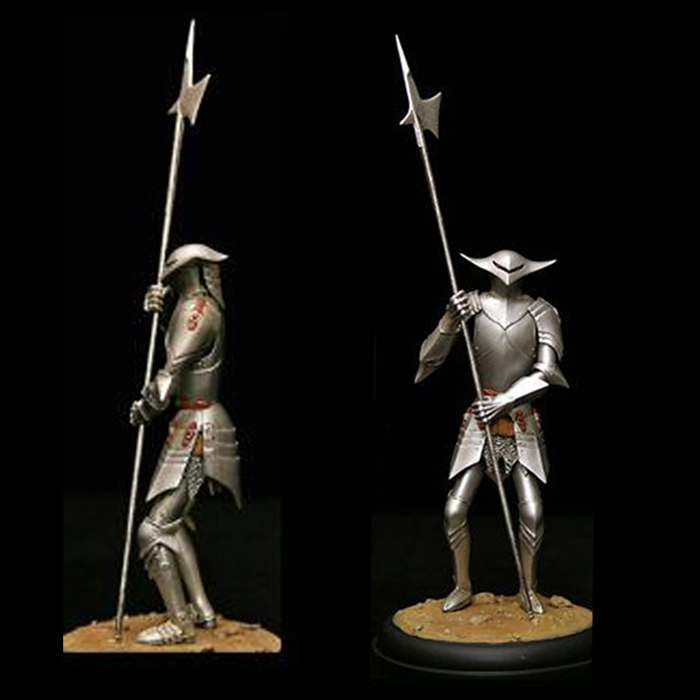 Product Description
The idea for this design comes from Berserk episode 303 Gyakko (Backlighting).
When the Skull Knight brandished his sword, his cape was fluttering in the wind. You can see how the cape and the horse's tail are well-sculpted. This artwork is more dynamic and powerful than our previous Skull Knight statue which was released in 2007. The fantastic imagery is just like we see it in the manga.
When it comes to color, we used iron-gray, metallic purple and dark green to represent the horse armor. And we added white gold to the decoration on the horse. The Skull Knight is just like a beacon of light in the darkness.
The red Beherit sword is being made in great detail, and a normal sword is also attached. Furthermore, the vivid red base matches that of the Gyakko statue's diorama. You can enjoy this horse riding statue from all sides.
There are over 80 parts for this new Skull Knight, so the sculpture and paint application on this item are much more difficult than on other statues. In order to provide high-quality statues, our artists devote a lot of time to carefully craft every item in our studio, instead of mass producing them in a factory.
For this Exclusive Version, AOW chose Demon Solider as a special attachment. The image of the Demon Solider was originated from Berserk Chapter No.223, "The Blaze (Enjo)". His eyes are red and eldritch; his armor and halberd look extremely real. We believe you will have fun with this Demon Solider.
Installment Plan
Plan A
First Payment: 45,000 JPY + 1,800 JPY (4% of 45,000 JPY as a PayPal charge) in 7 days after pre-order confirmed.
Second Payment: 45,000 JPY + 1,800 JPY (4% of 45,000 JPY as a PayPal charge) + Shipping & Handling Cost in 30 days after pre-order confirmed.
*Please kindly choose "Private Invoice" as payment method if you need an installment plan. Please kindly inform us through "remarks" during your purchase .Thank you for your kind understanding and cooperation.
Other Notifications
1. You may be required to pay customs fees when receiving foreign shipments.
ART OF WAR unfortunately has no control over any fees/taxes levied by your country's government. Please kindly be aware about the tax/customs you may have to pay when you receive this item.
2. We do not accept cancel/refund requests (or request transferred by PayPal) after payments. The paid amount will not be refunded under any circumstances.
3. Every piece of our item is hand painted. The exact product may have differences to the sample pictures.
4. Please confirm all the informations and consider carefully before your pre-order.
If you have any concerns or questions, please contact us from "Inquiries".
*Image only.
Product Information
| | |
| --- | --- |
| Unit Price | 90,000 JPY |
| Product Size | Size:-- Skull Knight: 40 cm (H) x 23 cm (W) x 33 cm (D) (base included)-- Demon Soldier: 21cm (H) x 8.5cm (W) x 8.5cm (D) (base included) |
| Attachments | Demon Soldier, Beherit Sword, Normal Sword & Nameplate |
| Maximum Manufacture | Limited to 1 pcs only |
| Materials | Polystone |
| Estimated Delivery Date | around August, 2016 |
| Originated & Manufactured | ART OF WAR |
| Released Date | June 10th, 2016 |
| Copy Right | © Kentarou Miura (studio GAGA)/ Hakusensha |
| Cautions | Please kindly understand that we do not accept repair, refund or cancellations of the item. |