Please read all the details below before you send inquiries for this item.
We strongly require every customer to confirm the Shopping Guide before order/pre-order from this site.
No.400 Guts & Slan 2015*Sold Out!!!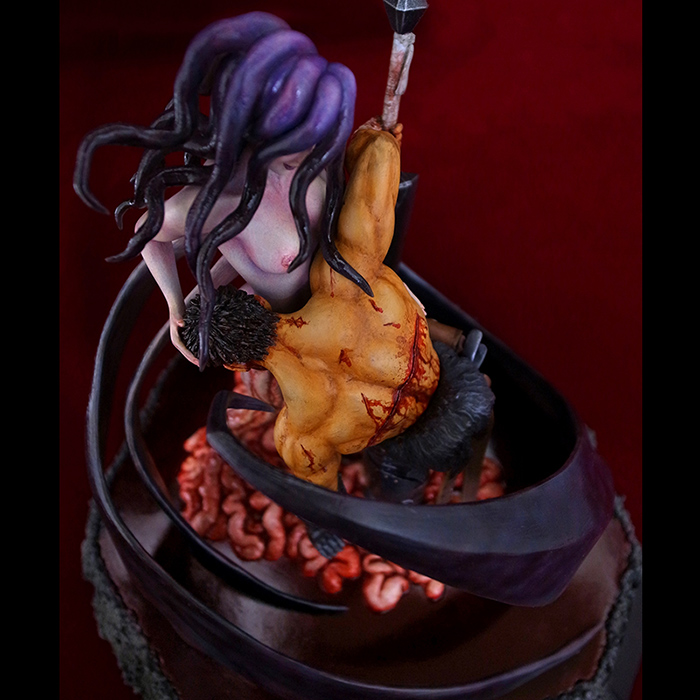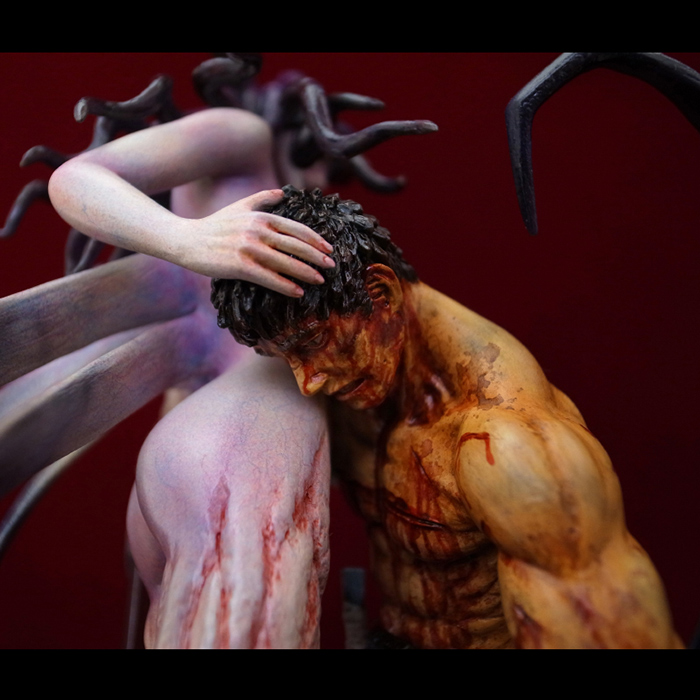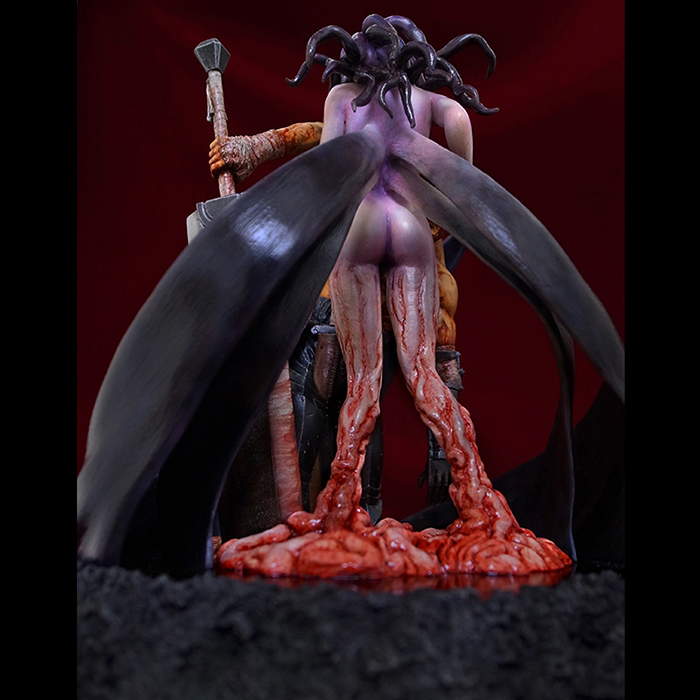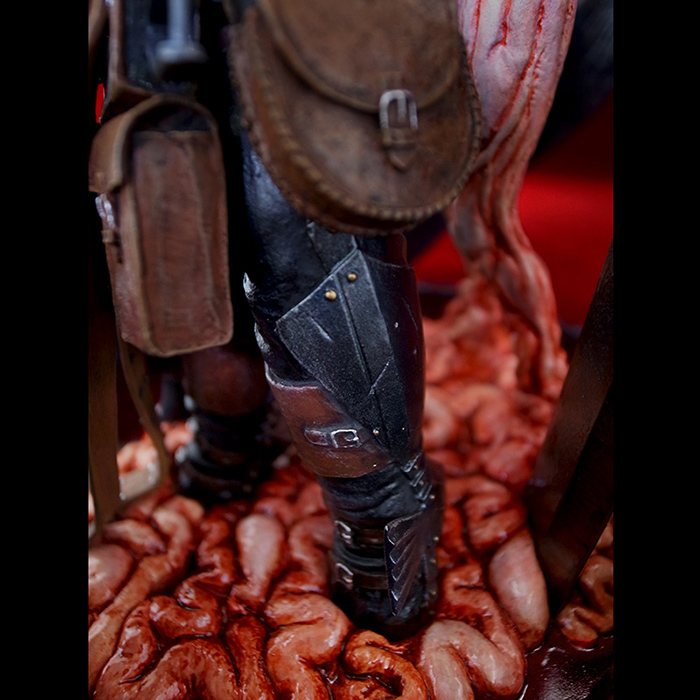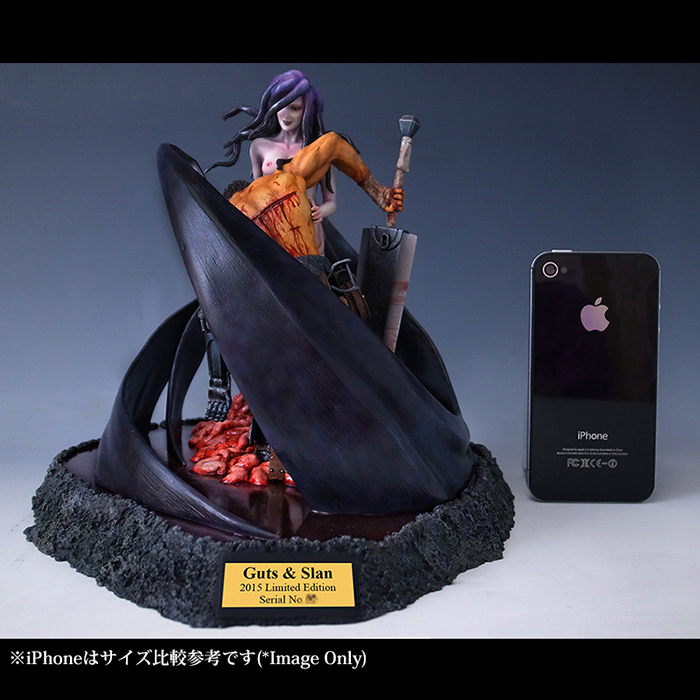 Guts & Slan 2015*Last 1 pcs in stock (nameplate-including serial number)
Estimated Delivery Date: around 3-7 days after the confirmation of payment.
Product Description
Originated in the Berserk comics Chapter 219, Millennium Falcon-The Border of Hell. Wounded Guts was caught by female member of God Hand...
Powerless Guts has been caught by temptress-God Hand Slan. The whole statue is fully enclosed with sharpness of wing and depicts atmosphere of horror and darkness. Slan is detailed with a beautiful body figure and glamorous facial expression. Exclusive base is full expression of internal organs that embody powerless Guts. Dragging fatally wounded and powerless body, Guts is totally vulnerable to absolute power of God Hand. But he is never separated from his dragon slayer...
It is fully the most exquisite piece of colorful arts work. You are highly recommended to feel and touch the whole statue at all bearings.
According to the outcome of the last questionnaire from our customers, we decided to answer customer's requests to reproduce the third outcome of "Guts & Slan".Previously, there were more requests from overseas fan to reproduce "Guts & Slan".
Finally, after 10 years, "Guts & Slan", which was produced on 2006, is able to reproduce by ART OF WAR with the high quality than the previous version.
Modeling
This time, we are able to add a big hand in the Slan's modeling by improving the detailed and balanced modeling.
Also, there is a lot of improvement in Guts & Slan's face modeling. Slan has supported Guts with her balanced body. The hands, hair and the body of Slan are completely improved by brushing up. In 2006, before the factory's mass production, there were many complicated things like the detailed paintings of the item were not possible. However, this time, ART OF WAR is able to improve the complicated and detailed paintings one by one. All the coloring technology and the advanced replication to the item have been possible after transferring the items to the current workshop. The coloring of the finishing part is done to an extreme level and also the quality of the whole body is improved. Slan's hand, the whole body, base and all the art work symbolizes the world's impressive feeling of Berserk. In the 26th Volume with the image of "Guts & Slan", it is better to exhibit the item together with "The Skull Knight Horse Riding figure 1/10 scale".
There is change of Slan's hair color. Every body parts of Guts and Slan have done a detailed modeling than the previous version. We would like to offer our berserk fans with completely new modeling of Guts & Slan.
Product Information
Attachment: serial number Nameplate (No. 1 〜No. 50)
Material: Polystone, some parts of the item has special polystone.
Size: 19.5 cm (H) x 21.5 cm (W) x 22 cm (D) (1/10 scale; Exclusive diorama base included)
Estimated Delivery Date: around November, 2016!!
Originated & Manufactured by ART OF WAR
Installment Plans
Plan A
First Payment: 40,000 JPY + 1,600 JPY (4% of 40,000 JPY; PayPal charge) in 7 days after pre-order confirmed
Second Payment: 30,000 JPY + 1,200 JPY (4% of 30,000 JPY; PayPal charge )i+ shipping and handling costn 30 days after pre-order confirmed
*Please choose "Private Invoice" as payment method if you need an installment plan. Also, please write installment plan A in "remarks" during your purchase.
Other Notifications
1. You may be required to pay customs fees when receiving foreign shipments.
ART OF WAR unfortunately has no control over any fees/taxes levied by your country's government. Please kindly be aware about the tax/customs you may have to pay when you receive this item.
2. We do not accept cancel/refund requests (or request transferred by PayPal) after payments. The paid amount will not be refunded under any circumstances.
3. Every piece of our item is hand painted. The exact product may have differences to the sample pictures.
4. Please confirm all the informations and consider carefully before your pre-order.
If you have any concerns or questions, please contact us from "Inquiries".
Thank you so much for your great support.If you would like to be added to our waiting list, please feel free to contact us at assist@art-of-war.co.jp
* Image is phototype only.
Product Information
| | |
| --- | --- |
| Unit Price | 70,000 JPY*Sold Out!!! |
| Product Size | Size: 19.5 cm (H) x 21.5 cm (W) x 22 cm (D) (1/10 scale; Excluisve diorama base included) |
| Attachments | Serial Number Nameplate |
| Maximum Manufacture | Limited to 50 pcs only |
| Serial Number | No. 1-50 (randomly decided) |
| Materials | Polystone, some parts of the item has special polystone |
| Estimated Delivery Date | around 3-7 days after the confirmation of payment. |
| Originated & Manufactured | ART OF WAR |
| Released Date | October 8th, 2016! |
| Copy Right | ©Kentarou Miura (studio GAGA)/ Hakusensha |
| Cautions | Please consider carefully before purchasing. We do not accept any cancel/refund request transfered by PayPal under any circumstances. Please contact us by directly e-mail. Image may differ from actual product appearance, the picture showing is the sample image |