Please read all the details below before you send inquiries for this item.
We strongly require every customer to confirm the Shopping Guide before order/pre-order from this site.
No. 467 Skull Knight 2017- Limited Edition II(Iron Rust Version)*last few pcs in stock!!
No. 467 Skull Knight 2017- Limited Edition II(Iron Rust Version)*last few pcs in stock!!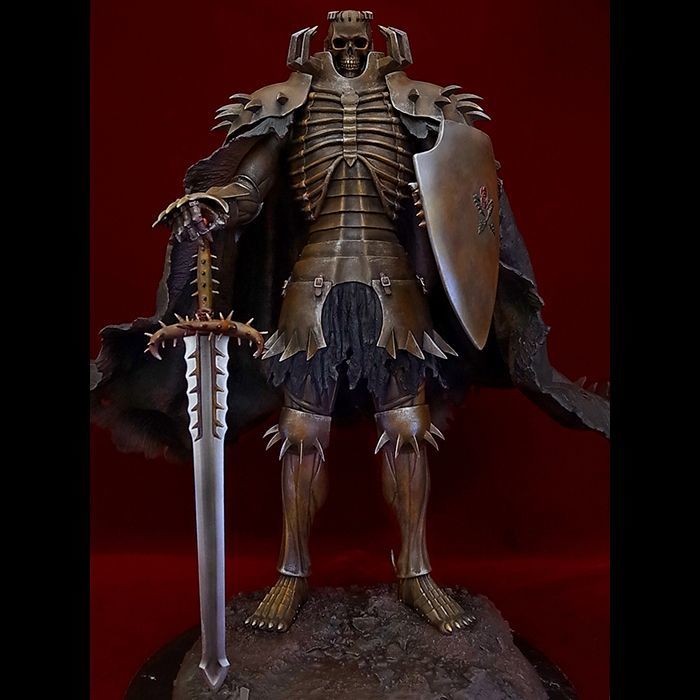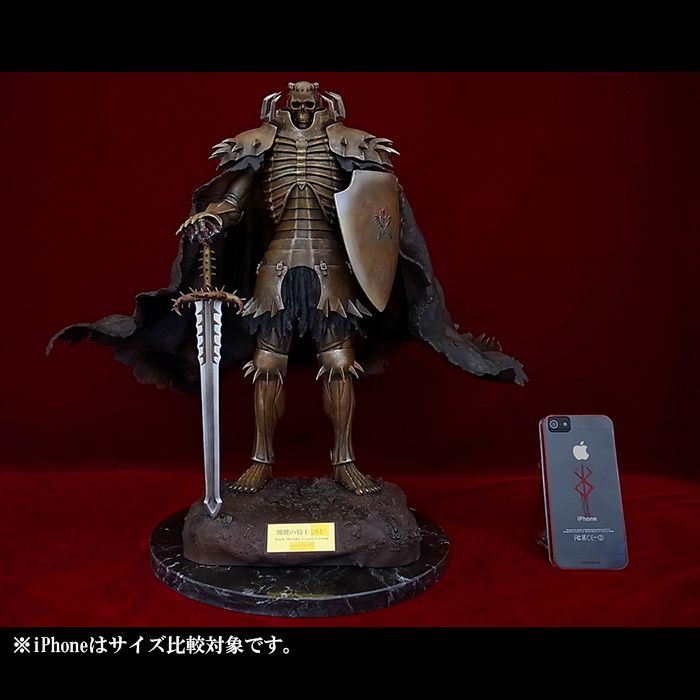 Approximately 1/5 scale with the Height (H) 38.5 cm, Skull Knight 2017 (Skeleton Version) X Natural Marble Based
*This time, we offer the best quality product (which is different from other companies product) and special price as of 20th Anniversary of ART OF WAR.
This is the same modeling which was released product on 2015. (Product No. 409/410). The diorama base is changed to a very simple base and the package of the product will be very simple.
Limited Manufacture to 30pcs only!!Pre-order ends on November 30th!!
This product is able to ship via EMS to worldwide.
We will be taking the pre-orders for this product for the last time. There will be no re-release of this product.
______________________________________________________________________
Painting Information
This is the first time ART OF WAR would like to present a very huge item which is painted in ("Iron Rust" Color Scheme).
A high level of painting in a dark red tone "Iron Rust" Image is hand-made by the skillful artisans. You are able to fully enjoy the rusty repainting of every painting via 360°. This time, the painting of the shield is painted in a gun iron rust metal which was possible only by hand made skills of the artisans of ART OF WAR.
The base part is simplified into a high qualitative marble based. The base can be freely used in any direction as it is not attached with the product. Also, without the diorama base, the mantle movement can be seen clearly in this modeling.
______________________________________________________________________________
Installment Plans
Plan A
First Payment: 43,500 JPY + 1,740 JPY (4% of 43,500 JPY as a PayPal charge) in 7 days after pre-order confirmed
Second Payment: 43,500 JPY + 1,740 JPY (4% of 43,500 JPY as a PayPal charge) in 30 days after pre-order confirmed
Third Payment: Shipping & Handling Cost around January.
*Please choose "Private Invoice" as payment method if you need an installment plan.
*Please write installment plan in "remarks" when you pre-order this item, otherwise we are not able to send you the right invoice.
Other Notifications
1. You may be required to pay customs fees when receiving foreign shipments.
ART OF WAR unfortunately has no control over any fees/taxes levied by your country's government. Please kindly be aware about the tax/customs you may have to pay when you receive this item.
2. We do not accept cancel/refund requests (or request transferred by PayPal) after payments. The paid amount will not be refunded under any circumstances.
3. Every piece of our item is hand painted. The exact product may have differences to the sample pictures.
4. Please confirm all the informations and consider carefully before your pre-order.
If you have any concerns or questions, please contact us from "Inquiries".
______________________________________________________________________
* Please Note*
We do not accept cancellations in any case once the payment has been made, so please consider carefully before purchasing this item.
This item is not attached with white/red crystal eyes.
*Image only.
Image shown may differ from actual product appearance. Thank you for understanding.
______________________________________________________________________
*Youtube:
@ Kentarou Miura (studio GAGA)/ Hakusensha
Product Information
| | |
| --- | --- |
| Unit Price | 87,000 JPY |
| Product Size | Skull Knight Size: (W) 42 * (D) 27 * (H) 38.5 cm (including marble base), Marble Base Size: (L) 25.5 cm x (W) 25.5 cm |
| Attachments | Normal sword, serial number nameplate, Marble Base |
| Maximum Manufacture | Limited Manufacture to 30 pcs only |
| Serial Number | No. 51- 80 |
| Materials | Polystone, special polystone to enhance elasticity, Marble (base) |
| Estimated Delivery Date | around 7-10 days after the confirmation of full payment. |
| Shipping Method | EMS to all countries |
| Originated & Manufactured | ART OF WAR |
| Released Date | October 20th, 2017! |
| Copy Right | © Kentarou Miura (studio GAGA)/ Hakusensha |
| Cautions | We do not accept refund, return or cancellations of the item. |