Please read all the details below before you send inquiries for this item.
We strongly require every customer to confirm the Shopping Guide before order/pre-order from this site.
No. 474 Guts & Zodd desperate attack 2018 Version*Limited Edition I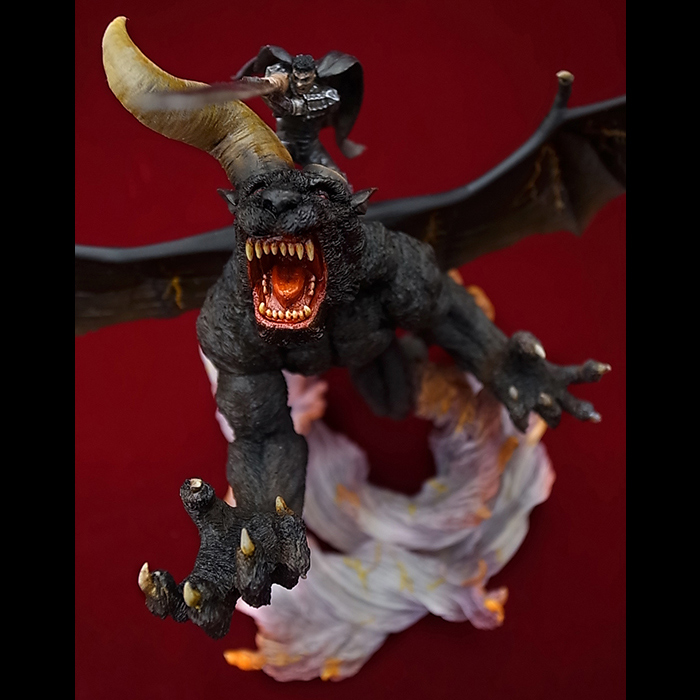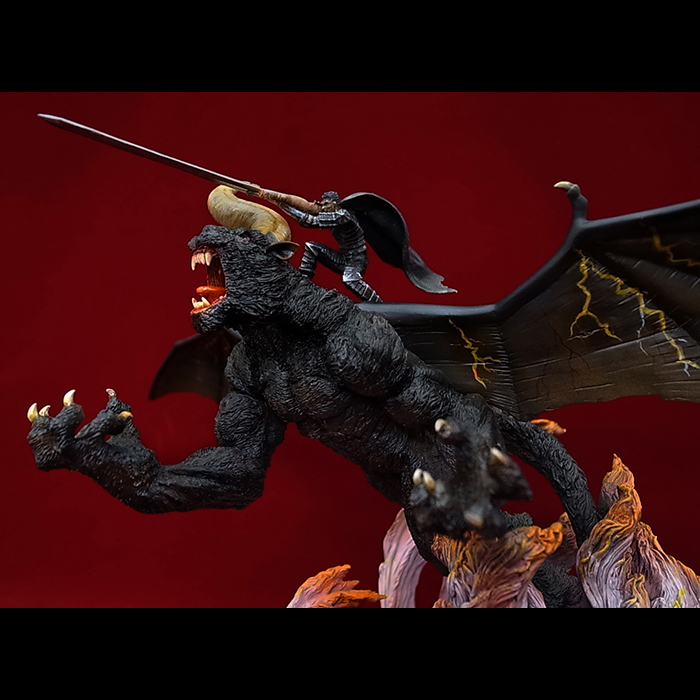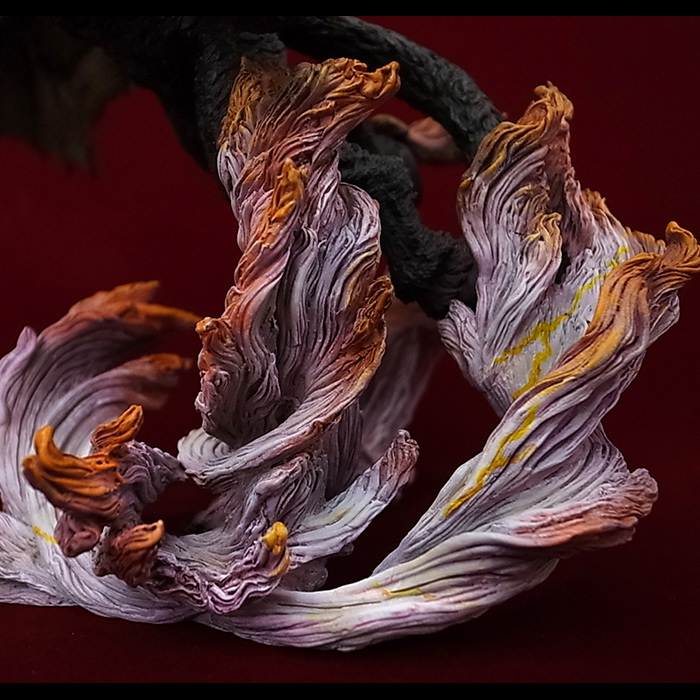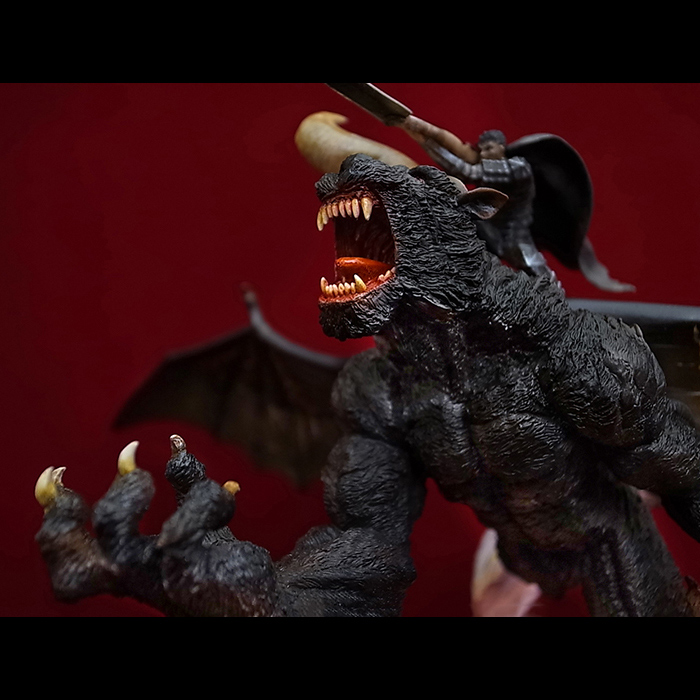 Guts & Zodd desperate attack 2018 Version*Limited Edition I
Estimated Delivery Date: around end of June ~ July, 2018
Special offer- Same price, better quality that from 2008 first production.
Limited Manufacture to 77 pcs only!
Product Description
In response to the high request from our fans, we decide to re-release "Guts:ZODD Desperate Attack".
This item is originated from battle scene of Ganishka.
The first one was repainted after the image on the color page of Young Animal vol.20 drew by Mr. Miura. And this time, ART OF WAR managed to represent an upgrade level in more details and a sharp description which could not be producted at that time. In addition, we will offer a special price for all our berserk fans and customers with high quality as well. It is limited manufacture to 77 pcs only.
Originated from the Berserk Comics Vol.32 Chapter #277.
Facing against an overwhelming enemy Ganishka, Guts joined himself with the other enemy ZODD, and they burst into sky together. It is extremely difficult to reflect circumstance of the scene to statue itself such as lightning sky. But we have finally succeeded to represent force of the original scene by painting lightning directly on molding. From clouds being dyed with purple and orange, Guts and Zodd rush to enemy despite the lightning burns their body.
The most impressive point of the item is lightning on Zodd's wings. Our artist painted the patterns one by one with his hand in detail, so it seems that the lightning is just striking to the wings. This time, we use orange and red to express different kinds of lightning in order to present the force of battle. And we added detail damage and burning effect on the wings of the ZODD which is available in this version. The statue has finished with entirely new appeal as well.
Installment Plan
Plan A
First Payment: 23,000 JPY + 920 JPY (4% of 23,000JPY as a PayPal charge) in 7 days after pre-order confirmed
Second Payment: 23,000 JPY + 920 JPY (4% of 23,000 JPY as a PayPal charge) in 37 days after pre-order confirmed + Shipping & handling cost will be informed to you around May
*Please choose "Private Invoice" and please kindly write "Plan A" if you need an installment plan.
Otherwise we are not able to send you the right invoice.
Thank you very much for your kind understanding.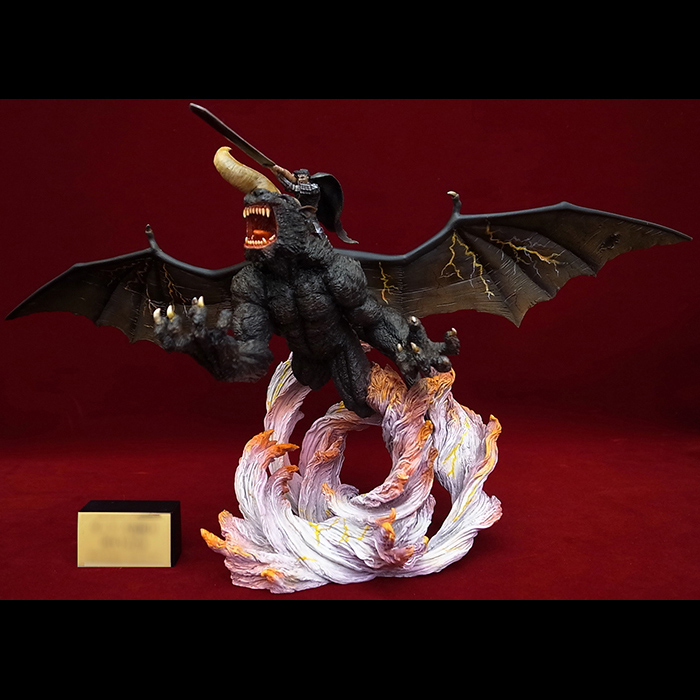 Other Notifications
1. You may be required to pay customs fees when receiving foreign shipments.
ART OF WAR unfortunately has no control over any fees/taxes levied by your country's government. Please kindly be aware about the tax/customs you may have to pay when you receive this item.
2. We do not accept cancel/refund requests (or request transferred by PayPal) after payments. The paid amount will not be refunded under any circumstances.
3. Every piece of our item is hand painted. The exact product may have differences to the sample pictures.
4. Please confirm all the informations and consider carefully before your pre-order.
If you have any concerns or questions, please contact us from "Inquiries".
*Image only
Product Information
| | |
| --- | --- |
| Unit Price | 46,000 JPY |
| Product Size | 21 cm (H) x 40 cm (W) x 20.5 cm (D) (base included) |
| Attachments | Serial Number Nameplate |
| Maximum Manufacture | Limited Manufacture to 77 pcs only!! |
| Serial Number | No. 1 ~ 77 |
| Materials | Polystone, some parts have special polystone. |
| Estimated Delivery Date | around end of June ~ July, 2018! |
| Shipping Method | EMS |
| Originated & Manufactured | ART OF WAR |
| Released Date | March 3rd, 2018!! |
| Copy Right | © Kentarou Miura (studio GAGA)/ Hakusensha |
| Repaint Service for P & D Customer | Available until March 18th, 2018!! |
| Cautions | No cancellation, no refund, no return or repair service. |