[Order Ended] ガッツ 鎮魂 (Requiem) Japan Edition [Only Until Oct 15!]
[Order Ended] ガッツ 鎮魂 (Requiem) Japan Edition [Only Until Oct 15!]
Limited for the Great Berserk Exhibition
They were so popular and we received so many inquiries that we have increased the order limit to five more!
Don't miss out on this limited edition during the Berserk Exhibition (Ginza Edition).
Only two of this product will be ordered in limited quantities to commemorate the Great Berserk Exhibition (Ginza Edition).
Product images are from the "normal edition".
The "Japan Edition" includes additional blood splatter painting, special painting, and additional processing by artists in Japan.
(The nameplate will also be changed to a special content.)
How much difference is there between the standard version and the version with special painting, etc. by Japanese artists?
Comparative images are shown below, using "Tentacle Ship 2019" as an example.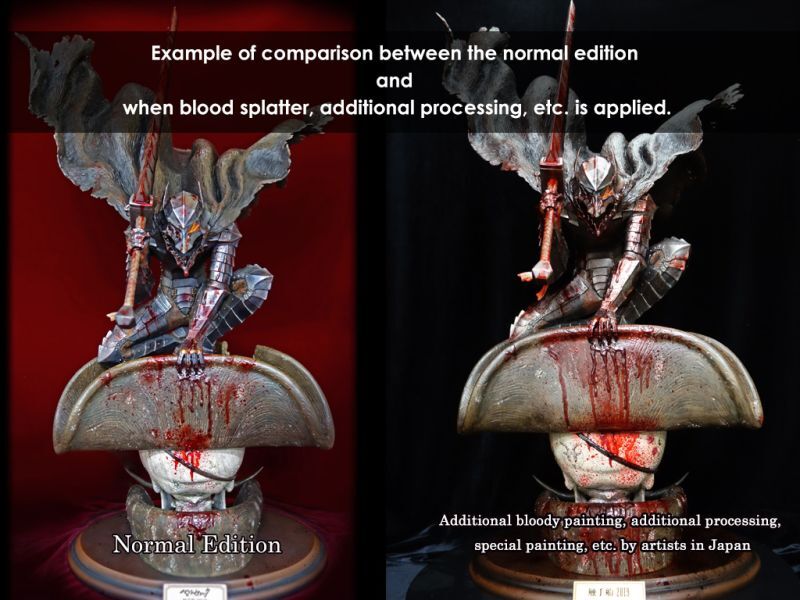 The release date is scheduled for February 2023 or later, the same as the standard edition.
Please note that shipping costs will be charged later once the weight and number of boxes have been determined.
*In the case of bank transfer, the order will be automatically cancelled if the bank transfer is not confirmed within 3 days after the order is placed.

Below is the information on the standard edition when the pre-order is opened. Please take a look.
Commemorating Kentaro Miura with our new sculpture entitled "Requiem"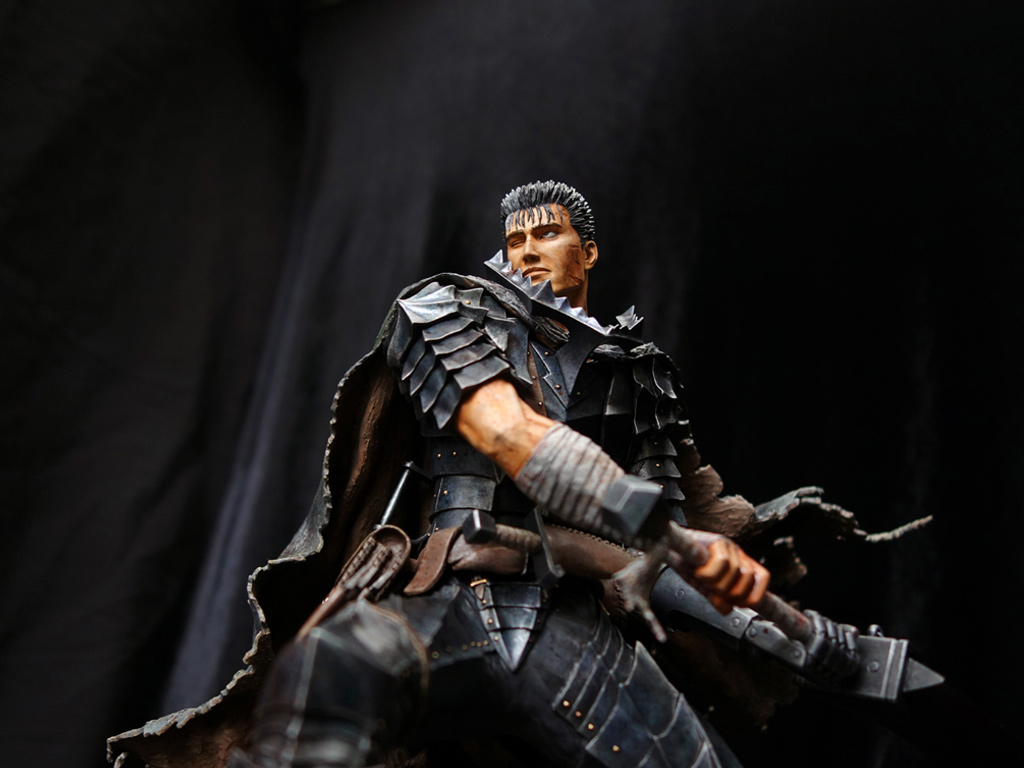 It has been one year since legendary manga artist, Kentaro Miura passed away.
However, the spirit of his great works that have touched so many fans around the world lives on.
Through our close relationship with Mr. Miura for more than 24 years, we have constantly been developing a large number of products, ranging from statues to wristwatches. We will continue to create new products that honor his legacy.
This time, we created "Requiem" as a statue inspired by the image of Mr. Miura, and we think Guts is the character that is the most reminiscent of him. The way Guts constantly fights on is very evocative of the author himself. Kentaro Miura was a genius who, despite his gentle and vivacious side, continued to shape his own world with strong conviction and deep thought. This statue expresses the strength of Mr Miura and his kindness and strength as he quietly watches over us from somewhere beyond.
Conveying "Silence" and "Motion" - this is our first time to model Guts' head without a helmet to express these qualities.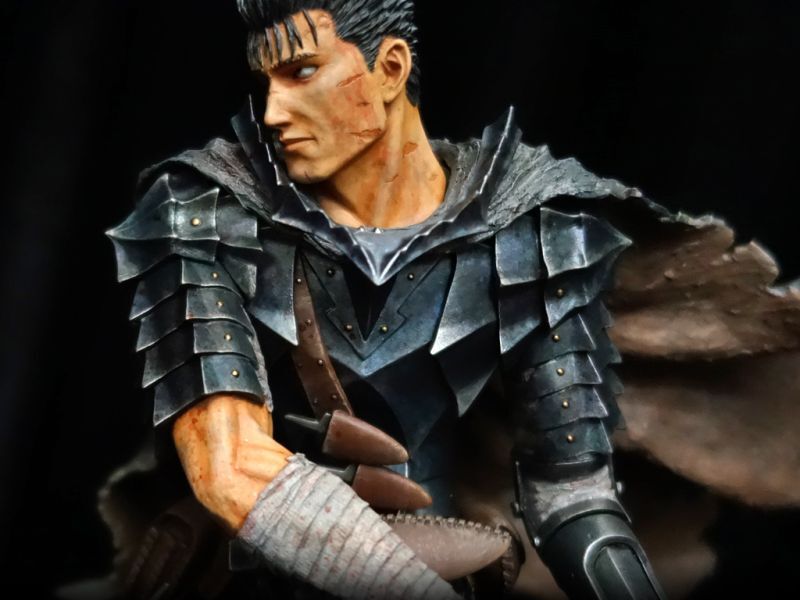 It is the first time we have made two heads without helmets.
First, we created the statue to express Kentaro Miura's strong will, but at the same time, also to let the work show a unique silence and calm. As the statue name "Requiem" infers, these qualities - which are unprecedented - project the very image of silence as if one is quietly standing still.
Second, we created a facial expression to convey motion - another quality without parallel - to reproduce the appearance of Guts in his invincible state as an original fierce Berserk warrior.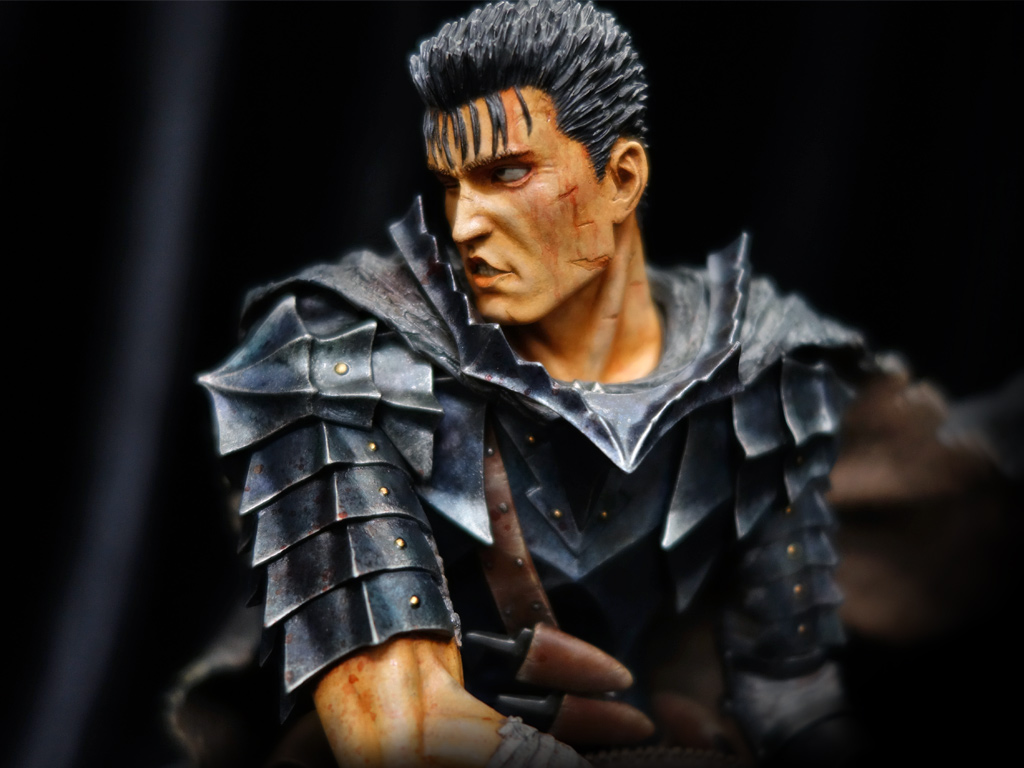 Both the expressions of silence and motion have a unique form familiar to Guts. These are physical aspects that can only be created by our company, based on our long years and experience in crafting numerous Guts statues.
Requiem – expressing quiet strength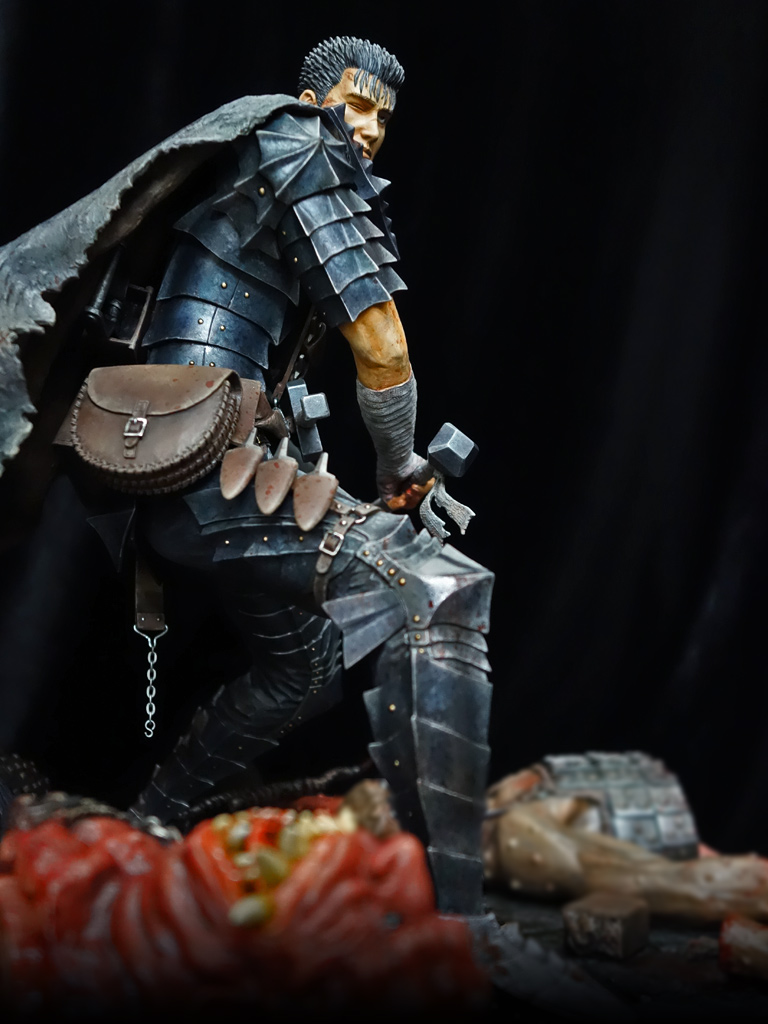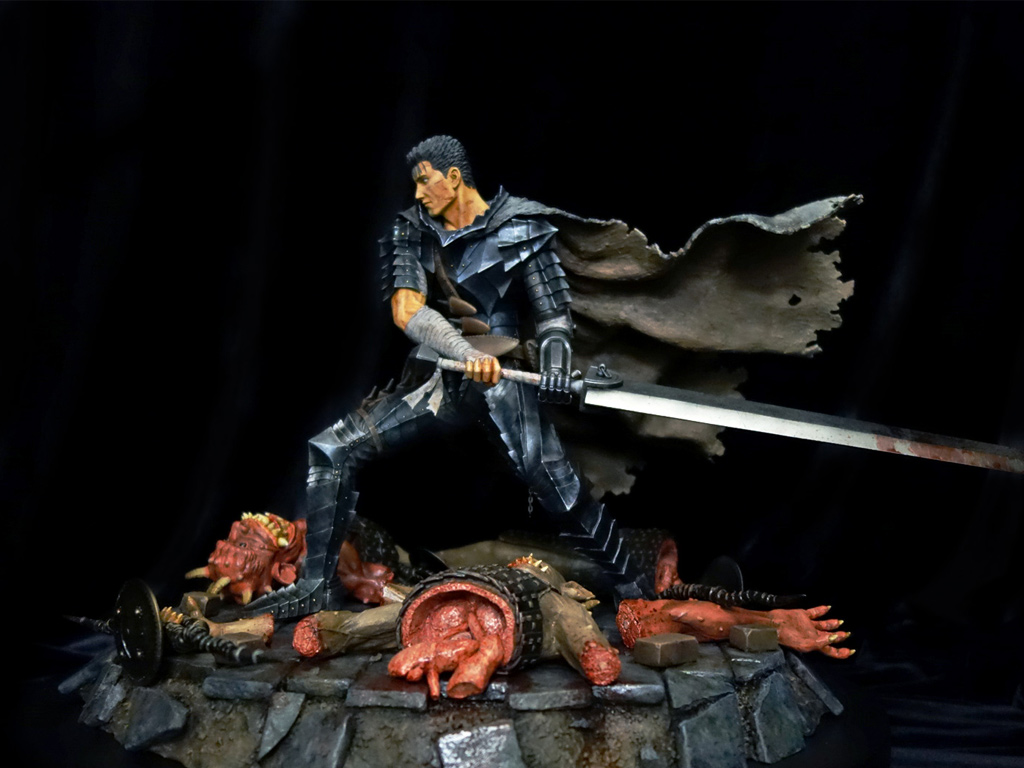 The statue as a whole challenged us to create an unprecedentedly quiet and powerful form. The modeling is not an expression of releasing power but is a state in which power is being stored up for the next full-bodied blow. The aim was to reproduce it realistically and achieve a very high degree of perfection as a sculpture.
A realistic looking Daka reproduced on the pedestal
The Daka lying on the pedestal has also been crafted with an extraordinary realistic and precise expression. The time we spent on the Daka alone is the same, if not more, than we would on the production of a normal statue.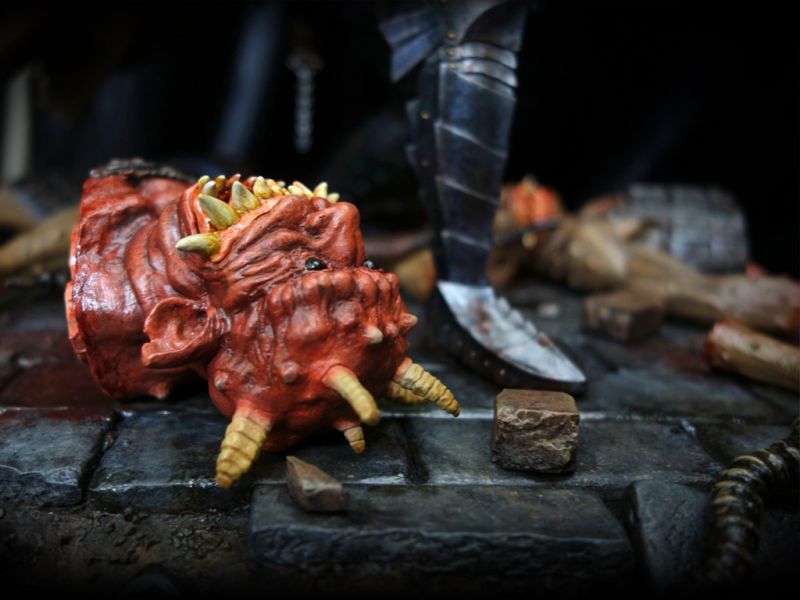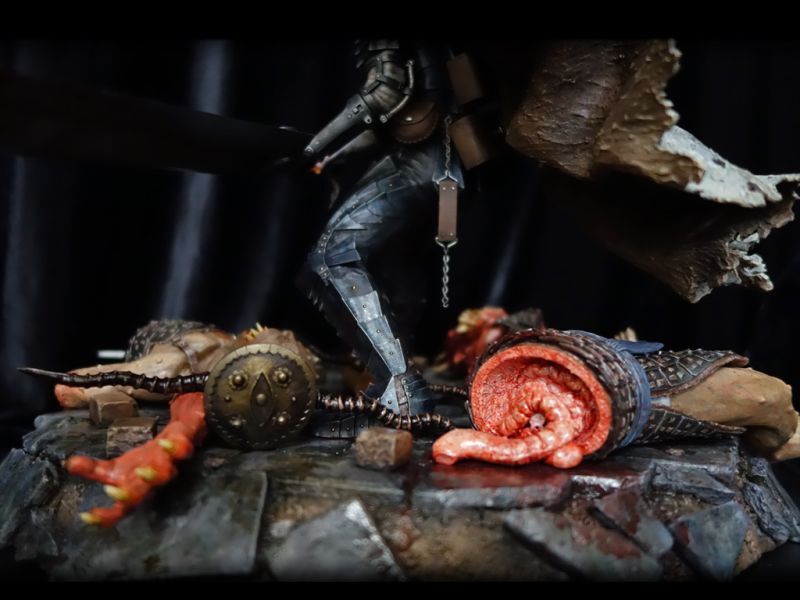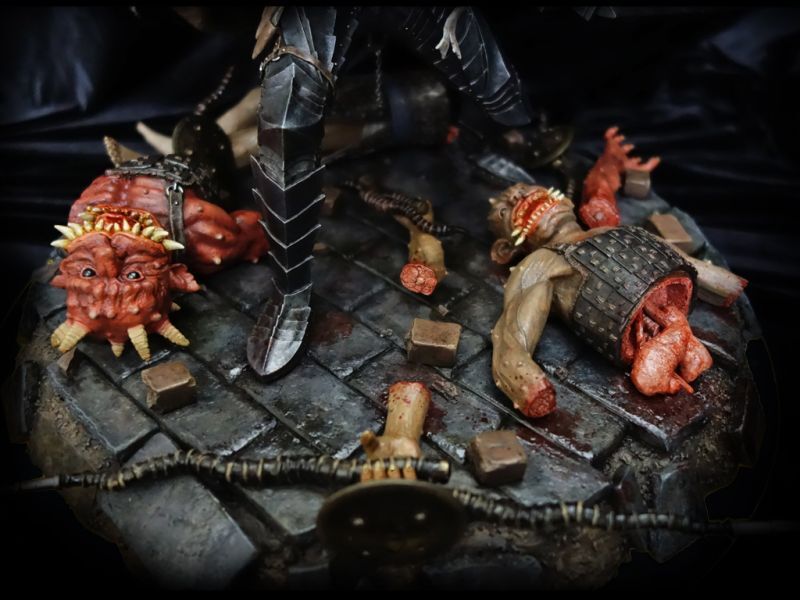 Together with the Guts sculpture, please take the time to look at the detailed expressions of the Daka that have been created with even more thorough attention to detail than in previous works.
Color reproduction
The coloring of Guts was also reproduced in a way that has never been attempted before. The result surpasses all our previous representations of armor.
Particularly complex metal representations are highly colored to a level that cannot be seen in the images. Other leather materials, such as belts and bags, are also represented more realistically than before, with a texture and feel that reproduces the feeling of use.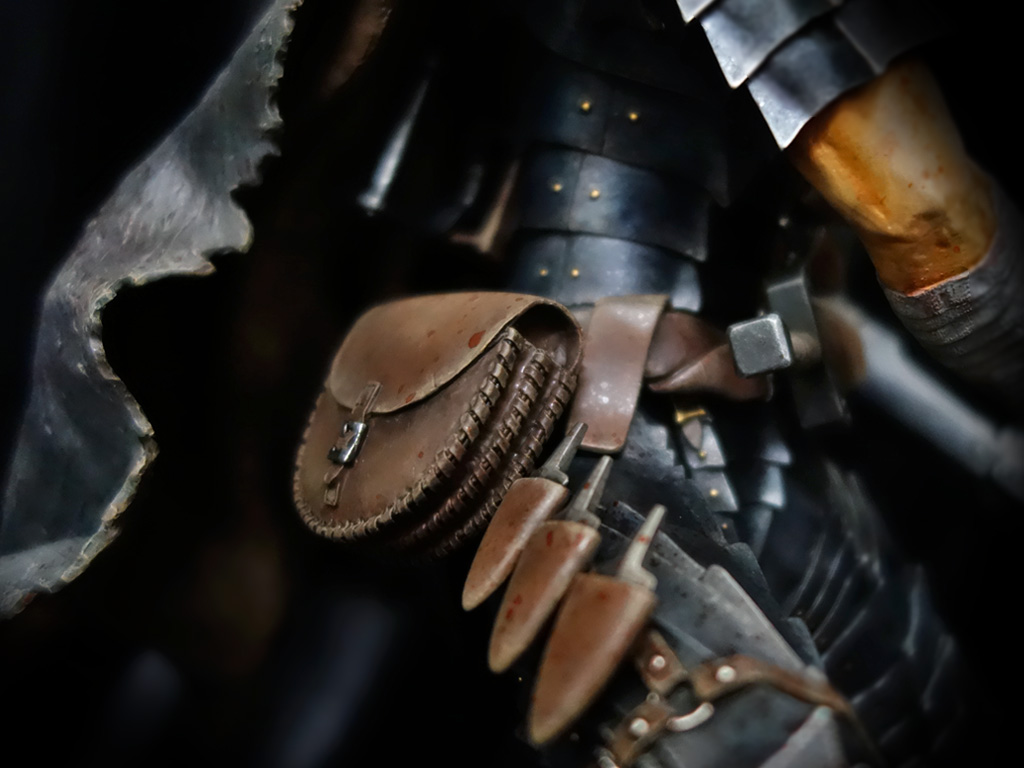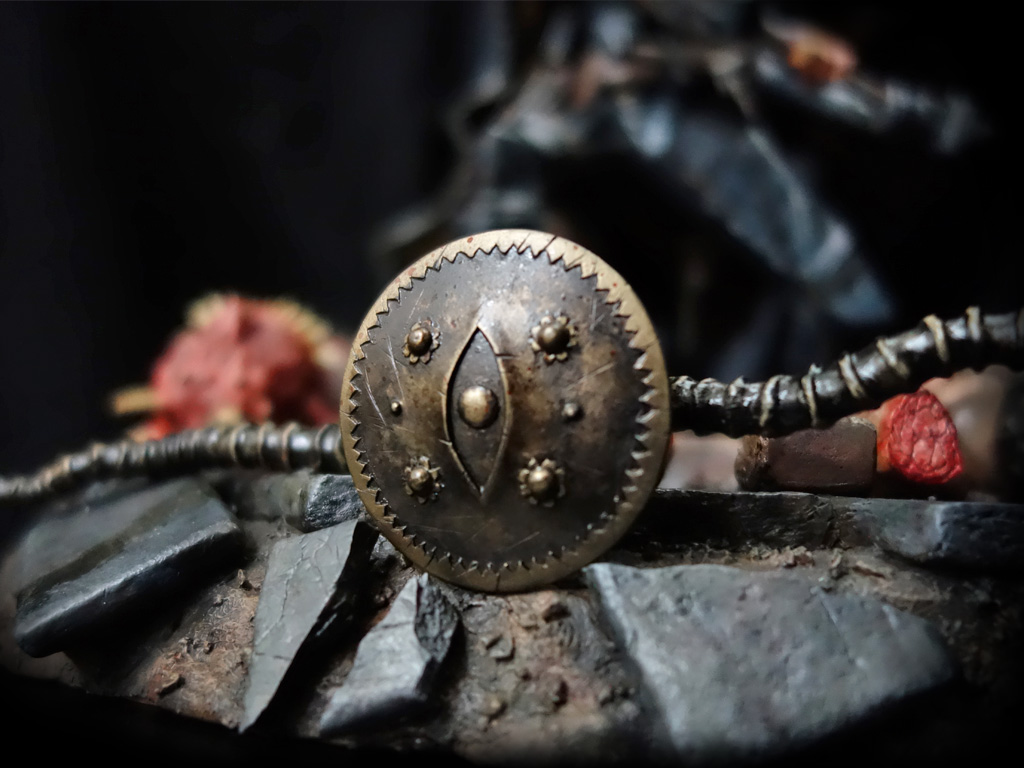 As for the Daka, significant improvements have also been made to the representation of the armour with layers of small armor pieces, and to the texture and colour of the spear, which also serves as a shield. All these details strengthen the overall realism of the sculpture. We have devised an unprecedentedly sophisticated expression of the internal organs, skeleton, and skin colour, using anatomical information and many actual materials, to enhance the overall world view.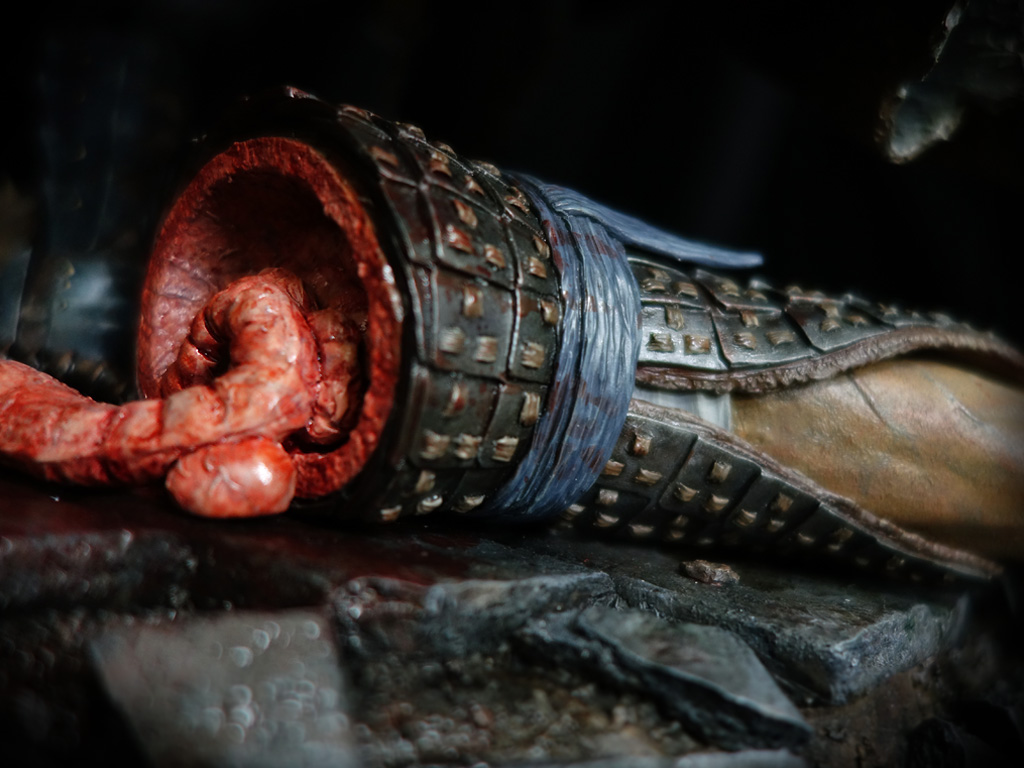 Our best ever Guts modeling and coloring
This is our best ever Guts sculpture from among the many Guts statues we have created. Besides remembering Kentaro Miura and Berserk, we hope our creation will also long remain in the hearts of fans.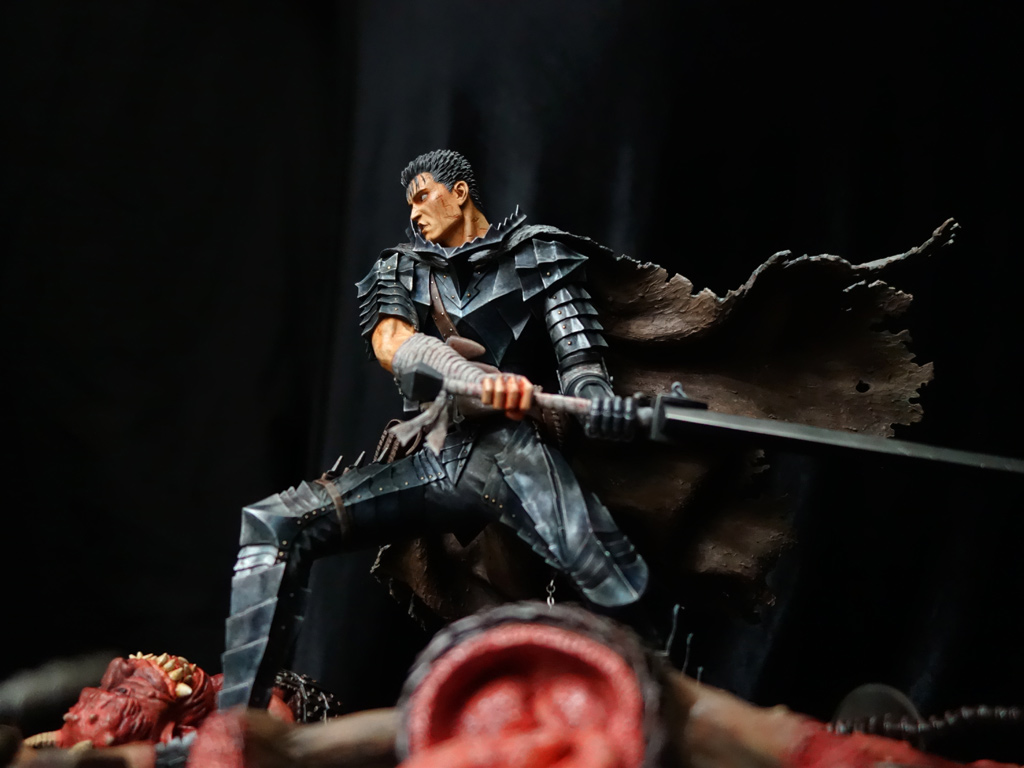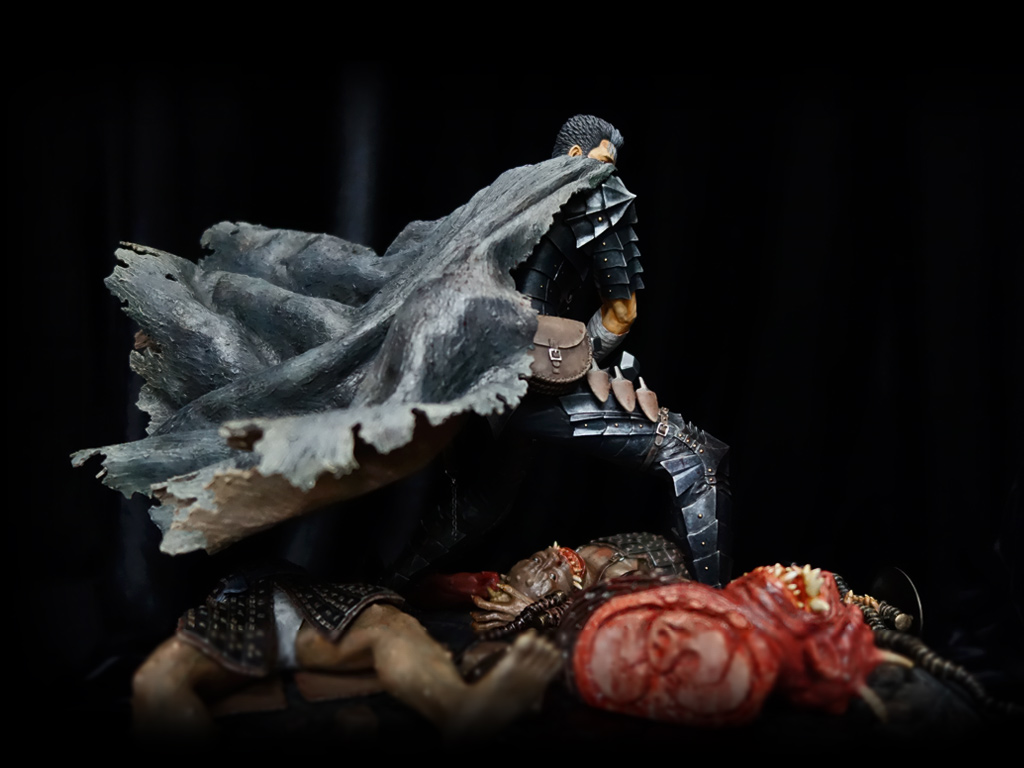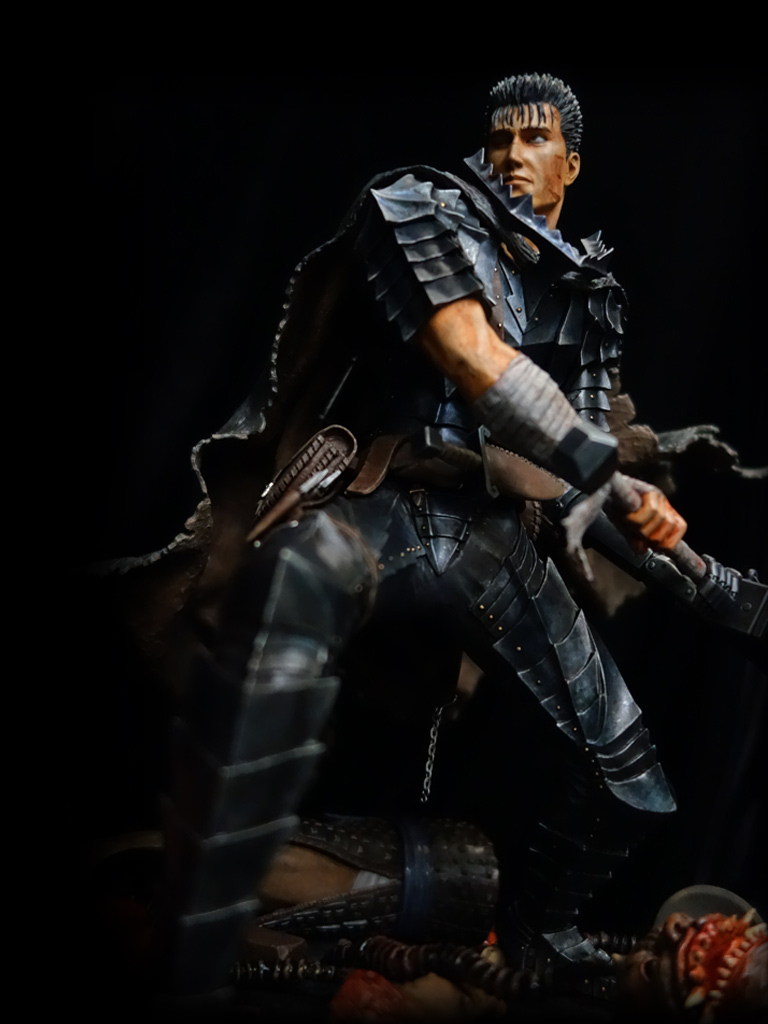 Product Infomation
*All versions have attachments for 2 different head parts.
・Product Size(about): W500(includes swords)×H330×D360mm/W360(not included Swords)mm
・Weight: Undecided *We will charge for shipping as soon as the product is released, as the weight is yet to be determined.
・Material: Polystone
・Made-to-order products
・Delivery date: February 2023(expected)
*All versions have attachments for 2 different head parts.
Please read carefully:
1.) Delivery charge will be informed to you when delivery is ready.
2.) No cancellations or refunds will be accepted after payment.
3.) Also, you may need to pay VAT and customs in your country.
Image of the part with serial number attached
Reference image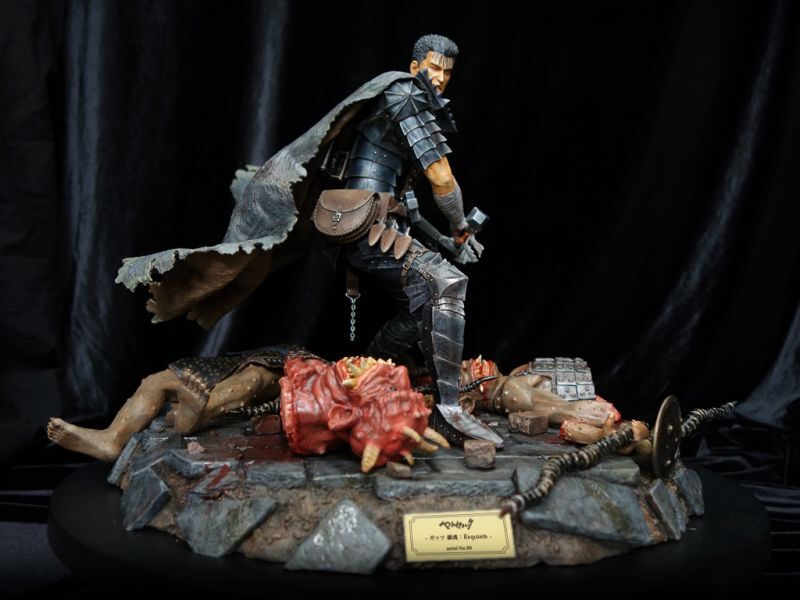 This is only a reference image of the position where the serial number will be attached.
Please note that this is not an image in which the design, material, etc. of the serial number have been determined.
©Kentarou Miura (studio GAGA)/ Hakusensha
| | |
| --- | --- |
| Unit Price | 260000 |
| Net Weight | Undecided |
| Product Size | W500(includes swords)×H330×D360mm/W360(not included Swords)mm |
| Attachments | All versions have attachments for 2 different head parts. |
| Other Option | Additional bloody painting, additional processing, special painting, etc. by artists in Japan |
| Materials | Polystone |
| Estimated Delivery Date | February 2023(expected) |
| Shipping Method | EMS (basic). However, other methods may be used depending on delivery conditions. |
| Originated & Manufactured | ART OF WAR |
| Copy Right | ©Kentarou Miura (studio GAGA)/ Hakusensha |
| Cautions | 1.) Delivery charge will be informed to you when delivery is ready. 2.) No cancellations or refunds will be accepted after payment. 3.) Also, you may need to pay VAT and customs in your country. |