Zodd Silver Ring (attachment of Emerald -filled)
Zodd Silver Ring (attachment of Emerald -filled)
Limited accessories for the Great Berserk Exhibition
Note: If you order with other pre-orders or in-stock items, please note that they will be shipped together to coincide with the shipping date of the product that will be released the latest.
This time "emerald diamonds" with a calm color are used.This time "emerald diamonds" with a calm color are used.
A symbol of energy, emerald is the perfect stone for the powerful and energetic Zodd.
Orders are limited during the Great Berserk Exhibition.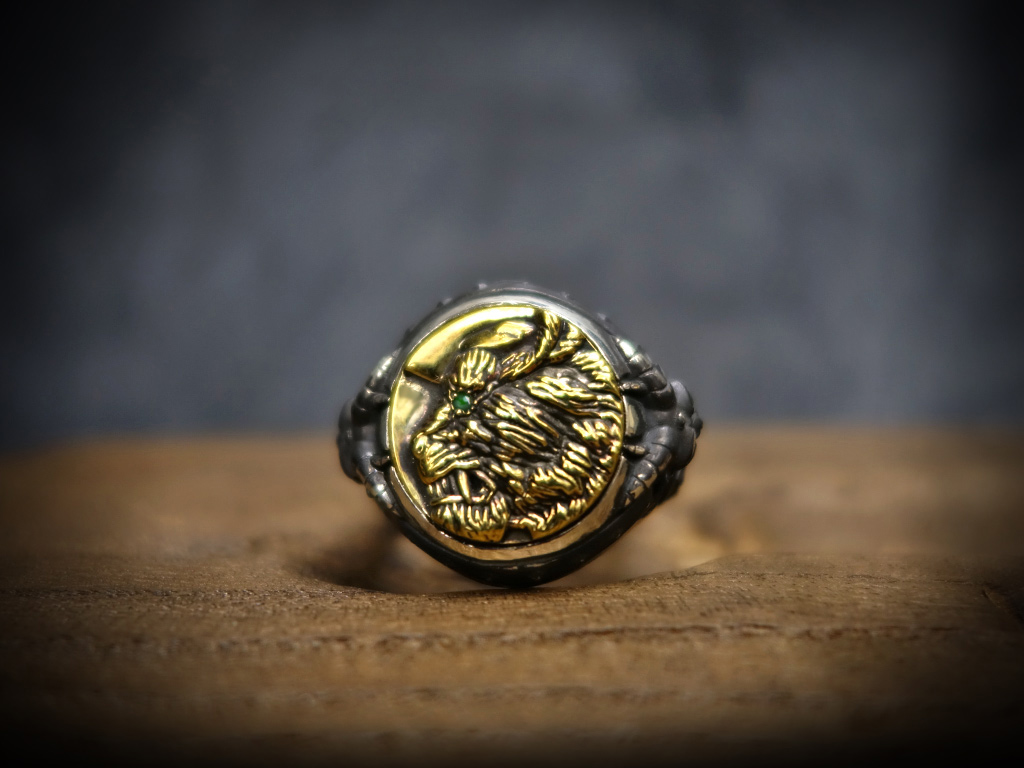 This Zodd *Silver Ring decorated ring is full of antique feelings.
(Zodd coin size: 16mm Total Diameter: 20mm)
The coin is made by brass, and the ring is by 925 Silver. Compare to silver, brass made the ring more powerful and attractive.
The engraved parts of the ring are impressive to feel the delicate decoration on the surface and the sides.
The eyes of Zodd are handcrafted by skilled artisans in Japan.
In order to provide high-quality items, artisans devote a lot of time to carefully handcraft and polish every pendant.
The sides of the ring are designed from Zodd's armor when he is a human being.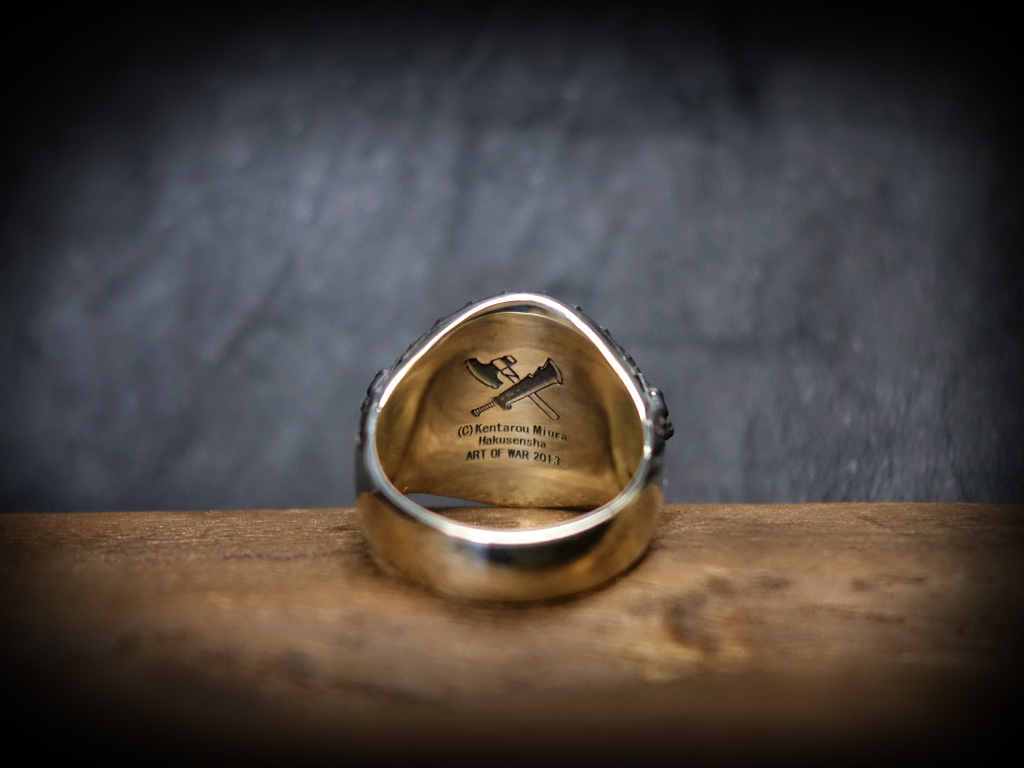 It is a faithfully re-creation of the original manga Berserk.
In order to color the armor and give it a realistic metallic look, we oxidized the surface of silver.
And we spent enormous amount of time revising the design because we wanted to represent the dynamic imagery just like we see it in the manga.
It is a high quality made ring that you can felt its weight when it is in your hand.
***
*Please note:
- Silver is soft metal. Please avoid applying strong pressure on it.
- This ring is a made to order item. We do not accept cancellations. Once cancellation occurred, we would not accept the order from the same ID again and the payment will not be refund in any case.So please do consider carefully before the purchasing.
- Since every item is handmade, there might be subtle differences in the colors.
-The accessory case and pouch are samples.
Please note that they may differ from the case that comes with the product when it is delivered.
By polishing the ring, you can enjoy delicate effects of silver. Thank you so much for your kind understanding.
***
*Estimate deliver date: Expected to ship about 1-2 month after the Berserk exhibition ends.
Attachment: Fine Black Ring Case
Unit Price: 36,000 Japanese Yen
Material: 925 Silver, Brass, Emerald
Size: 2 cm (W) x 2.5cm (D) Net Weight: Size 21= approx. 25 gm
Made in Japan
*Image only.
*Image shown may differ from actual product appearance.
*The coloring may differ from the image due to the handiwork of the artist.
*Colors may appear different depending on your display device.
*The size is a prototype measurement and may differ slightly from the product.
© Kentarou Miura (studio GAGA)/ Hakusensha