狂戦士2023(KYOSENSHI 2023)
The long-awaited and last lager-size product is now available!
*11/15 17:50 Extra blood painting : Receipt of applications closed
NOTE:
This is a Pre-order item. This is not a product with a fixed shipping cost.
So please do not purchase it together with regular sales items (e.g. accessories) or other pre-order item.
If you ordered theire items, we will charge you a separate shipping fee for each.
---
狂戦士 2023 (KYOSENSHI 2023) has been the most requested item for a larger scale version by the fans of the past ART OF WAR works.
Now it has been brought back to life with an overwhelming sense of scale and refined coloring.
While some adjustments have been made in order to make the statue larger, no major changes have been made to the statue as it was then.
The original modeling/prototype is so excellent that there is no need for such changes, which explains why this product is so popular.
The sharp flash of the sword that captures the space.
The feet that support Guts' powerful swing.
The eyes of the 狂戦士 glowing in the darkness.
The coloring of the armor is as realistic as if it were cast by beating iron.
The modeling and coloring of the armor and manteau are the result of
More than 20 years of research and restoration of existing armor under the KENSIN brand.
狂戦士2023 comes with a skull helmet and its chin guard as replacement head.
Since the head was originally sold as "Armored Berserk Skull Helmet Version",
and has not been re-released for a long time, it is a very valuable attachment.
The production of large scale ART OF WAR works has become difficult due to transportation restrictions, a sharp rise in costs,
and the weak yen, so will be discontinued with this work.
After this, we plan to produce mainly in sizes such as 1/4 and 1/6 scale.
Please read followings carefully before purchasing.
+Additional blood painting by the artist
狂戦士2023 has no blood painting.
As an option, additional blood painting by Japanese artist can be ordered.
Price: 80,000 yen
Limited to 20 pieces.
1.) The option of additional blood painting for this work is very costly,
including the time required for each body, because it is a large work and has more than twice the surface area of the previous work, "Guts the Requiem", even when simply compared to it.
For this reason, we will set the price at the above amount, and limit the number of accepted pieces.
2.) The finish of the additional blood painting is entirely up to the artist.
Please note that we do not accept any returns or modifications due to differences from your image or the image on the website.
3.) Colors will be added by the artist in Japan, using the best Japan made paints.
And no two pieces will lbe the same because each piece is finished by hand individually.
Please allow a little time for us to finish painting each piece in Japan.
The following is a reference image of the additional blood painting. This is a reference only.
Also, since we receive many orders for this very time-consuming process, it takes about 2-3 months for the product to be ready after it arrives.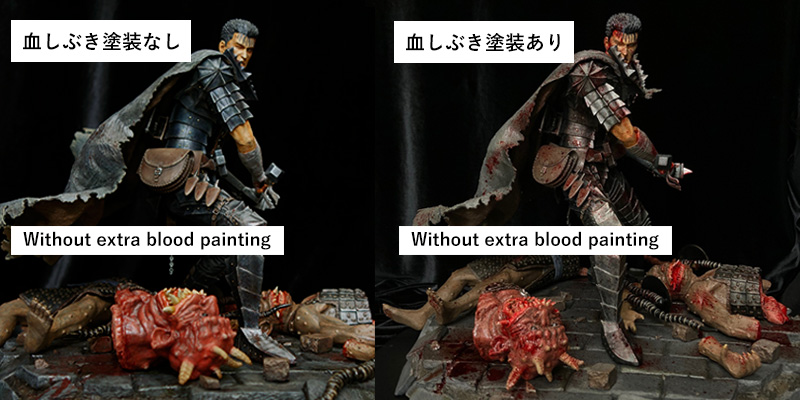 +Shipping Costs
Delivery charge will be informed to you when delivery is ready.
This is a large product so package will be two boxes and shipping cost will be very high.
Please take this in consideration when you place order.
For your reference, at the current DHL rate, shipping costs for two boxes will be roughly as below.
About 100,000 yen for Korea/Taiwan, 110,000 yen for China,
180,000 yen for USA, 190,000 yen for Europe and 270,000 yen for Middle East.
These are just estimation so may be different from actual costs.
Also, you may need to pay VAT and customs in your country.
<Product Details>
狂戦士2023 (KYOSENSHI 2023)
Workshop production, made-to-order
Price : 300,000 yen (approx. 2,000 usd / 1,870 euro)
Limited production : 50 pieces
Size:
(including base) approx. 54cm (width) x 30cm (depth) x 40cm (height)
(including sword mantle) approx.60cm (width) x 73cm (depth) x 40cm (height)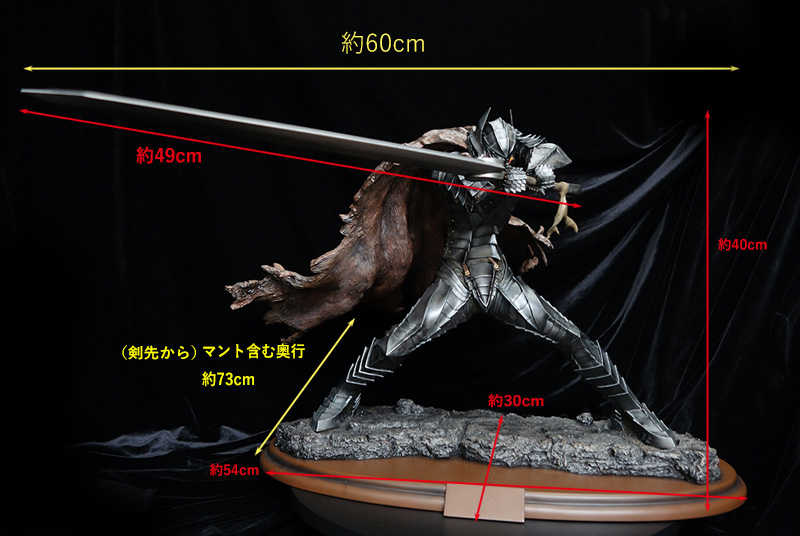 Weight: About 11 kg
Material: Polystone
Attachment: Name plate, replacement head (with skull helmet & chin guard)
Production: ART OF WAR
Delivery date: Scheduled to be launched in Late May 2024 or later.
+Payment

Lump-sum payment: by credit card, by cash via WISE or bank transfer Installment payment:
We accept payment in 3 installments. A 5% fee will be charged for cash payments and a 10% fee for credit card payments.
If you would like 3 installments, please contact us first before ordering
**payment example**
In case you purchase the product without option.
3 installments by cash via WISE or bank transfer
1st payment : 105,000 yen within 1 week from order
2nd payment: 105,000 yen by Dec. 26, 2023
3rd payment: 105,000 yen by Jan 26, 2024
Total payment amount : 315,000 yen
3 installments by credit card
1st payment : 110,000 yen by Nov. 27, 2023
2nd payment: 110,000 yen by Dec. 26, 2023
3rd payment: 110,000 yen by Jan 26, 2024
Total payment amount : 330,000 yen
Attention:
In recent years, there have been cases of unauthorized orders for our products being
Placed by a number of unspecified websites, and customers who have purchased from
These websites have paid for the products but have not received them.
Please be careful when ordering from other sites.
*The images are for illustrative purposes only.
*The coloring is done by hand and a differ from the image.
*Colors may appear different depending on your dispay device.
*Colors may appear different fro those in the images due to the environment in which they were taken or displayed.
*Sizes are prototypes and may differ slightly from the actual product.
(C) Kentaro Miura (Studio Ganga) / Hakusensha
| | |
| --- | --- |
| Unit Price | 300,000 yen (approx. 2,000 usd / 1,870 euro) |
| Net Weight | About 11kg |
| Product Size | (including base) approx. 54cm (width) x 30cm (depth) x 40cm (height) (including sword mantle) approx.60cm (width) x 73cm (depth) x 40cm (height) |
| Other Option | Bloody painting option |
| Serial Number | no.01〜50 |
| Materials | Polystone |
| Estimated Delivery Date | Scheduled to be launched in Late May 2024 or later. |
| Shipping Method | DHL |
| Originated & Manufactured | ART OF WAR |
| Copy Right | ©Kentarou Miura (studio GAGA)/ Hakusensha |
| Cautions | 1.) Delivery charge will be informed to you when delivery is ready. 2.) No cancellations or refunds will be accepted after payment. 3.) Also, you may need to pay VAT and customs in your country. |